LOUISVILLE, Ky. (WDRB) -- Members of the Kentucky Alliance Against Racist and Political Repression have joined the growing call for Attorney General Daniel Cameron to release the transcripts from the grand jury proceedings in the Breonna Taylor case. 
"Justice for Breonna Taylor was not served on September 23rd, 2020," said Tyra Walker, co-chair of the Kentucky Alliance. "Her name was not even mentioned in the (grand jury's) announcement. For the past 120 days that is all (we) have been asking everyone all over the world to do."
Walker said the community wants to know if Cameron presented evidence concerning Taylor's death to the grand jury before jurors indicted former Louisville Metro Police detective Brett Hankison on three felony counts of wanton endangerment for firing into a neighboring apartment during the raid on Taylor's residence in March. 
Neither Hankison nor the other LMPD officers who fired their weapons during the raid, Sgt. Jonathan Mattingly and Detective Myles Cosgrove, were charged in connection to Taylor's death. 
Attorney's for Taylor's boyfriend, Kenneth Walker, filed a motion on Saturday that asks a judge to release the police investigation of the case and a transcript of what was presented to the grand jury. The motion argues Cameron's office omitted key evidence and misled the grand jury.
Kentucky State Rep. Attica Scott, who has filed a bill banning no-knock warrants statewide called "Breonna's Law," said she was disgusted but not surprised by the grand jury's decision. 
"We all know that Breonna Taylor did not receive justice this week," Scott said Sunday in front of a memorial for Taylor at Jefferson Square Park. "... We are not deterred. We know that our calling is to continue to fight for justice for Breonna Taylor, and that's why we have continued to be out here every single day this week."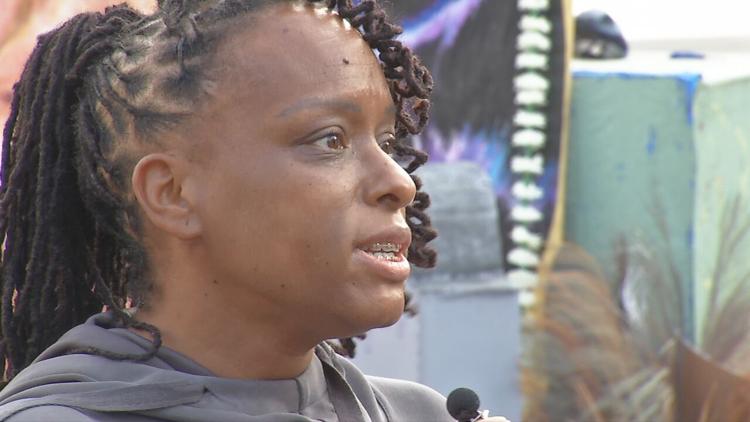 Scott, D-Louisville, was one of 26 people arrested during protests Thursday. Scott said she and her daughter were trying to seek shelter from the city's 9 p.m. curfew at a First Unitarian Church when they were detained minutes before it went into effect. On Friday morning, Scott shared an eight-minute video she recorded to her Instagram account that details the moments leading up to her arrest. 
Scott and her daughter were charged with first-degree rioting, a Class D felony, failure to disperse and unlawful assembly, according to LMPD. Police have accused Scott of being "part of a large group" that was ordered to disperse "and failed to do so," according to her arrest report. 
"Subjects caused extensive damage at multiple locations including setting fire to the Louisville Public Library," the report states. 
Scott on Sunday vowed to fight what she said were "bogus charges."
"I have fought every single budget year in Frankfort for full funding for our libraries," she said. "How dare LMPD say I was trying to burn down our library. Absurd. Give me a break. Come up with some better lies."
RELATED: Kentucky state Rep. Attica Scott says arrest on rioting charge 'ridiculous;' gets support from library system
A WDRB News crew saw one person — not a group — smash a window of the main branch of the Louisville Free Public Library and throw a flare inside the building.
Nearby protesters condemned that person's actions.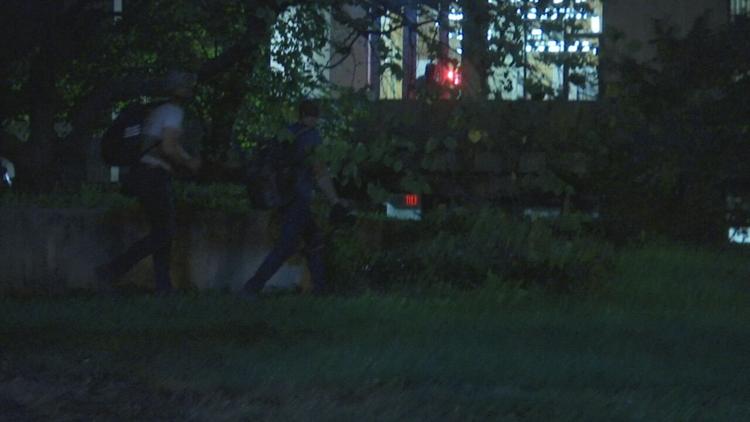 However, LMPD interim Chief Robert Schroeder on Friday said even people who do not cause any damage can be charged with rioting.
"Under Kentucky's riot statute, anyone who is part of a group causing damage or riotous behavior is subject to the charge of rioting," Schroeder said. "It does not require an individual to actually have participated in the specific destructive act."
State Rep. Lisa Willner on Sunday said she plans to file a bill request to change Kentucky's definition of "rioting" so what happened to Scott and her daughter does not happen again to other demonstrators. 
"For them to be accused of a felony of rioting is completely outrageous," Willner said. 
Scott said that none of the 100-plus protesters who have been arrested this week should have been taken into custody.
Fellow state Rep. Nima Kulkarni, D-Louisville, called the city's curfew, which is set to expire at 6:30 a.m. Monday, "arbitrary" and said it is being used "a pretense by law enforcement to arrest peaceful protesters exercising their constitutional rights."
Related Stories: 
Copyright WDRB Media. All Rights Reserved.