LOUISVILLE, Ky. (WDRB) -- A Jefferson County grand jury charged former Louisville police Det. Brett Hankison with three felony counts of wanton endangerment on Wednesday for shooting into a nearby apartment during the raid on Breonna Taylor's home in March.
Each charge carries a prison sentence of 1 to 5 years, if convicted.
Neither Hankison nor the two other officers who fired their weapons -- Sgt. Jonathan Mattingly and Det. Myles Cosgrove -- were indicted in Taylor's death. Taylor was killed by one of Cosgrove's bullets, according to FBI ballistics findings released by Kentucky Attorney General Daniel Cameron.  
Cameron told reporters that his office and the grand jury both agreed that Mattingly and Cosgrove were "justified" in returning a shot fired first by Kenneth Walker, Taylor's boyfriend. Walker, who was standing in the apartment's hallway, has said he believed police were intruders breaking into the apartment before 1 a.m. March 13. 
Cameron said the state has "vigorous" self-defense laws.
"According to Kentucky law, the use of force by Mattingly and Cosgrove was justified to protect themselves," Cameron said. "This justification bars us from pursuing criminal charges in Ms. Breonna Taylor's death." 
Kent Wicker, Mattingly's attorney, said in a statement that the grand jury's decision not to charge Mattingly or Cosgrove "shows that the system worked and that grand jurors recognized and respected the facts of the case." 
The two officers did not act recklessly or unprofessionally, Wicker said. "They did their duty, performed their roles as law enforcement officers and, above all, did not break the law." 
Cameron said Mattingly was the only officer who entered the apartment; he fired six shots. Cosgrove, who was standing in the doorway, shot 16 times, the attorney general said.
Cameron also confirmed that there is no body camera footage of the undercover raid, saying video footage starts only when area patrol officers arrived at the apartment complex near Pleasure Ridge Park. 
Hankison was assigned a $15,000 cash bond and a warrant for his arrest. He was booked in the Shelby County Detention Center Wednesday afternoon but posted bond and is no longer in custody, according to the jail.
Hankison was charged with firing at a neighboring unit, showing "extreme indifference to human life" for three people inside, the grand jury concluded. 
Cameron said a man, pregnant woman and child were inside that unit at the time. 
Hankison also shot into another apartment, but it was empty at the time. 
His attorney, Carol Pettit, declined to comment.
The case has been sent to Jefferson Circuit Judge Ann Bailey Smith. 
Cameron's office presented the case to the grand jury Monday after a months-long investigation that he said was conducting interviews as late as last Friday. He said at an afternoon press conference in Frankfort that his staff examined the Louisville Metro Police Department's internal probe of the shooting but also conducted its own work "from scratch."
"My job as a special prosecutor in this case was to put emotions aside and investigate the facts to determine if criminal violations of state law resulted in the loss of Ms. Taylor's life," he told reporters in Frankfort. 
In the end, according to Cameron, no such violations were found. He said the grand jury reviewed all available evidence, including witness testimony.
"They got to hear and listen to all the testimony and made the determination that Det. Hankison was the one that needed to be indicted," he said. 
Cameron said he wouldn't discuss specific aspects of the grand jury proceedings, including whether it considered manslaughter or reckless homicide charges for Taylor's death. 
And he declined repeatedly to say if his team recommended specific charges -- a routine practice for commonwealth's attorneys and prosecutors in Kentucky. 
But he said his staff "walked them through every homicide offense." 
Cameron doesn't expect any additional state charges related to the shooting at Taylor's apartment. 
Cameron, a Republican who is serving his first term as Kentucky's top law enforcement official, declined to release the information given to the grand jury or provide the racial and gender composition of the panel. He said he wanted to protect the jury as much as possible.
Both Democratic Gov. Andy Beshear and Louisville Mayor Greg Fischer called on Cameron to make public evidence presented to grand jurors as long as it doesn't impede other investigations. 
"The public deserves" to see what information was presented, Beshear said. "Everyone can and should be informed."
Asked if he believed justice was done, Beshear said he would need to see "the facts and evidence" and wanted more of an explanation from Cameron, including the racial and demographic makeup of the grand jury. 
"I'd just like people to see the information so they can determine the truth," he said. 
Fischer also wants at least some of the evidence released but noted that the investigation of the shooting is "far from over." The FBI is still investigating and LMPD is conducting an internal investigation to see if officers violated any police policies. 
For months, protestors in Louisville and elsewhere have called for all three officers to face criminal charges. People gathered in Jefferson Square, the epicenter of the protests, were quiet as Circuit Judge Annie O'Connell read the jury's decision shortly after 1:15 p.m. Wednesday. 
But after the report ended, some expressed disbelief that Hankison was the only officer charged. "This is not enough!" one person yelled. 
Ben Crump, a national civil rights attorney representing Taylor's family, said it was "outrageous and offensive" that there were no indictments in Taylor's death. 
"If Brett Hankison's behavior was wanton endangerment to people in neighboring apartments, then it should have been wanton endangerment in Breonna Taylor's apartment too," Crump said on Twitter. "In fact, it should have been wanton murder." 
Sam Aguiar, the Taylor family's lead local attorney, also was critical of the grand jury decision.
"Way to really rub it in," he said in a Facebook post. "Three counts for the shots into the apartment of the white neighbors, but no counts for the shots into the apartment of the black neighbors upstairs above Breonna's. Let alone everything else you got wrong."
Cameron said his office did not review the circumstances of how police obtained the search warrant for Taylor's apartment. Federal authorities are conducting that investigation, he said. 
But Cameron announced he will be forming a task force to assess the system of securing, reviewing and executing search warrants in Kentucky. The group will include citizens, elected officials, defense attorneys, law enforcement authorities and others, he said. 
"I believe conducting a top-to-bottom review of the search warrant process is necessary to determine if changes are required and establish best practices," he said. 
Louisville state Rep. Attica Scott, a Democrat, has prefiled a bill banning "no-knock" warrants across Kentucky, while GOP Senate President Robert Stivers has pledged similar legislation.
Cameron's office conducted its own independent investigation into the Taylor raid and reviewed information from the Louisville police's Public Integrity Unit, which probes officer shootings and other internal affairs. It received the FBI's ballistics report of the shooting on Aug. 30, Cameron said on Twitter. 
The FBI and the U.S. Department of Justice's civil rights division also are investigating the case.
The attorney general's work began in May after Jefferson County Commonwealth's Attorney Tom Wine asked for a special prosecutor to investigate the officers' conduct. At the time, Wine's office was prosecuting Walker, who admitted to firing at police as they entered the apartment.
Cameron had repeatedly declined to provide a timeline for the work but told reporters in mid-June that his office was "working around the clock."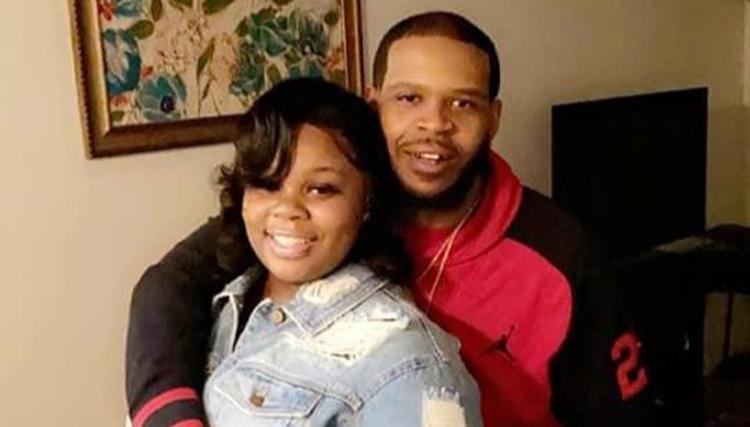 Police shot and killed Taylor, a 26-year-old emergency room tech and former EMT, during an undercover raid on her apartment on Springfield Drive as part of a series of raids elsewhere that targeted narcotics trafficking. She was struck five times, according to her death certificate. 
However, Cameron said Wednesday that she was hit six times. 
Taylor's death touched off Louisville's racial justice protests and gained national prominence as demonstrations spread across the U.S. in response to the death of George Floyd, a Black Minneapolis man who died after a white officer, Derek Chauvin, knelt on his neck as he pleaded, "I can't breathe."
But unlike the Floyd case, there has been no video produced of the police raid on Taylor's apartment. Police initially claimed there is no body camera footage because the officers worked for the department's Criminal Interdiction Unit; at the time, those officers were not required to wear body cameras.
The lack of footage has resulted in disputed accounts about what transpired.
However, photos taken by police investigators after the shooting and obtained by WDRB News in September show at least one officer, Det. Anthony James, with a camera mounted on his shoulder. Mayor Greg Fischer has said repeatedly that officers involved in the raid were not wearing body cameras.
Taylor's death has prompted more than 100 days of protests in the city, including during the September 5 Kentucky Derby. Marches in Louisville and elsewhere have called for the three officers to be fired and arrested. In July, 87 protesters were arrested after a demonstration at Cameron's home.
Mattingly and Cosgrove have been reassigned; Fischer announced in June that interim Police Chief Robert Schroeder was firing Hankison, although the former detective has appealed to the police merit board that he once served on.
Schroeder told Hankison in a termination letter that he violated the department's policies on using deadly force and following rules and regulations. Hankison's conduct in Taylor's shooting, the chief concluded, was "a shock to the conscience." 
"I am alarmed and stunned you used deadly force in this fashion," Schroeder wrote. 
"Your actions displayed an extreme indifference to the value of human life," he wrote, referring to Hankison "blindly" firing ten rounds into Taylor's apartment.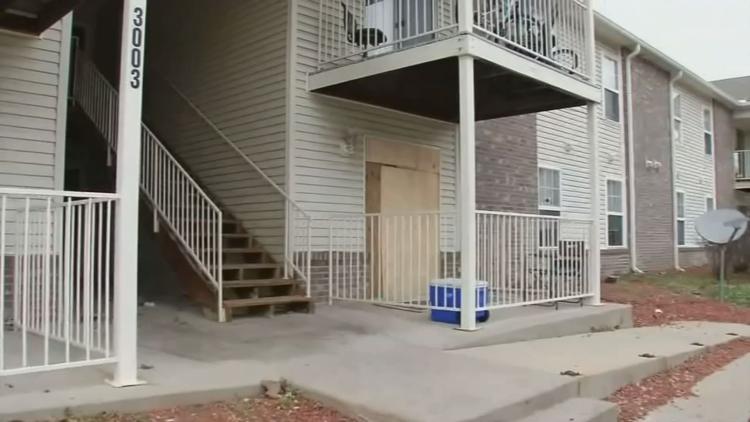 The March 13 raid
Louisville police sought out a search warrant for Taylor's home as part of a broader narcotics investigation that focused on drug suspects Jamarcus Glover and Adrian Walker.
Police believed Glover was using her apartment to receive packages, according to an affidavit for a search warrant that also claimed that Taylor's 2016 Chevrolet Impala was observed several times outside a "drug house" on Elliott Avenue in the Russell neighborhood.
Det. Joshua Jaynes requested a "no-knock" entry to Taylor's Springfield Drive apartment "due to the nature of how these drug traffickers operate," including trying to destroy evidence and fleeing police, according to his affidavit.
Jaynes has been reassigned amid questions about how and why the warrant was approve.
For instance, Jaynes claimed that a U.S. postal inspector "verified" that Glover was receiving packages at Taylor's home. But Louisville inspector Tony Gooden, told WDRB the Louisville police did not ask his office to conduct that surveillance, but a different law enforcement agency previously did.
He has declined to identify the agency, but said the local office concluded no potentially suspicious mail was being sent to Taylor's apartment.
Taylor was listed with two other men on the warrant, which Jefferson Circuit Court Judge Mary Shaw approved on March 12. Mattingly told police investigators after the shooting that she was a "soft target" who was thought to be alone in her home. 
Although Shaw approved the warrant as requested, police have said they identified themselves and repeatedly knocked on Taylor's door before using a battering ram to enter the unit, where they were met with gunfire.
A woman who lives next door said she woke up to the sound of gunshots and Walker, Taylor's boyfriend, yelling for help, according to an affidavit filed in court records. The woman said she never heard police announce themselves.
Several neighbors told WDRB earlier this year that they did not hear officers disclose their identities. 
But Cameron said Wednesday that an independent witness corroborated officers' statements that they  identified themselves.
Only one officer's account of the raid has been made public. In Mattingly's interview with the department's Public Integrity Unit, he said police spent 45 seconds to 1 minute knocking on the door, or "more than enough time for the average person, or even a disabled person, to get to the door in a small apartment."
Once inside the unit, Mattingly told investigators he moved out from the doorway and saw a man and a woman standing "shoulder to shoulder," with the man, Walker, in a "shooting stance." He said he saw the barrel of a gun before he was shot; after that he said he fired four rounds before trying to leave the apartment.
Mattingly told the investigators he didn't see anyone else fire shots, but he heard them once he was in the parking lot. 
Walker's account is different.
He told police investigators that he and Taylor had just fallen asleep while watching a movie when they heard loud banging at the door. Taylor asked, "Who is it?" Walker said, but got no response.
In the hallway outside the bedroom, Walker said he fired a shot from his licensed Glock handgun as the door to Taylor's apartment flew off its hinges.
He said he and Taylor dropped to the ground as shots flew into the apartment. He said he kicked the gun away and was anticipating someone coming inside.
"The door's busted open, and I hear a bunch of yelling and I'm just panicking," Walker told investigators. "I'm telling somebody – I'm yelling, 'Help' because she's right here bleeding and nobody's coming and I'm just confused and scared and I feel the same right now."
Walker initially was charged with murder of a police officer; the charge was amended to attempted murder of an officer. Commonwealth's Attorney Tom Wine later dismissed the charge but has not ruled out re-charging Walker in the future.
Photos from Walker's now-closed criminal case show at least 34 shell casings in and around the apartment; at least five bullets hit other units.
The aftermath 
Walker filed a lawsuit against Kentucky and Louisville Metro governments and at least 13 current or former city police officers on Sept. 1, accusing police and other authorities of making a false arrest and negligence, among other claims. 
His attorneys also argue that the state's "stand your ground" law makes Walker and other Kentuckians "immune" from arrest and other charges when they act to protect themselves.
The suit, filed in Jefferson Circuit Court, asks for a jury trial, unspecified monetary damages and a ruling preventing Walker from further prosecution.
Taylor's connection to Glover, one of the top targets in the March 13 police raids, also became clearer in recent weeks as discovery was filed in Glover's criminal case. He faces drug trafficking, weapons possession, organized crime and other charges. 
Court documents, including jail phone calls, included in Glover's case reveal that Glover changed his home address to Taylor's Springfield Drive apartment on Feb. 11; three days later, on Feb. 14, Glover gave Taylor's phone number and address as a way to reach him after he called police to complain about his vehicle being towed. 
Police obtained a search warrant on Feb. 17 allowing officers to "ping" Taylor's phone to determine its location, the records show.
Aguiar, the Taylor family attorney, said Taylor and Glover dated until mid-February and described their relationship as "off-and-on." In a recorded jail phone call hours after Taylor died, Glover said that he and Taylor had texted the previous day. 
Aguiar said those texts were about floor mats Glover had ordered for Taylor's car. 
Glover also said in one of the recorded jail calls that Taylor was "hanging onto my money" -- about $14,000 -- and that he could locate it in her apartment. 
Other claims in the phone calls are contradictory. For example, Glover told his sister that another woman was keeping money. 
No drugs or money were found at Taylor's apartment, according to a police inventory log.  
Taylor's estate and Louisville Metro government settled a wrongful death lawsuit September 15 in an agreement that will pay her family $12 million. Fischer's administration also agreed to a series of police reforms, including requiring that commanding officers review and approve search warrants.
Copyright 2020 WDRB Media. All rights reserved.