LOUISVILLE, Ky. (WDRB) -- Louisville Metro Police said 87 people were arrested during a demonstration at the home of Kentucky's attorney general.
Protesters with the social justice organization Until Freedom gathered for a sit-in on the front lawn of the St. Matthews area home owned by Kentucky Attorney General Daniel Cameron around 4:30 p.m. Tuesday. 
The protesters, demanding justice in the Breonna Taylor case, met at Ballard High School and traveled down Herr Lane to a home on Bedford Lane, in the Graymoor-Devondale neighborhood. According to the Jefferson County PVA's website, that home is co-owned by Cameron.
The group said the demonstration was not a protest or rally, but a call to action seeking justice in the shooting death of Taylor at the hands of LMPD officers. Some of the protesters came to Louisville from as far away as New York and Atlanta.
"We know what it is like trying to get accountability from a police force that has 39,000 officers. What better way can we stand in solidarity than come out here and make sure we're supporting our brothers and sisters and how to non-violently demand justice," Charlene Pinto said.
Shortly after 5 p.m., several protesters were sitting on the front lawn of the home, locking arms, surrounded by police. They had been instructed earlier in the day to not resist arrest, according to organizers.
[Related: Protesters arrested in front of Ky. AG's home have financial, legal support]
"For all the folks screaming 'blue lives matter,' I want to remind you you're not born into this life in a uniform ... you choose that career and that profession, and you're supposed to be a civil servant," Pinto said.
Around 6 p.m., arrested protesters could be seen lining up to await transfer to Louisville Metro Corrections in downtown Louisville, according to WDRB's Joel Schipper.
Line of demonstrators awaiting transfer to Meteo Corrections. Most arrested for trespassing. @WDRBNews pic.twitter.com/0fHRmViceX

— Joel Schipper (@JSchipperWDRB) July 14, 2020
In total, 87 protesters were arrested, according to LMPD Spokesman Lamont Washington, who said they were "trespassed from the property" at Cameron's request. 
"All were given the opportunity to leave, were told that remaining on the property would be unlawful, and chose not to leave," Washington said.
Those arrested were charged with "intimidating a participant in a legal process," which is a felony; disorderly conduct and criminal trespassing.
In a statement Wednesday, LMPD spokeswoman Jessie Halladay said officers at Cameron's house made the decision to issue felony charges against the protesters in part because of demonstrators "chanting that if they didn't get what they want they would burn it down." 
"That was deemed an attempt to intimidate, persuade or influence the Attorney General's decision," Halladay said in the statement. 
Among those arrested was "Real Housewives of Atlanta" star Porsha Williams, 39. She was booked at Metro Corrections and is facing the same charges given to all other protesters. Williams was set to appear in arraignment court Wednesday morning, according to a booking report.
Williams' sister, Lauren Williams, posted a video of the reality star's arrest on her Instagram page.
"Love & Hip Hop" star Yandy Smith, 40, was also arrested at the demonstration and booked into Metro Corrections on the same charges as Williams.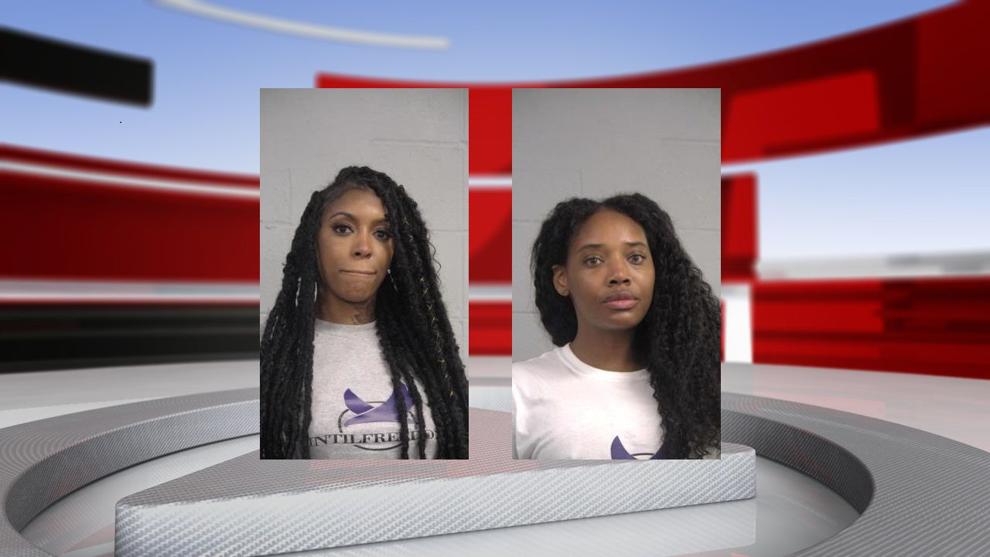 Activist Tamika Mallory was also at the demonstration. She posted several photos and videos on her Instagram page of the sit-in and subsequent arrests. She was also among those arrested and booked into Metro Corrections.
The Grassroots Law Project said it had lawyers on hand that will work pro bono to get the demonstrators out of jail. Those with Until Freedom said they will gather at Jefferson Square Park until each demonstrator is booked and released from Metro Corrections. 
Tuesday's demonstration comes a day after Cameron offered no clues on a timeline for when the investigation into Taylor's death would be completed and asked the public to be patient with the investigation.
"We recognize the interest of the public in getting to a conclusion of this, but we also have a responsibility to make sure we get this right," Cameron said Monday. "So, again, our team is working diligently on this. I know it's not been as quick as anyone would have liked but know and trust that we are doing our best to complete this investigation in a timely manner."
In a statement Tuesday evening, Cameron said his office plans to conduct a "thorough and fair" investigation, and Tuesday's protests "will not alter our pursuit of the truth."
"The stated goal of today's protest at my home was to 'escalate.' That is not acceptable and only serves to further division and tension within our community," he said. "Justice is not achieved by trespassing on private property, and it's not achieved through escalation. It's achieved by examining the facts in an impartial and unbiased manner. That is exactly what we are doing and will continue to do in this investigation."
For more than a month, groups including Black Lives Matter have demonstrated almost daily to demand justice for Taylor.
Taylor, a Black woman, was fatally shot by Louisville Metro Police officers Sgt. Jonathan Mattingly, Detective Myles Cosgrove and Detective Brett Hankison when they executed a "no-knock" warrant at her apartment four months ago as part of a drug investigation. Police shot the 26-year-old former EMT five times after her boyfriend, Kenneth Walker, fired at officers, shooting one in the leg. Walker told investigators he believed he and Taylor were being robbed. Nothing illegal was found in the home.
Walker said they didn't know who was at the door when police busted in with a battering ram a little before 1 a.m. Police said they knocked, but Walker has said he didn't hear a response when he asked who was at the door.
Protesters are asking for the officers involved to be fired and charged in the case. Only Hankison has been fired.
The FBI also is conducting an investigation. Like Cameron's, it remains ongoing.
Attempted murder charges against Walker were dropped the day 911 calls from the night of the shooting were released.
This story may be updated.
Related Stories:
Copyright 2020 WDRB Media. All Rights Reserved.