LOUISVILLE, Ky. (WDRB) -- The death of Breonna Taylor exactly four months ago Monday lit a fire of outrage in Louisville, sparking rallies, protests, mistrust of police and calls for a change to systemic racial injustice.
Taylor, a 26-year-old Black woman and former EMT, was shot and killed on March 13 when Louisville Metro Police officers Sgt. Jonathan Mattingly, Detective Myles Cosgrove and Detective Brett Hankison served a "no-knock" warrant on her apartment. 
It's since led to the termination of Hankison and an ongoing investigation by LMPD, Kentucky's attorney general and the FBI.
"I just demand justice for Breonna," Taylor's mother Tamika Palmer said from a podium in Frankfort in the aftermath of her daughter's death. 
The case did not initially gain much public attention falling at the start of the COVID-19 pandemic. But reporting in the weeks and months that followed led to questions about the actions of police and developed a narrative as a "botched" raid.
A WDRB News investigation revealed conflicting statements used to obtain the warrant. In addition, 911 calls would paint a different picture than the original description police provided about what happened the night Taylor was killed. 
Those 911 calls include the agony and confusion of Taylor's boyfriend, Kenneth Walker.
"Help, please help," Walker said as he sobbed on the line with dispatchers. "I don't know what's happening somebody kicked in the door and shot my girlfriend...my GOD." 
Walker said they didn't know who was at the door when police busted in with a battering ram a little before 1 a.m. Police said they knocked, but Walker said he didn't hear a response when he asked who was at the door.
He fired a shot as officers entered, hitting Mattingly, and the officers returned a hail of bullets killing Taylor. 
Attempted murder charges against Walker were dropped the day the 911 calls came to light. Crowds started marching through the streets of Louisville that same day, May 28, 2020, saying Taylor's name and demanding criminal charges and the termination of all the officers involved in her death.
Chants like, "No justice no peace, prosecute the police," and "Say her name. Breonna Taylor," echoed throughout city as thousands of people blocked roads showing fury and passion. 
Some demonstrations turned into unrest with protesters looting businesses, lighting fires and tagging buildings with graffiti.
IN MANY WAYS, IT'S HISTORY REPEATING ITSELF IN LOUISVILLE
On May 27, 1968, almost 52 years to the day before protesters took to the streets on Taylor's behalf, a group rallied at 28th Street and Greenwood Avenue upset over racial injustice and claims of excessive force used by Louisville police.
But the name the crowd was saying back then was Manfred Reid, a African American businessman who'd been beaten with a blackjack by a Louisville officer.
"If you've ever been hit with a blackjack, it hurts," 83-year old Reid recalled in a recent interview with WDRB News as he touched his cheek, showing where the police nightstick connected with his face. "To have that kind of support, being a black man living in Louisville, Kentucky, it was probably the most inspiring feeling that you can have."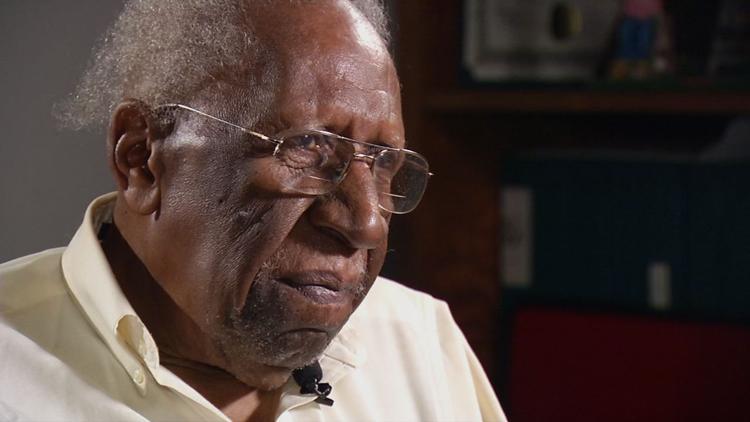 Reid was a well-know real estate broker at the time who was active in the black community's equal housing fight to end redlining, the segregation practice of banks denying loans to African American buyers who tried to move into white neighborhoods.   
Reid had stopped to check on a friend, a black teacher being questioned by police for a robbery near Broadway and 24th Street. According to news reports at the time, officers claimed the teacher's car matched a description, though it was later revealed the educator was not involved in the crime.  
Reid said when "dirty" stops happened "we had to watch each other's backs."
The officer who hit and arrested Reid was terminated for using excessive force, but the city's civil service commission, similar to the current police merit board, voted to reinstate him. This news sparked unrest with rallies and protests that led to much destruction.
"There was a great hostility in the community about what was going on," said Sam Hawkins, former president of the Black Unity League of Kentucky. "We were being abused physically by folks who were armed which were the police."
The Black Unity League of Kentucky, better known as BULK, was similar to today's Black Lives Matter organizations. Hawkins organized the rally at 28th Street and Greenwood Avenue. The crowd expected to hear from national civil rights leader Stokely Carmichael, known for his role in the Student Nonviolent Coordinating Committee (SNCC). A story began to make the rounds in the crowd saying officials would not allow Carmichael's plane to land in Louisville, a rumor that incited more tension.
"We wanted people to understand we were about to stand up for justice," Hawkins said. 
Listen to history scholar Zack Hardin compare and contrast the parallels of misinformation in the 1968 and 2020 movement. Hardin wrote the 2014 thesis "Black Power in the River City: African American Community Activism in Louisville, Kentucky, 1967-1970." He currently teaches history at Fern Creek High School in Louisville. 
The parallels between the 1968 protests and today's movement are fascinating. Both instances came amid national protests. Both movements saw mayors at the time implement a curfew and the governors send in the National Guard in response.
Both movements also saw casualties die in the chaos. In 1968, it was 14-year-old James Groves and 19-year-old Matthies Browder. In today's movement, it has been freelance photographer Tyler Gerth and BBQ business owner David McAtee.
Even the first moment of tension looks much the same.
"Police cars came flying into the intersection," Hawkins said as he returned to the 28th and Greenwood scene with WDRB News. "(Protesters) were throwing rocks and bottles off of the Little Palace (restaurant)." 
Likewise, the initial clash in today's movement saw a rush of several police cars confront protesters at Second and Main streets in downtown Louisville on May 28, 2020, to which demonstrators responded throwing water bottles and asphalt at the officers. 
In both time periods, the murder of other high-profile African Americans also intensified emotions.
In 1968, Dr. Martin Luther King Jr. died one month before protesters took to the streets for Reid. 
"They never stopped killing innocent black people," Reid sighed in an expression of grief. "(King) had been to Louisville several times because his brother, A.D. King, was a pastor here at Zion Baptist church. So he spoke there." 
George Floyd was killed days before the rallies for Breonna Taylor.
"Race, housing, poor housing, education -- all the issues that we face today were of the same issues that we faced at that time," Reid said. 
THE AFTERMATH
The civil unrest of 1968 lasted a week. The history books say there were 119 fires set, 472 people arrested, and $250,000 in damage. Adjusted for inflation, that equals about $2 million today. 
"They wouldn't listen but stop money flow and things change," Hawkins said.
The state charged six people with conspiracy and inciting a riot: Sam Hawkins, Manfred Reid, Ruth Bryant, James Cortez, Robert Kuyu Sims and Walter "Pete" Cosby. All six were exonerated in 1970. Reid, Hawkins and Cosby are the only ones of the so called "Black Six" still living today. 
"I lost my children, I lost my wife, all my real-estate holdings and my credentials," Reid remembers. " It destroyed my life."
The civil unrest also destroyed the Parkland community, as the neighborhood once bustling with business never recovered.
Listen to interview with Frank Hobic, a Louisville Police foot patrol officer in the Parkland neighborhood in the 1960s and 70s. 
WORDS OF WISDOM
"There are wolves among you as peaceful sheep," Hawkins said. "What they're trying to do is profit. When somebody comes up with a bat or a brick, that's not a peaceful protester."
While the similarities in these two movements are many, it's the differences that give Reid and Hawkins hope. 
"Look at the diversity,' Reid said describing the racial makeup of protesters today. "And there's a better understanding among government officials when they hear the issues today compared to what they heard 52 years ago."
"I want you to know that I hear you, your city hears you, and your county hears you," Louisville Mayor Greg Fischer said in the early days of the current protests. 
Fischer repeatedly supported peaceful protesting while denouncing the destruction of public and private property. But Fischer, much like Kenneth Schmeid, the mayor of Louisville in 1968, has fallen out of favor with his police department and faced harsh community backlash.
The disturbances of 1968 had lasting political effects in Louisville. A Democrat won the election for mayor in 1969, replacing Schmeid, a Republican who'd been criticized as being "afraid" to go into west Louisville.
In fact, Schmeid was the last Republican to serve as the mayor of Louisville. The city has not elected another since he left office in 1969. The following election also saw Democrats take over the majority party on the board of alderman, equivalent to today's Metro Council.
VALIDATION FOR REID
Despite losing his wealth and credentials, Reid continued to champion fair housing in Louisville. He was appointed to the Louisville Metro Housing Authority 20 years ago and still serves as the Chairman of the Board of Commissioners today at age 83.
In 2017, thc city offered him perhaps its greatest apology: awarding him the Martin Luther King Jr. award for freedom.
"If you look at what (protesters) have done in the last few weeks, they're standing on our shoulders," Reid said when asked to offer words of advice to the people behind the latest movement. "We have to move forward. Don't stop." 
Copyright 2020 WDRB Media. All Rights Reserved.