LOUISVILLE, Ky. (WDRB) -- At least one Louisville Metro Police officer who  helped raid Breonna Taylor's apartment in March was wearing a body camera, based upon photos taken of the officers shortly after that raid.
A body camera is mounted on Officer Anthony James' right shoulder, according to photos taken of the shooting scene by Louisville Metro Police investigators after the early-morning raid March 13. 
The photos, obtained by WDRB News, raise questions about previous statements made by former Chief Steve Conrad and Mayor Greg Fischer that no footage exists from the unit that raided Taylor's apartment, as they do not wear body cameras.
In the hours immediately after the shooting, Conrad said there were no cameras on or being worn during the raid. 
"This incident was related to the execution of a search warrant by members of our Criminal Interdiction Division and some of the officers assigned to this division do not wear body-worn video systems," he said.
Since then Fischer has repeatedly said that officers who raided Taylor's home were not wearing body cameras. 
"My understanding is undercover narcotics agents do not use body cameras. And they didn't have them during the execution of this search raid," Fischer said during a June 11 interview with WDRB. 
The photo, which was first reported by VICE News, is part of a batch of more than 1200 photos taken by LMPD in the immediate aftermath of the shooting. 
Police shot and killed Taylor during an undercover raid on her apartment near Pleasure Ridge Park. She was struck five times, according to her death certificate.
The photo of James with a body camera does not mean the officer has footage of the raid and subsequent shooting, as officers have to activate the camera themselves.
In fact, attorney Steve Romines, who represents Taylor's boyfriend, Kenneth Walker, said, based on his knowledge of the case, James did not have the body camera turned on.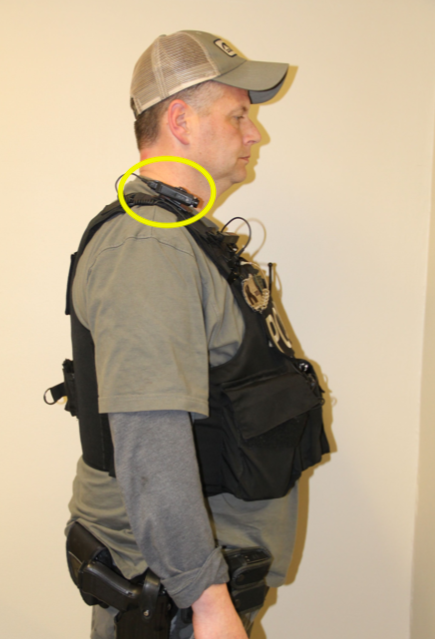 "That begs the question, you have it on your shoulder for that specific reason," he said in an interview. "What possible excuse is there not to have it on?" 
Sgt. Jonathan Mattingly was shot in the leg during the raid. Police say Walker fired a single shot from the hallway of the apartment, striking Mattingly. Walker claims he and Taylor did not hear the officers announce that they were police and believed someone was breaking into the apartment. 
Walker was arrested and charged with attempted murder of a police officer but those charges were later dropped by Commonwealth's Attorney Tom Wine. Walker could still be re-indicted. 
Jefferson Circuit Judge Mary Shaw approved the "no-knock" warrant for the raid, allowing the undercover narcotics detectives to burst in without announcing their presence.
Their main target was Jamarcus Glover, a felon with a history of drug charges who had dated Taylor previously. Police argued in an affidavit for the search warrant that they believed Glover was using Taylor's apartment for deliveries. 
No drugs or money were found in Taylor's apartment, according to a police inventory log. 
Attorneys for Taylor's family have said they believe some officers either on the scene of the shooting or there in the immediate aftermath were wearing body cameras. 
Sam Aguiar, who represent's Taylor's family, has said in court records that there were officers assigned to the raid who routinely wear body cameras. 
"We've identified a few officers that were at least supposed to be on the scene that always wear body cameras," Aguiar told a judge during a July court hearing. 
Romines said police have been inconsistent on whether there is any body camera video from the raid. 
"Their story has changed from moment to moment," he said. 
Since the raid, Louisville Metro Council has passed an ordinance requiring all officers executing a search warrant to wear body cameras and have them turned on.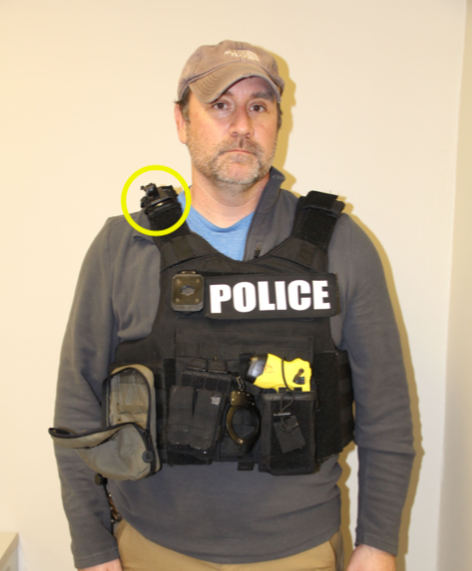 Photos of officer Myles Cosgrove show him wearing a mounting bracket for a body camera but the camera is not attached. 
"That's pretty shocking that the chief and the mayor provided inaccurate information to the citizens of our city related to this tragic incident," Metro Council President (D) David James said.
It's unclear if any additional responding officers after the shooting had body cameras activated. 
Copyright 2020 WDRB Media. All rights reserved.