LOUISVILLE, Ky. (WDRB) -- Newly obtained Louisville Metro Police body camera footage contradicts part of the reasoning for officer's use of force in an October 2019 arrest.
The LMPD citation said 25-year-old Princeton Brown refused to follow orders, to show his hands and to get on the ground, that he "took a fighting stance" before Officer Jason Burba slammed him to the cement.
Witness video of the takedown in 2019 on Dixie Highway near Crawford Avenue prompted outrage online last year, but it only showed the slam itself. The body camera video obtained by WDRB News captures the moment Burba and Officer Aimee Mills encountered Brown.
While Brown did not get on the ground as asked, the officer's body camera footage reveals he did show his hands at first request, stopped and did not take a stance to posture for a fight, as described in the citation. In fact, the only blow thrown was by Burba, a closed-fist shot to Brown's jaw as he approached Brown on the sidewalk, repeatedly shouting "get on the ground."
"Why don't you just shoot me bro," Brown asks Burba after the punch, as the officer wrestles his arms behind his back.
"Ain't nobody going to shoot you bro," Burba responds while asking Mills to get backup.
At this point, the video shows Brown grab with one hand onto a fence outside St. Paul Catholic Church, continuing in the arm tussle with Burba.
"Get off the fence," Burba shouts before slamming Brown to the concrete.
Backup officers arrive seconds later while Brown is on the ground. The video shows Officer Jordan Preston simultaneously place his knee in Brown's back while shouting, "stop resisting."
"He's good. Get back, Preston," Burba shouts while Brown is being handcuffed.
All of this took place in about 60 seconds, just before noon on Oct. 25, 2019, but LMPD said it is still under investigation by its Professional Standards Unit.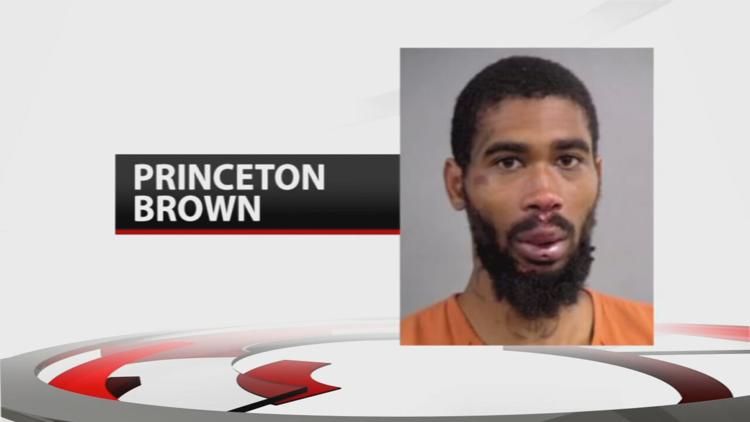 "People don't need to be treated this way to go into custody," Attorney David Johnson said. "They don't need to be beat up."
Johnson filed a federal lawsuit against LMPD on Brown's behalf, claiming police fabricated facts and criminal charges to cover up excessive force.
The case names Burba, Mills, Preston and Officer Adam Moseley — all of whom responded to the scene — along with former Chief Steve Conrad and other members of his command and training staff.
After his arrest, Brown's mother, a nurse, told WDRB News he suffers from mental illness as a side effect from a brain aneurysm at age 17.
"Schizophrenia, that's what he's been diagnosed with," Rosa Brown said. "He's probably had about 20 procedures and surgeries on his brain."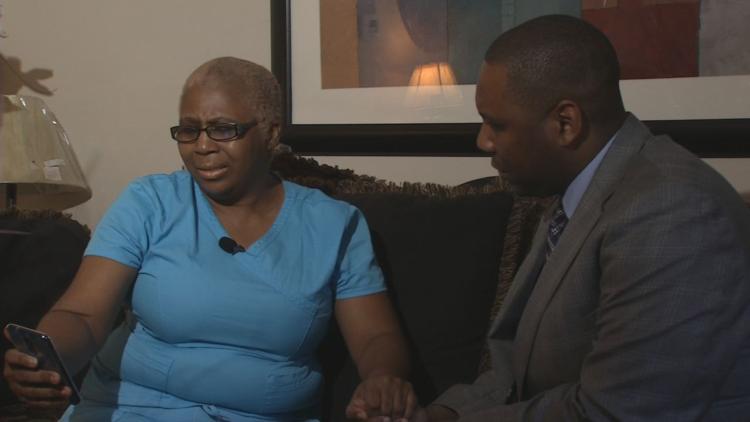 Brown said she took out a mental inquest warrant on her son the day before the takedown in question, trying to get him involuntarily committed to psychiatric care. But that's not why officers picked him up. Police said he tried to carjack a woman outside a Dixie Highway restaurant asking for her keys and attempting to get into the vehicle when she wouldn't turn them over. The victim sped away to a nearby police station as Brown walked down the road, according to his arrest citation.
When questioned, Brown told officers on the scene he was "trying to get a car," body camera video shows.
At the time of his arrest, retired Judge David Holton said Brown's case highlights the tough intersection law enforcement must navigate around mental illness.
"That officer on the street is doing his or her job, and (mentally ill people) don't wear a scarlet letter saying 'I'm mentally ill,'" Holton said. "They look like you and me."
Holton also served as a longtime board member for former mental health care provider, Seven Counties Services.
"The police and the entire court system may not know the person has mental illness until you interact with them," he said.
Brown was charged with resisting arrest, robbery, criminal mischief and menacing. The criminal case is still pending.
The lawsuit says Brown's teeth pierced his lip when his face met the concrete. It appeared bruised and bloodstained in a mugshot taken at Louisville Metro Corrections. When Browns was checked out by EMS at the scene, he did not answer many questions. Medics asked the officers about his altered mental state.
"LMPD treats every incident with aggression and excessive force just by nature," Johnson said. "It's always 'beat up or shoot and ask questions later,' and it's just out of control."
By policy, LMPD does not comment on pending litigation. A spokesperson confirmed Burba, Mills and Mosley remain on active duty. Preston resigned in October 2020.
Copyright 2020 WDRB Media. All Rights Reserved.