LOUISVILLE, Ky. (WDRB) -- A Louisville Metro Police Department officer is suing local DUI attorney Larry Forman for defamation after a video was posted alleging the officer planted evidence.
Forman posted body camera footage to his YouTube channel from a 2018 incident where LMPD Officer Cory Evans searched a man's vehicle following a suspected DUI. The video depicts officer Evans and another unidentified officer searching the vehicle for alcohol. Evans looks in the center console without finding anything, but the video jumps forward to the view of the other officer, who opens the console and finds a bottle of liquor minutes later.
Forman said it proves Evans planted the bottle in the console.
"The video speaks for itself," he said.
The man who was inside of the vehicle was ultimately charged with a DUI, operating without a license and having open containers inside the vehicle. However, the prosecutor dismissed the DUI and license charges.
Forman's client pled guilty to the open containers.
"Our client did have beer cans on top of the liquor bottle in the vehicle," Forman said. "There's no question that there were open containers in the vehicle. Our client pled to an open container charge. No one is disputing that."
However, Evans' attorney said it has hurt the reputation of the LMPD officer and is filing the defamation suit seeking damages.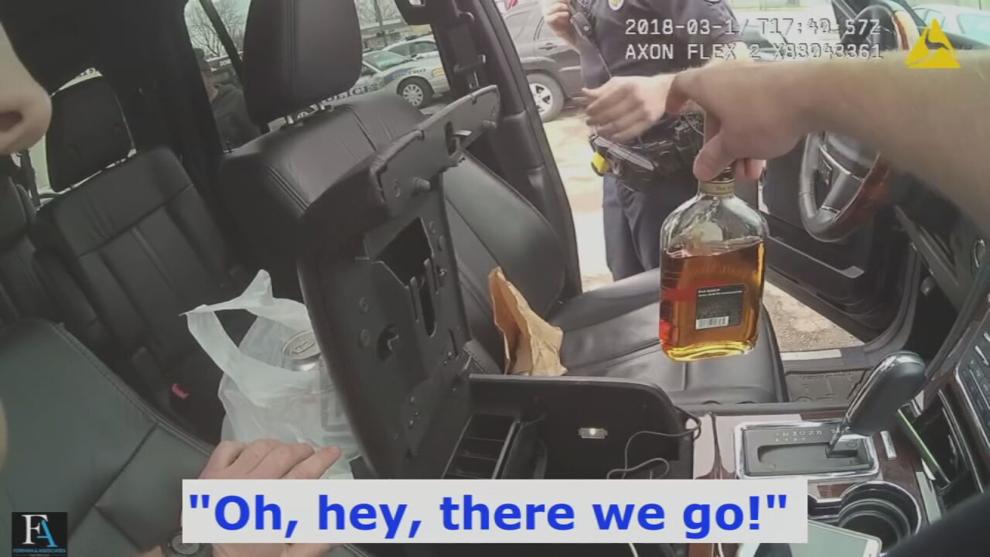 "In our opinion, it's absolutely false," Attorney Samuel G. Hayward said. "Everything is false. One of the people said he deserves a bullet in his head."
The lawsuit claims there is no evidence that points to Evans planting evidence in the man's car. It says, as a result, Evans has received threats and damaged his integrity.
"If they thought there was something that was done, it would've been investigated," Hayward said. "There's no internal affairs thing. There's no nothing about this case."
The video has since been unlisted on YouTube. Forman said he felt it was the right thing to do.
"It has nothing to do with the lawsuit," he said. "I just understand, regardless of what has happened, I understand where Officer Evans is coming from as a human being. So I wanted to allow him to at least save face by taking it down."
Copyright 2021 WDRB Media. All Rights Reserved.