LOUISVILLE, Ky. (WDRB) -- Louisville is about to clear more homeless camps ahead of the Kentucky Derby, posting 21-day notices at several encampments on Wednesday.
Some advocates who help people experiencing homelessness say it only covers up the city's homeless crisis for one weekend out of the year.
Every week, volunteers with The Forgotten Louisville hit the streets, delivering food and supplies to people without shelter.
"Homelessness does not just affect downtown Louisville. It is all over our city," said founder Tiny Herron-Markwell.
The city posted signs warning people downtown, around Wayside Christian Mission, and on Adair Street, near the airport, that the camps will be cleared in mid-April.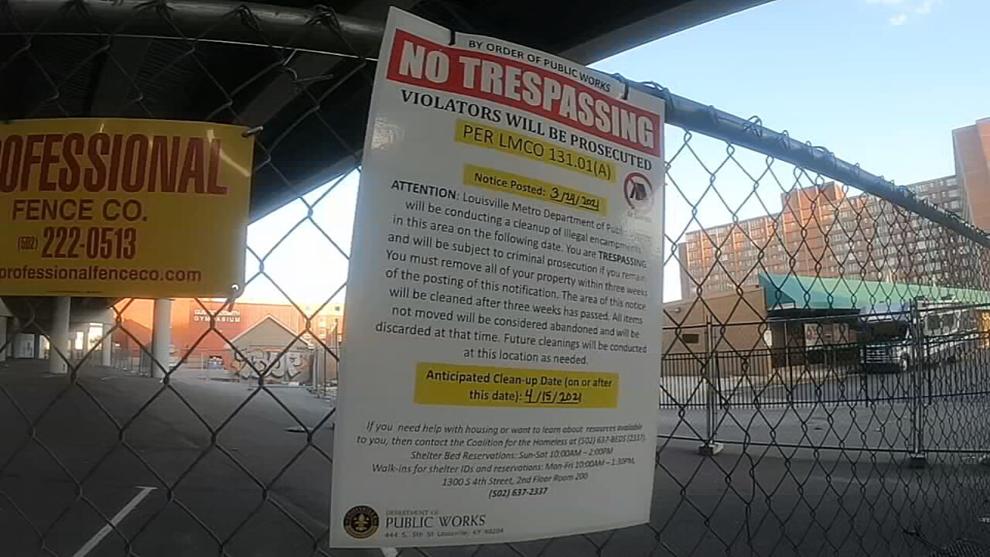 "We do know that the Derby is coming soon. While we spend so much time making (Louisville) look really, really pretty, we're really just covering up a huge issue. We have a homeless crisis in our city," said Herron-Markwell, who visited some of the encampments that the city will clear in three weeks.
"Many of the individuals I spoke to had recently already been cleared from just around the corner a few weeks ago, so it's like kicking somebody when they're already down."
City leaders explained why they took action during a virtual Homeless Task Force meeting.
"The 21-day notice at Adair street was actually issued by the state. The state requested that we clear that camp," explained Tameka Laird, director of the Louisville Metro Office of Resilience & Community Services.
The city said the site near the airport is on state property. Before making a determination on if a camp needs cleared, officials assess safety risks for people living in the camps and the surrounding community.
"The location at Wayside is due to there is an abundant amount of feces and defecation ... it's locking the right of way of the pedestrian walkway," said Laird, adding that pedestrians are forced to walk into the roadway in order to pass the encampment.
However, every time a camp is cleared, volunteers say it becomes harder to offer services, tracking people down, and replacing what was lost.
"Everybody thinks its just so simple, just get a job, just go to a shelter. But there are so many barriers in the way," said Herron-Markwell. "We have a lack of affordable housing. That's the number one cause of homelessness within our city."
Wayside Christian Mission said on Wednesday it has enough beds in its shelter to house approximately 50 people who will be displaced.
Councilman Bill Hollander took issue with the city's action during a pandemic, tweeting, "CDC COVID-19 guidance: 'allow people who are living unsheltered or in encampments to remain where they are.' Clearings 'can cause people to disperse throughout the community', 'break connections with service providers' & 'increase the potential for infectious disease spread.'"
Copyright 2021 WDRB Media. All Rights Reserved.