LOUISVILLE, Ky. (WDRB) -- This time last year, 64-year-old Wendall Sallee lived under a bridge in a ditch.
"I figured I'd be found one morning dead in the middle of the street," Sallee said. "I mean, it's a scary feeling."
Now, he lives in one of the 45 permanent supportive housing apartments on the third floor of Wayside Christian Mission. It's humble, but it's home, and it's paid for thanks to a grant from the U.S. Department of Housing and Urban Development.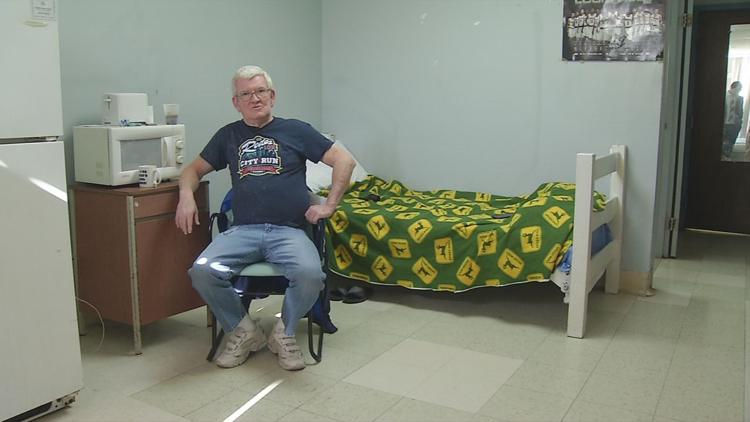 Nina Moseley, director of Wayside Christian Mission, said, "We are severely lacking in affordable housing, and so this provides that gap for those who are able to get into an apartment."
HUD awarded $10.3 million in grants this week to Louisville's Coalition for the Homeless. It's split among 23 programs such as Wayside Christian Mission, part of $23 million announced throughout Kentucky and $2.2 billion across America.
Sallee said the support "can take a lot of pressure off a lot of people on the street.
"I'm not the only one," he said.
While much of the money renews existing programs, some of it is launching new ones: For example, St. Vincent dePaul is getting $800,000 for temporary apartments for domestic abuse survivors.
Catherine McGeeney, with the Coalition for the Homeless, said the city has much more demand for services for domestic violence survivors than it can provide.
"Lots and lots of people stay with their abuser because to not stay with them means to become homeless," McGeeney said.
Louisville's homeless problem really came to light in 2019, when new developments forced people who had lived in the shadows in the woods out onto downtown city streets.
They bounce from block to block as the city clears camps. The latest is off Lexington Road, due to come down next week.
Experts say about 1,000 people on any given night are homeless in Louisville. This latest grant doesn't solve the problem, but it gives more people like Sallee a change to survive.
"I've been there done it, and I hope I never have to live it again," he said.
Copyright 2020 WDRB Media. All Rights Reserved.