LOUISVILLE, Ky. (WDRB) -- With one week left in the hard-fought Kentucky U.S. Senate campaign, Democrat Amy McGrath fired up supporters in Louisville on Tuesday, while Republican Sen. Mitch McConnell was flexing his muscle as Senate Majority Leader.
McGrath held a get out the vote rally at Lynn Family Stadium, underscoring the importance of Louisville to her campaign. In this age of COVID-19, the crowd was small and socially-distanced, but there was still plenty of music and anti-McConnell rhetoric.
"We have a senator who has basically sold us out," McGrath told supporters.
The rally was part of the effort to generate more excitement for her campaign in Kentucky's largest city.
"Louisville is super-important to this race," she told WDRB News. "That's why I'm here as much as I can be."
University of Louisville political scientist Dewey Clayton agreed McGrath needs to roll up big numbers in McConnell's hometown to have any chance of an upset.
"I think Louisville is clearly going to be key, given the population of Louisville, given the registration numbers, given the size of the African American community here in Louisville, the size of Democrats here," Clayton said.
McConnell, meanwhile, has spent the last few days of the campaign in Washington, shepherding through the confirmation of Supreme Court Justice Amy Coney Barrett.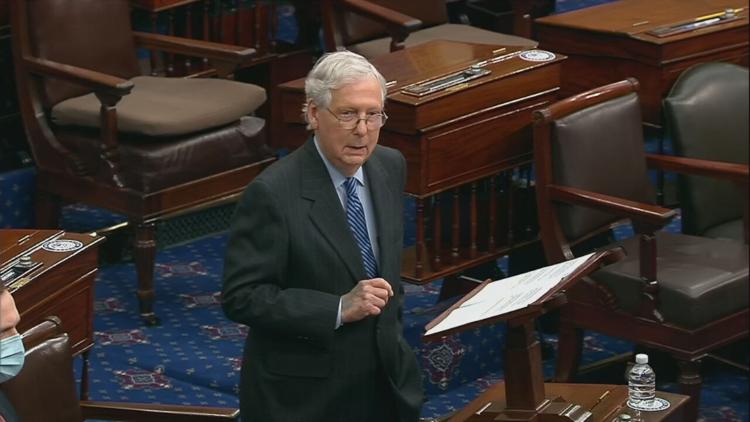 McConnell even got a shout-out from President Donald Trump during Barrett's swearing-in ceremony at the White House.
"Our country owes a great debt of thanks to Senate Majority Leader Mitch McConnell," Trump said.
Clayton noted Trump is still popular outside the urban areas of the state, and the Barrett confirmation will certainly play well with McConnell's supporters.
"It certainly will help him with his base of supporters," Clayton said. "There is no doubt that they will see that he is doing what, in essence, they elected him to do: basically putting judges on the court who are going to continue to carry on a conservative agenda."
But Clayton said the Barrett confirmation will also fire up Democrats, which brings the campaign back to the question of turnout and McGrath's effort to get out the vote.
"We want your voice to be heard," she told the crowd Tuesada. "Please encourage everyone to do this."
Clayton said one big wildcard will be the impact of extended absentee voting and how many new voters may come to the polls.
Copyright 2020 WDRB Media. All Rights Reserved.