LOUISVILLE, Ky. (WDRB) -- In newly filed court documents, federal prosecutors allege that a man accused of a mass shooting plot in Washington County, Ky. had dozens of weapons and more than 1,500 rounds of ammunition at the time of his arrest.
Matthew R. Smith was arrested in the parking lot of LB Manufacturing in Springfield, Ky. on Nov. 19. Police and prosecutors allege that he was planning a mass shooting at the business.
On Wednesday, Smith was indicted on federal charges of possession of a firearm by a prohibited person and two counts of possession of an unregistered firearm. 
The documents say that at the time of his arrest Smith had more than 30 guns including, four "AR-15 auto sears" which did not have serial numbers.
Following an initial appearance by Smith in court, his attorney said many of the weapons were possessed legally.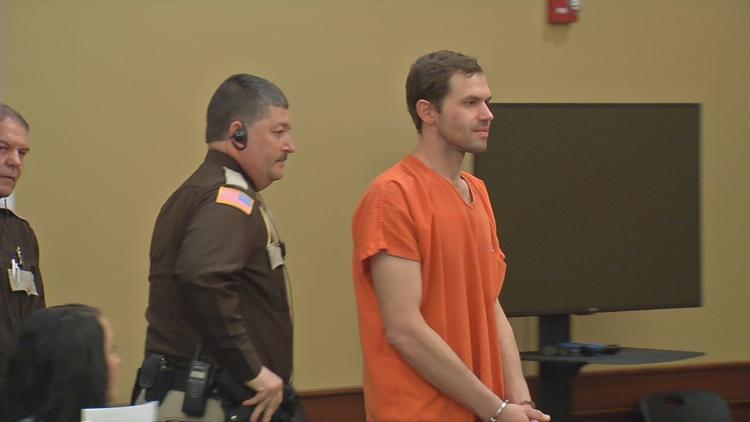 Prosecutors also say Smith had more than 1,500 rounds of various types of ammunition.
A Springfield police officer said he was responding to a complaint at the business about a suspicious truck on the property. When he confronted Smith and told him to leave, the officer claimed Smith refused to give his name and demanded his badge number. The confrontation escalated, and the officer said Smith pointed a Glock handgun at his chest.
"I believe a potential tragedy was averted," Springfield Police Chief Jim Smith said at the time. "This was within a few minutes of being a potential disaster, a tragedy."
During an interview with police, Smith reportedly told officers he was at the business searching for a woman he thought was being trafficked and "brought what he needed to get the job done."
Smith is also facing several charges in state court, including attempted murder and resisting arrest, among others. 
Smith is currently being held at the Marion County Detention Center on a $750,000 bond. His next court appearance was scheduled for March 20. 
Copyright 2019 WDRB Media. All Rights Reserved.