SHELBYVILLE, Ky. (WDRB) - The Shelby County school district is doing everything it can to prevent canceling prom for the second year in a row.
The coronavirus pandemic wrecked plans for annual high school traditions like prom and graduation in 2020, but ideas for a different approach have surfaced for 2021.
The Kentucky Department of Education recently announced recommendations for schools hosting prom which include maintaining social distancing. The recommendations mean no dancing at school proms.
"We're flipping the script," said Shelby County High School Principal Margo Whisman.
Instead, both Shelby County High School and Collins High School will host a formal dinner prom. Students will be invited to each campus for a dinner with a date and a small group of other friends on the scheduled prom night.
Students will be seated at a table in groups of eight, socially distant and required to wear masks when not eating.
Administrators and organizers say it's a safe way to still give students a night to remember.
"We'll have lights, and we'll have tables with table cloths, decorations, and the kids are going to dress up as if it is a normal prom," said Collins Principal Nate Jebsen.
While the district says its students are excited for the alternative, some parents say their kids are still disappointed that the traditional prom is lost yet again.
Lea Ann Wood, a parent of a senior in the district and the Assistant Parks Director for Shelby County Parks and Recreation, got the idea for the parks system to host a more traditional prom night.
"They need one," she said. "They've missed out on so much due to COVID, and all the fun senior things that they normally get."
To make this event happen, Parks and Recreation is hosting an event for those students on each of their prom nights. Students are invited to come to the park amphitheater following the school-sponsored dinner.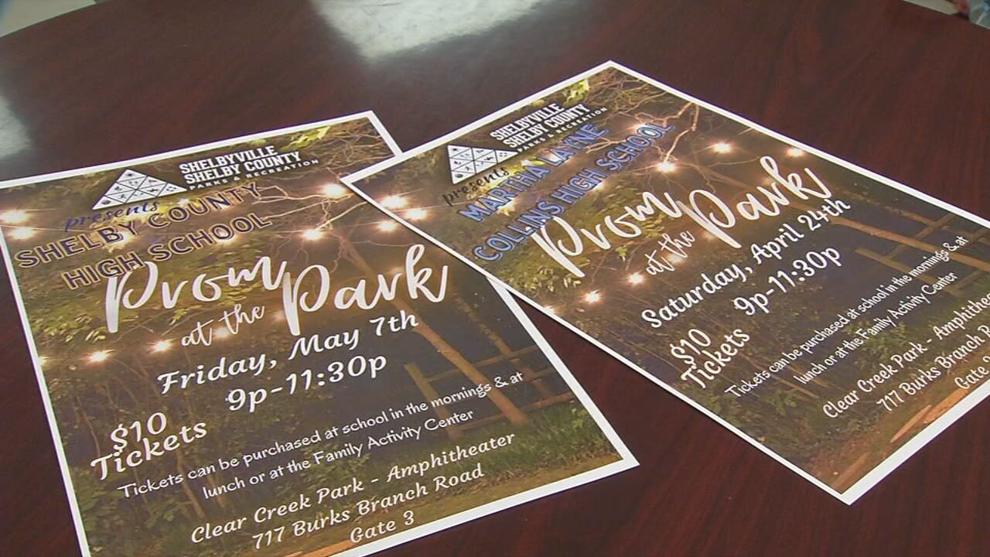 Lights will be hung around the area and a DJ will play music for the students who choose to come.
While it's not a school-sponsored event, the parks system says it will be COVID-friendly with restrictions and mask mandates.
School leaders are aware of the idea and say they're proud to see the community support the students.
"I'm just a fan knowing that we've got such support for our kids and seeing them have as much of a way to celebrate because these guys have had a rough go," said Jebsen.
"We totally support our community, and we are so thankful that they are kind of stepping up," added Whisman.
Copyright 2021 WDRB Media. All Rights Reserved.