LOUISVILLE, Ky. (WDRB) -- The leaders of Wayside Christian Mission suggested an urban campground could help relieve some of the homeless housing problems in Louisville.
Between its regular shelter and the low-barrier shelter, Wayside's 460 beds are regularly full. The shelter is only allowed to add temporary beds outside of its capacity if the temperatures drop below 32 degrees or spike above 95 degrees.
One of Wayside's directors, Nina Moseley, said there are still plenty of homeless people who do not have a place to go. For years, many have camped in secluded areas and want to stay outside. She said either mental health concerns or drug and alcohol abuse are major factors for these people to refuse shelter or housing.
Moseley added there is a reason why homelessness seems to be a more "visible" problem the last few years.
"A lot of it had to do with the botanical gardens coming to the riverfront, which is where a lot of folks used to camp," Moseley said. "The Louisville soccer field coming in ... They're taking the spaces where people camped for years unnoticed."
Recently, the homeless were required to move out from under the overpasses in downtown Louisville, forcing many to seek shelter inside places like Wayside or head to camps like the one near the CSX railway. But soon, those camping near on the railway's property will need to move as well.
With so few places for people to go, Moseley pitched the idea of an urban campground to the city. Moseley discussed the idea with Mayor Greg Fischer, and she said it has worked in other cities.
"There needs to be some place where folks can camp and not be moved constantly from place to place, I think," she said. "It would need to be done in such a way that would limit liability and make it as safe as possible."
Moseley suggested the idea of using part of a park that already has utilities like bathrooms and showers. But with the city's budget problems, it is hard to look at solutions when the shelters are already expecting cuts.
Wayside receives most of its funding from private donations. She said only around $15,000 comes from Metro Louisville to support its family shelter. And the low-barrier shelter was funded through surplus funding, which will run out by the end of June.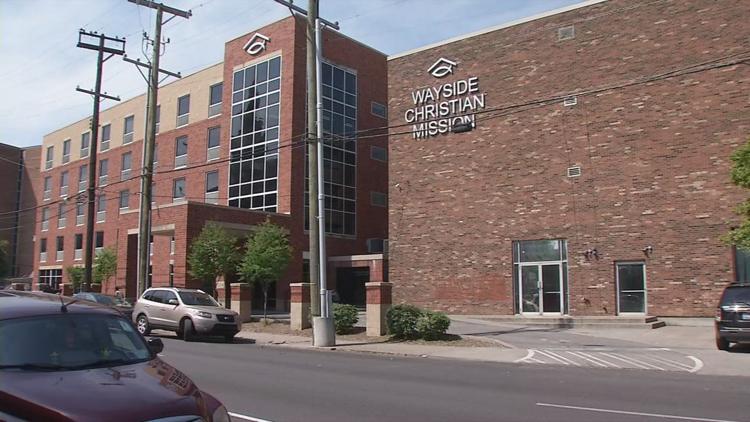 Moseley said they will need to wait and see what Fischer pitches Thursday in his budget proposal. But she expects to see cuts to homeless services, which will require even more creative problem solving skills for the future.
Copyright 2019 WDRB Media. All Rights Reserved.