LOUISVILLE, Ky. (WDRB) -- A last minute decision to join a protest in downtown Louisville Thursday night almost cost a southern Indiana man his life.
"We stayed out there for probably two hours, maybe," said William Clark. "And as I got ready to leave, 'cause I had noticed it kind of started turning left."
Thursday night, Clark was one of several hundred protesters in downtown Louisville outside Metro Hall. He says once the protest turned riotous, he was ready to go.
Clark explained, "They had started pushing the police car, and I was directly in front of the police car, in between the police and that's when the gunshots went off."
Once the gunfire started, Clark and just about everyone else tried to run for cover. 
Clark said, "And I tried to duck down and take off and that's when I noticed my whole leg was covered in blood. I was shot."
Clark attended the protest with co-workers and friends, but once the shooting started, they got separated. That's when Clark turned to a stranger for help.
"I seen a guy had his window down," Clark explained, "and I said, 'hey, man, please help me, I'm about to die, I've been shot,' and I jumped in his back seat and he took me to the hospital."
With a bullet in his leg and losing blood, the stranger rushed Clark to University Hospital. 
"And the shots went off and everybody immediately went down and just scattered," said Chas Reid, Clark's friend and co-worker.  After the gunfire ended, Reid was frantically searching the crowd for his friend.
Reid said, "I yelled his name for like 10 minutes and I said, you know what, maybe he's at the car. I went to the car, and he was not there." 
Reid eventually got a call that his friend was one of the seven people shot during the riot. 
"They told me I had been shot once," said Clark. "They said it looked like it was close, by my top artery. They wrapped it up and was just trying to stop the bleeding."
Clark says doctors removed a bullet from his ankle, but no one has told him who put it there.
"I'm glad to be here but my thing is, I want answers. I haven't heard anything. No one has talked to me, no one told me they're investigating."
Clark was released from the hospital the next day, but says he's still waiting to hear from Metro Police. He has also reached out to Jeffersonville attorney Larry Wilder.
"They contacted me because Mr. Clark and Mr. Reid have some grave concerns about the way, him being shot, him being the victim of a crime, the way it has been handled," said Wilder. "The lack of information he has received, the lack of knowledge we have about what happened, the things that were done while he was in the hospital."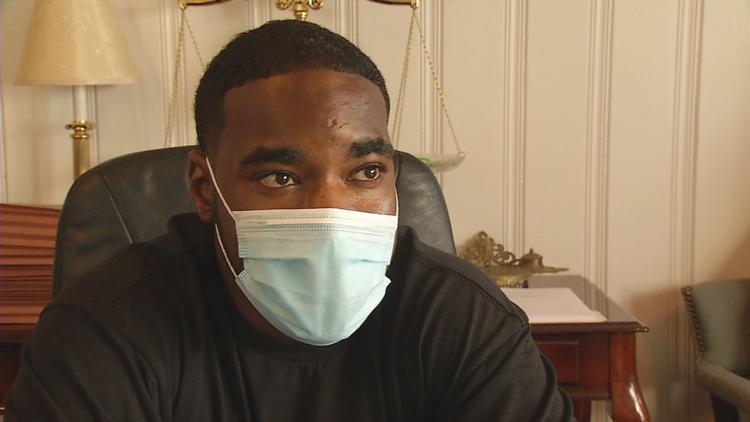 Clark says police took his clothing and searched the car of the man who drove him to the hospital, but he and Wilder believe there's more to the story.
Clark said, "I would like to know what's going on with the investigation. I got shot Thursday, I got out of the hospital on Friday, I still haven't heard nothing, I haven't talked to a detective or anything. I'd like to know what's going on."
"We need to know where the evidence is," said Wilder. "I find it hard to believe that there's someone who just randomly chose to shoot Mr. Clark and six other people in front of the police, in downtown Louisville, in the middle of this demonstration."
Wilder is asking anyone with information about the shooting or cellphone video to come forward.
Clark relocated his family to Kentuckiana for his job, but says he will be unable to work until his leg heals. Family members have set up a GoFundMe  page to help Clark support his family while he's away from work.
If you would like to donate, click here.
Related stories: 
Copyright 2020 WDRB Media. All Rights Reserved.