LOUISVILLE, Ky. (WDRB) -- The street in front of Churchill Downs has been renamed to honor a track legend.
In a tearful ceremony with his family, part of Central Avenue was given the honorary name of "John S. Asher Way."
Churchill Downs president Kevin Flanery said many racing fans considered Asher the Kentucky Derby's greatest ambassador.
"John would be embarrassed a little bit, but you know what? I think John at Fourth and Central -- the epicenter of the Kentucky Derby on the first Saturday in May -- I think John might puff his chest out just a little bit and say 'This is pretty cool. This is pretty cool,'" Flanery said.
John's wife, Dee Asher, wiped tears from her eyes during the playing of "My Old Kentucky Home," but she agreed that her late husband would have been honored.
"He would have thought of so many other people that would be more deserving than him, but, yes, he probably would have been pretty proud," she said.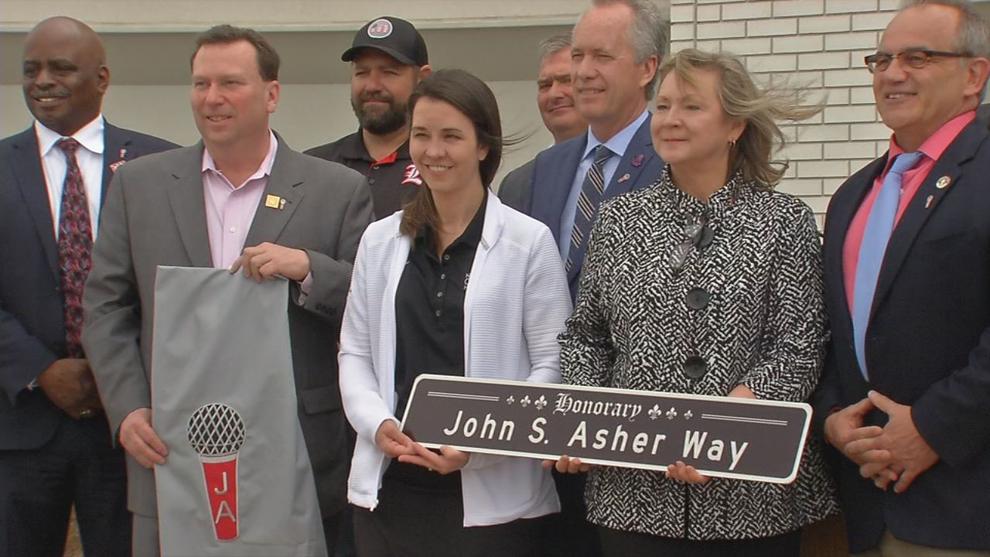 This is the first Kentucky Derby without Asher and his familiar voice sharing his encyclopedic knowledge of track history. The longtime Vice President of Communications for Churchill Downs died unexpectedly in August 2018 at 62 years old. He spent three decades as an award-winning journalist in Louisville and spend 19 years as a spokesman for the track.
Brown-Forman is donating money from this year's Woodford Reserve $1,000 mint julep to the John Asher Scholarship Fund at his alma-mater Western Kentucky University.
Copyright 2019 WDRB Media. All Rights Reserved.