LOUISVILLE, Ky. (WDRB) -- A new luxury hotel is preparing to celebrate its grand opening Thursday in downtown Louisville.
The Grady Hotel was developed by Vision Hospitality Group in the building at the corner of North Sixth and West Main streets, which had been empty for five years. It's been a year-and-a-half process to transform the five-story building into a boutique hotel.
"We are ready to rock," said Laurent Geroli, general manager of The Grady. "We got our team in place, and we are ready to open and welcome our guests."
Named after Louisville journalist and urban planner Grady Clay, The Grady Hotel plans to revive an atmosphere of luxury and comfort.
"The great thing about this gentleman is he really put a lot of effort in this city creating this atmosphere," Geroli said. "So the hotel is going to be luxurious as any big-city hotel but with a touches of southern hospitality."
The five-floor hotel has 51 rooms with views of downtown or the river. Room rates start at $245 per night.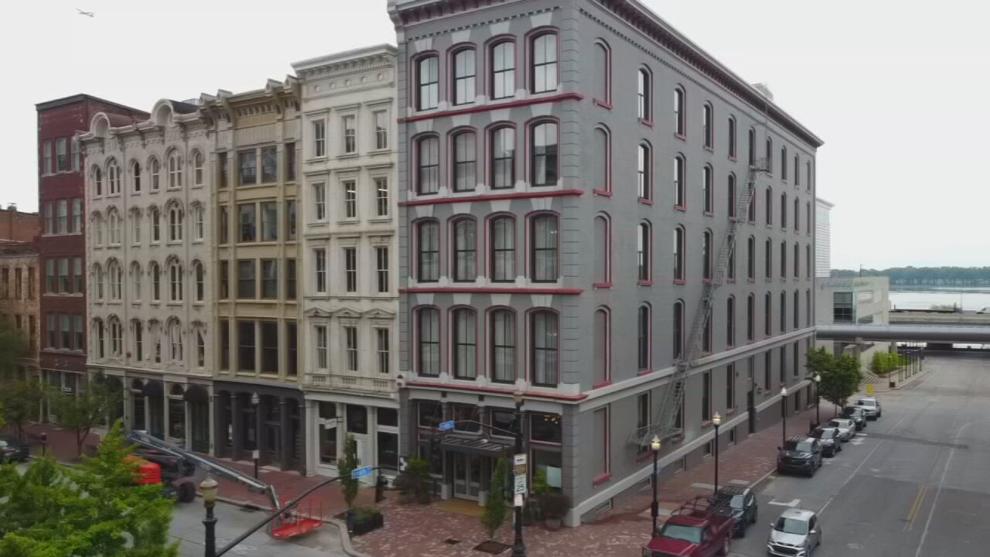 With multiple hotels up and down Main Street, Geroli has a different vision for The Grady, especially in a post-pandemic world.
"This is a very, very unique place," he said. "We have nothing like this in Louisville. The smaller hotel will be big in demand, because people want to be in a little bit more intimate environment. And we are going to be able to give the extra service and attention."
With decades of experience in the industry, Geroli said he wants The Grady to "get back to the roots of hospitality and service." He expects employees to be more like ambassadors for the city, and service will be crafted to individual guests' needs.
The renovations to the building cost at least $3.5 million. The developer took care to embed nods to the past in every nook and cranny, like covering the ceilings with reclaimed wood from each guest room.
The building was commissioned in the late 1880s by J.B. Wilder, a pharmacist. The original building housed a medicinal bourbon apothecary, and Geroli said the hotel is latching on to that bourbon-drenched history.
"We have witnessed so much change on Whiskey Row, and now, we have all those distillery openings," he said. "And now, we have beautiful hotel opening as well that guests can come stay with us to really learn about our city."
Before the hotel, the building took on several tenants over time, including The Swann-Abram Hat Company. There is a mural of thousands of coins covered in swans that spells out "The Grady" that greets guests as they walk into the lobby.
"We're going to get people from all around the country but as well the locals," Geroli said. "Everyone will be able to come here to discover this place has come back from the past."
The luxury continues underground. The hotel has a speakeasy in the basement which looks more like a series of catacombs lined with plush seating area. It's called Wild Swann, in honor of the former milliner tenant, and it is a spot for hotel guests and locals to enjoy. There will be a menu of small plates, craft cocktails, along with impressive bourbon and wine selections.
"People are going to expect one of the coolest vibes in town here," said Grant Williams, the food and beverage manager for The Grady. "We are going to have some bourbon cocktails, three or four bourbon cocktails to accentuate the great bourbon that we have here in town. All of our ingredients are fresh every time. Everything here will be perfect, down to every detail."
Wild Swann will open on June 12 after some of the COVID-19 restrictions are loosened.
The Grady Hotel will celebrate its grand opening Thursday morning, and reservations are available starting May 27.
The hotel will be operated by Humanist Hospitality, a division of VHG. The Grady is also a member of Small Luxury Hotels of the World, a collection of luxury hotels offering exclusive experiences across the globe.
Copyright 2021 WDRB Media. All Rights Reserved.