LOUISVILLE, Ky. (WDRB) -- A Louisville Metro Police officer has filed a whistleblower lawsuit against the city and police claiming he was discriminated against by the former chief spokesman for the department for being openly gay.
The lawsuit was filed in Jefferson Circuit Court last week on behalf of Officer John Burgraff, who has served as the LMPD LGBTQ Liaison Officer since 2015 through the Community Policing Unit.
The suit claims Burgraff was retaliated against after reporting that his commanding officer, Lt. Phil Russell, wanted him reprimanded for telling a Youth Police Advisory Committee that he is gay.
Police Chief Steve Conrad launched an internal investigation into a charge of prejudice against Russell in December 2017 for allegedly making "inappropriate comments," according to police records. 
On May 10, 2018, Conrad informed Russell the charge was not sustained. Not sustained means there was not enough evidence to prove something, according to police guidelines.
Russell was for years commander of the Media & Public Relations Unit. WDRB reached out to LMPD for comment, but the department does not comment on pending litigation.
According to the suit, Burgraff spoke to the law enforcement training program for 14- to 18-year-olds in Dec. 2017.
During the presentation, Burgraff talked about his outreach role and the department effort to involve members of the minority community. He also mentioned his job as the LMPD LGBTQ Liaison.
The next day, Burgraff claims Sgt. Corey Robinson was ordered by Russell to counsel him for introducing himself as openly gay. "He claimed his remarks were not appropriate for a youth event, and that Officer Burgraff was looking at a young male inappropriately," according to the suit.
The lawsuit alleges Sgt. Robinson spoke to Lt. Jill Hume and Sgt. Rob Owen about what Russell said, including that Burgraff was "looking lustfully or suggestively at a boy in the audience." Both told Robinson to disregard the order. But Robinson did tell Burgraff about Russell's order and what he said.
In addition, Burgraff reported Russell's comments and his concerns to a member of the Chief's Office, which opened an investigation.
Burgraff also complained to Major Andrea Brown about being uncomfortable with Russell remaining as his commanding officer.
Burgraff's lawsuit says he took vacation to avoid the situation. When he returned to work in January 2018, he talked to Major Brown again about being under Russell's command, but she told him that she had talked to others and told him that what Russell had said "was not that bad."
Russell was moved to the chief's office but remained commander of the Community Policing Unit. He was eventually transferred to the Training Unit.
Burgraff claims he was never given an update on the PSU investigation, which superiors told him was finished "before Derby."
The lawsuit claims Burgraff was told in August 2019 that his allegations against Russell had been unsubstantiated.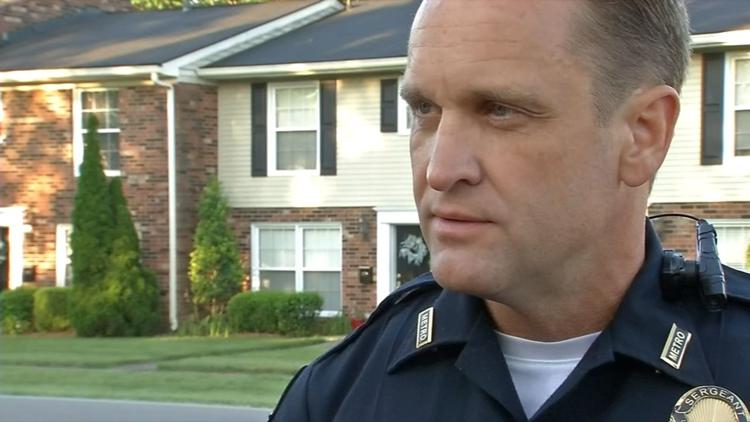 But Burgraff's request for a copy of the report and the PSU investigation files were denied, according to the suit. He found out about disciplinary charges from a reporter.
He also feels he was skipped over for a position in the Public Information Unit.
Jessie Halladay, who is head of the PIO unit, allegedly told Burgraff she couldn't allow him to talk with the media with a "lawsuit hanging over his head," the suit claims. "We don't want to look like we just gave it to you," Halladay allegedly told him.
At the time, Burgraff had not filed a lawsuit.
The lawsuit is seeking a jury trial and unspecified monetary damages.
Copyright 2019 WDRB Media. All Rights Reserved.