LOUISVILLE, Ky. (WDRB) -- Wigglewow wants to spread homemade dog biscuits throughout the Bluegrass and beyond, and to do so, it's employing adults who have special needs and their caretakers.
Founder, Mark Pfeifer, said being a caretaker can sometimes be a full-time job, making it difficult to earn money.
"People love their dogs, and we know how the special needs community loves working with dogs," Pfeifer said. "So what a great opportunity to create a product that dogs absolutely love."
The homemade dog treat business will hire "epic chefs" for $8.50 per hour and their caretakers for $12 an hour.
"If we have a pair that's able to work full-time, it's (almost) another $50,000 for the family, where historically, there was none," Pfeifer said.
All the treats are made in "The Dog House" on Old Taylorsville Road. There's a sticker on the back of the package that says who made the treat. Maybe it was 19-year-old Derek who likes video games, batman and the drums. Or, it could be Danielle who likes basketball and volunteering at the Kentucky Humane Society. It could be Dante who likes Jeopardy.
"You can't mess anything up here at Wigglewow," Pfeifer said. "See this piece of dough right here? If it falls on the floor, guess what? It just goes into the trash, because we don't want to feed dogs dough that we drop on the floor. And if this piece of dough right here becomes a treat — and let's say it doesn't have the right shape or whatever — we just throw it right back in the mixer, and it gets a second chance to be another dog treat again."
Pfeifer said when he gives one of his epic chefs, Dante, and his mother a ride to "The Dog House," Dante runs from his front porch and jumps in the car. Pfeifer will ask if Dante is ready and he yells "yes!" in excitement.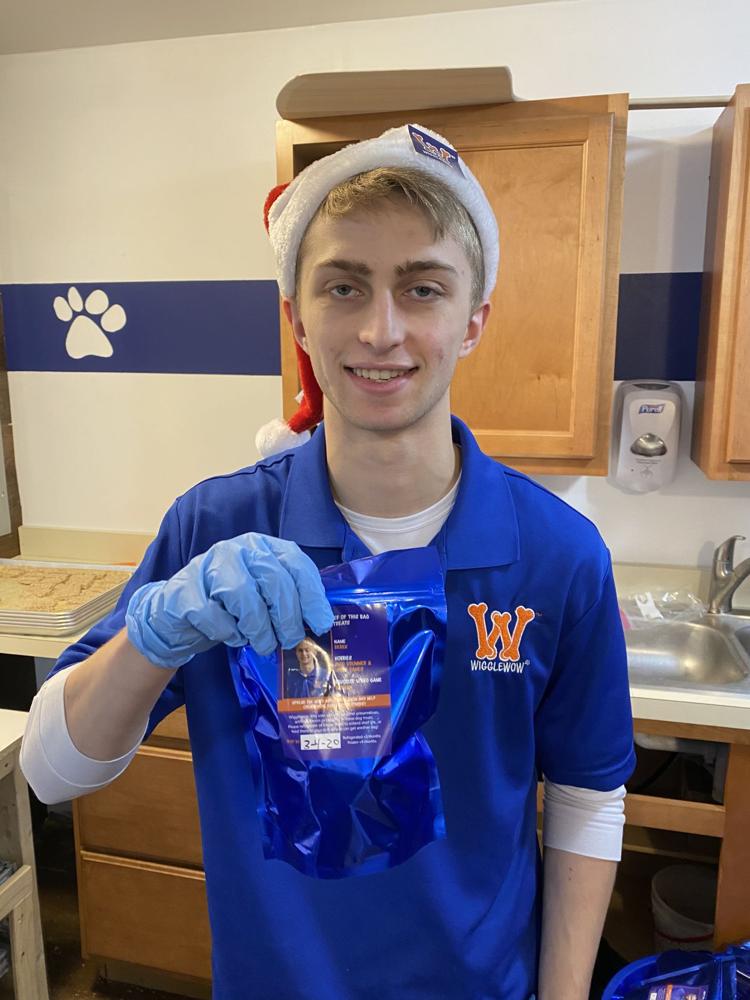 "Because he's so excited to come to work," Pfeifer said.
The company started in Louisville but has plans to become a booming biscuit business.
Pfeifer wants to grow it nationwide, with dreams of one day becoming the largest employer of people with special needs in the country.
For now, the company is small, and there's a wait list to become a chef.
"Really, the only way we can hire more people is by selling the dog treats," Pfeifer said.
The treats are sold online. Click here to go to the Wigglewow website.
Copyright 2019 WDRB Media. All Rights Reserved.