LOUISVILLE, Ky. (WDRB) -- After the harsh tumbles Georgia and North Carolina took (and Notre Dame nearly took) last weekend, college football needs fresh legs on the scene.
Here comes the Big Ten.
In a season when it was initially reluctant and then resistant to play, the Big Ten will join the SEC, ACC and Big 12 as the fourth of the five Power Five conference competing this weekend. The Pac-12 (remember them?) will complete the heavyweight division next month.
That means Ohio State and Penn State will make their pushes to join Alabama, Clemson and (maybe) Notre Dame in the national playoff discussion — and that Indiana will join Louisville, Kentucky and Western Kentucky on the local calendar
The WDRB Sports staff will pick seven games against the spread every week. Amazingly, three of us are .500 or better, including Tom Lane, who improved to 22-18 on the season by nailing six of seven games last weekend.
Can he do it again? Can anybody?
1. Florida State at Louisville (-5); Saturday, Noon; Cardinal Stadium.
Quarterback Jordan Travis didn't wait for U of L Athletic Director Vince Tyra to fire Bobby Petrino two years ago. He bolted long before he had a chance to play for Scott Satterfield. Travis will start for the Seminoles on Saturday, but he might not have been a fit for Satterfield. He's only completed 54% of his throws with three touchdowns and three picks. But don't focus on the wrong numbers. Travis ran for 96 yards when FSU threatened Notre Dame and then ran for another 107 and two touchdowns as FSU toppled unbeaten North Carolina. It will be a big test for the Cards' linebackers to control Travis ... Defensively, FSU's defense is the third-worst in the ACC against the run, allowing 192 yards per game and 5.2 per carry. Louisville needs to take advantage of that to end its four-game slide. The Cards offense is averaging 161 yards rushing per game, down 51 yards from last season ... Both teams are 2-3 against the spread.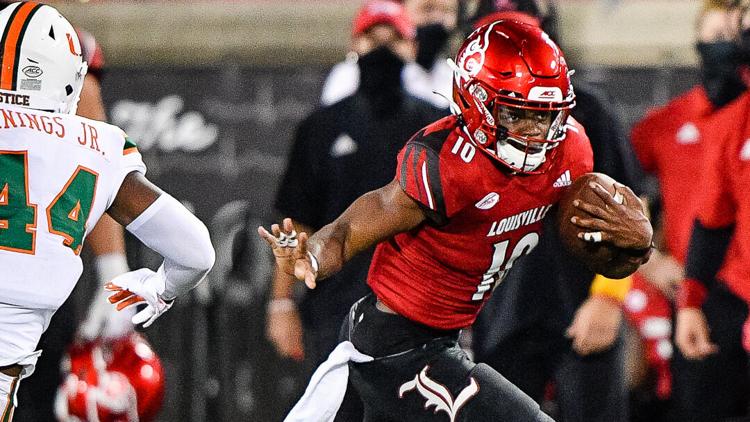 Tom Lane: Louisville 27, FSU 23
Aaron Matas: Louisville 28, FSU 21
John Lewis: Louisville 31, FSU 21
Eric Crawford: Louisville, 31, FSU 28
Rick Bozich: Louisville 28, FSU 24
Ruby: FSU
2. Kentucky at Missouri (+5); Saturday, 4 p.m.; Faurot Field, Columbia, Missouri.
For the third time this season, Kentucky head coach Mark Stoops will take on one of the offensive gurus that opposing programs have installed to energize their SEC programs. He lost to Lane Kiffin. He beat Mike Leach. Now, he will face Eli Drinkwitz, whose Missouri team handled Louisiana State two weeks ago the last time the Tigers played ... Missouri relies on Cobnor Bazelak, a redshirt freshman quarterback from Dayton, Ohio, the Wildcats recruited. Bazelak has thrown four touchdowns passes with a single interception while averaging an impressive 10 yards per passing attempt ... The Wildcats have beaten Missouri five straight ... Kentucky is 2-2 against the line, while Missouri is 2-1.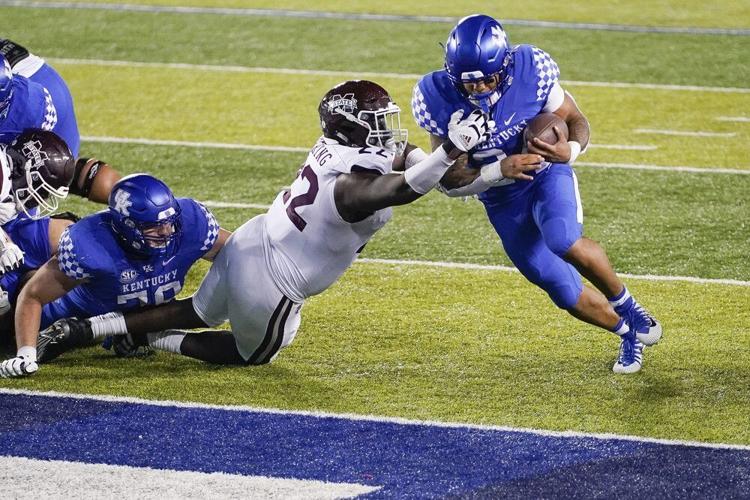 Tom Lane: UK 27, Missouri 24
Aaron Matas: UK 31, Missouri 17
John Lewis: UK 27, Missouri 17
Eric Crawford: UK 24, Missouri 17
Rick Bozich: UK 23, Missouri 17
Ruby: Missouri
3. Penn State at Indiana (+6.5); Saturday, 3:30 p.m.; Memorial Stadium, Bloomington, Indiana.
Beating Penn State has been a mystery for the the Hoosiers. IU is 1-22 against the Nittany Lions, the sole win coming seven seasons ago ... Although Penn State is ranked No. 8, the Nittany Lions are without top linebacker Micah Parsons, who opted out this season, as well as halfback Journey Brown, who suffered an injury this week. Penn State does return 17 starters, including quarterback Sean Clifford who threw for a touchdown and ran for two more when Penn State beat the Hoosiers 34-27, in State College last season ... IU struggled to run the ball on Penn State in 2019, gaining 91 yards on 31 carries.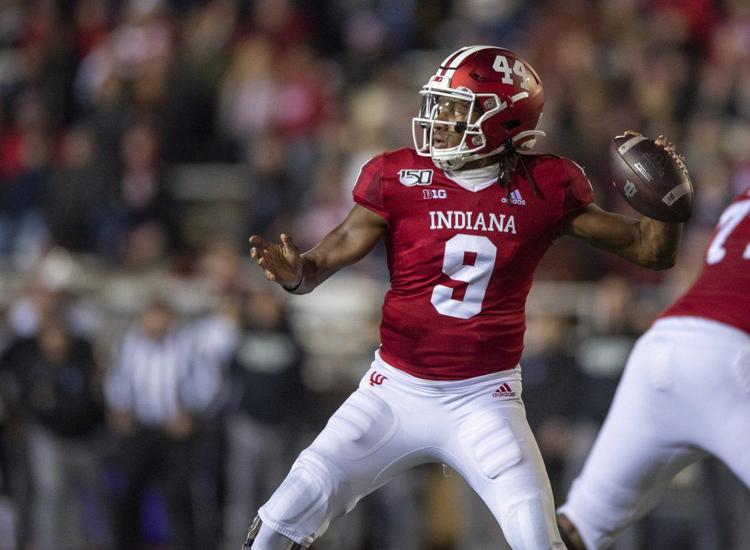 Tom Lane: Penn State 30, Indiana 24
Aaron Matas: Penn State 42, Indiana 24
John Lewis: Penn State 30, Indiana 21
Eric Crawford: Penn State 35, Indiana 31
Rick Bozich: Indiana 28, Penn State 27
Ruby: Penn State
4. Chattanooga at WKU (-7.5); Saturday, 4 p.m.; Houchens-Smith Stadium; Bowling Green, Kentucky.
Good luck forecasting this one. The Hilltoppers have played five times, losing four of them. Chattanooga has yet to play. In fact, this is the only game UTC will play until they return for an eight-game schedule in the spring because of restrictions created by the virus ... UTC returns 16 starters from a team that finished 6-6 ... WKU beat UTC in 2006 and 2007, the last times the programs met, but this will be their first game since the Hilltoppers upgraded to FBS status ... Although WKU has wobbled to a 1-4 start, the Hilltoppers rank fourth nationally in fewest penalty yards.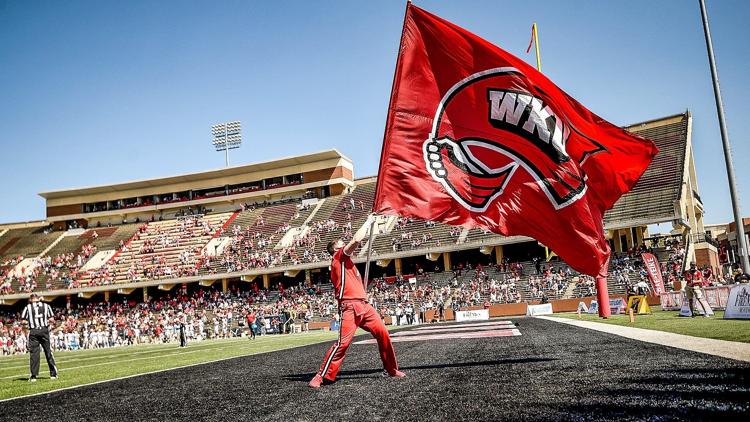 Tom Lane: WKU 21, Chattanooga 10
Aaron Matas: WKU 31, Chattanooga 28
John Lewis: WKU 17, Chattanooga 13
Eric Crawford: WKU 21, Chattanooga 10
Rick Bozich: WKU 27, Chattanooga 20
Ruby: WKU
5. Notre Dame at Pitt (+10.5); Saturday, 3:30 p.m.; Heinz Field; Pittsburgh, Pa.
The Irish struggled to put Louisville away in South Bend last weekend but still climbed to No. 3 in the latest AP Top 25 ... This will be Notre Dame's first road game after opening with four home victories ... In the last dozen games between the teams, 10 have been decided by 9 points or less ... After opening with three consecutive victories, Pitt has lost three straight by a combined margin of 14 points.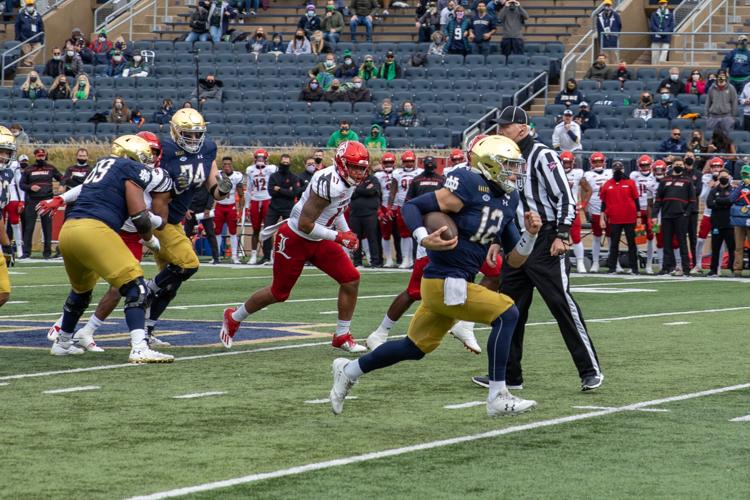 Tom Lane: Notre Dame 24, Pitt 14
Aaron Matas: Notre Dame 34, Pitt 20
John Lewis: Pitt 21, Notre Dame 20
Eric Crawford: Notre Dame 28, Pitt 21
Rick Bozich: Notre Dame 27, Pitt 13
Ruby: Pitt
6. Nebraska at Ohio State (-27); Saturday, Noon; Ohio Stadium; Columbus, Ohio.
Nothing less than a spot in the national playoffs will satisfy the Buckeyes. With assistance from the Cornhuskers, Ohio State helped lead the push to convince the Big Ten to reverse its decision to cancel the 2020 season because of the pandemic ... The Buckeyes have beaten Nebraska five straight while averaging nearly 49 points in its last six games against the Cornhuskers ... Quarterback Justin Fields is getting a late start, but Fields is expected to push Clemson quarterback Trevor Lawrence for the Heisman Trophy ... The Buckeyes have won 20 straight season openers. The last team to defeat Ohio State in week one was the Miami Hurricanes in 1999.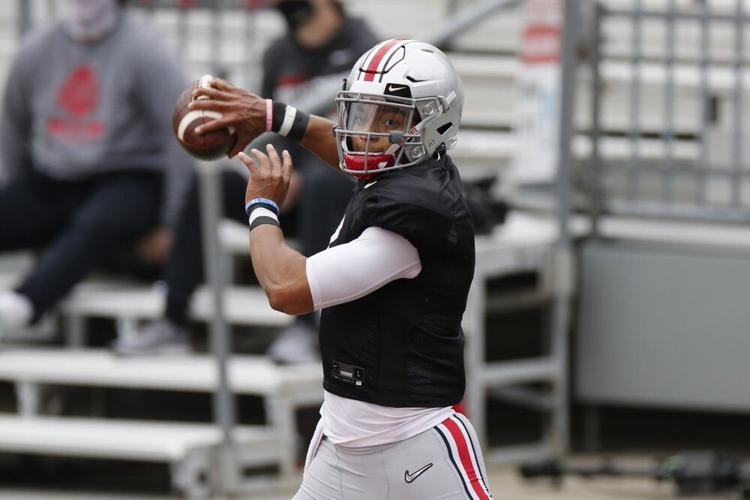 Tom Lane: Ohio State 37, Nebraska 14
Aaron Matas: Ohio State 49, Nebraska 10
John Lewis: Ohio State 35, Nebraska 10
Eric Crawford: Ohio State 42, Nebraska 14
Rick Bozich: Ohio State 45, Nebraska 14
Ruby: Nebraska
7. Iowa at Purdue (+3.5); Saturday, 3:30 p.m.; Ross-Ade Stadium; West Lafayette, Indiana.
Year four of the Jeff Brohm era begins Saturday with his younger brother, Brian, in line to run the team from the sidelines because Jeff tested positive for the novel coronavirus this week. Jeff Brohm and Purdue have petitioned the NCAA for permission for him to be able to speak with Brian by telephone during the game ... After a season of injury issues, Purdue expects to be healthy again while attacking the Hawkeyes with a dynamic passing game that will feature two Louisville-area high school products (Rondale Moore and Milton Wright) as well as David Bell, a talented sophomore ... Brohm has yet to announce his quarterback. Jack Plummer, Aidan O'Connell and Austin Barton are the three contenders.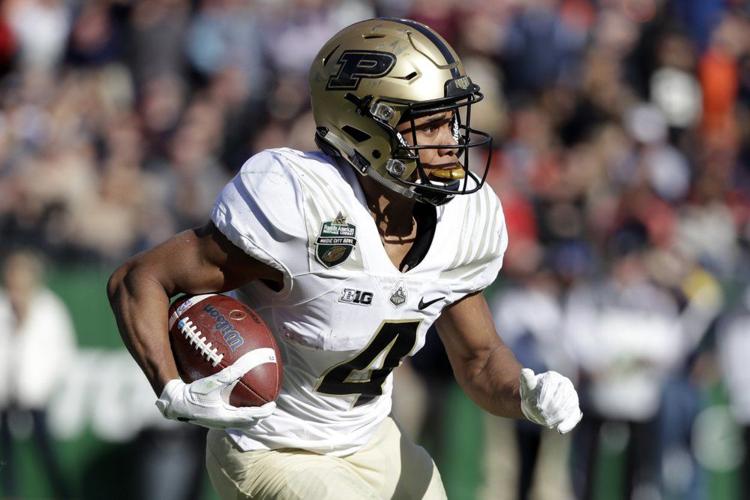 Tom Lane: Iowa 28, Purdue 20
Aaron Matas: Purdue 38, Iowa 31
John Lewis: Iowa 28, Purdue 14
Eric Crawford: Purdue 24, Iowa 21
Rick Bozich: Purdue 27, Iowa 24
Ruby: Purdue
Last Week Results
Tom Lane: 6-1
Eric Crawford: 4-3
Aaron Matas: 2-5
John Lewis: 2-5
Rick Bozich: 2-5
Ruby: 4-3
Season Totals
Tom Lane: 22-18
Rick Bozich: 20-20
Eric Crawford: 20-20
Aaron Matas: 19-21
Ruby: 15-25
John Lewis: 14-26
Copyright 2020 WDRB Media. All Rights Reserved.