LOUISVILLE, Ky. (WDRB) -- The talent evaluators at the Rivals' recruiting website were so dazzled by Desmond Ridder's potential as a college quarterback they gave him two recruiting stars on the five-point scale in the Class of 2017.
Two stars is a courtesy ranking. It is a polite nod to a kid who had the talent and grit to be the starting quarterback at St. Xavier High School during a time when the Tigers chased Trinity and Male in the Louisville high school football field.
The other major recruiting site, 247Sports, was more confident of Ridder's ability to excel as a college quarterback. But not much.
Ridder earned three stars from 247. But he was ranked the nation's No. 116 quarterback prospect and the 10th-best player in Kentucky.
Former St. X coach Will Wolford said that Louisville looked at Ridder. No scholarship was offered. Ditto for Kentucky. "Louisville and Kentucky kicked the tires, but that's as far as it went," Wolford said.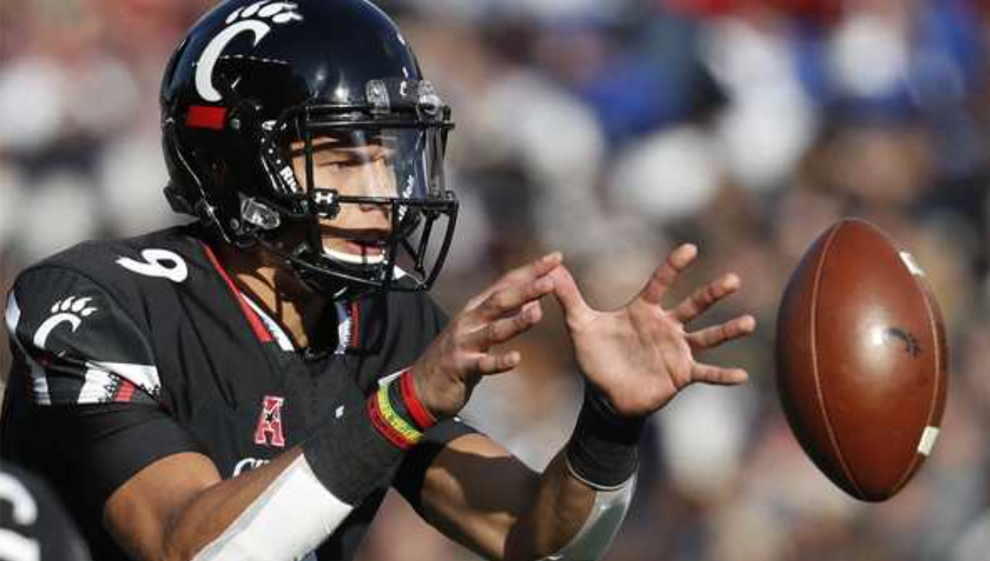 Wolford said that Purdue offensive coordinator Brian Brohm wanted the Boilermakers to take Ridder but he was overruled by Purdue head coach Jeff Brohm.
"That was about it," Wolford said.
That background is worth noting today because over the next three Saturdays, Mr. 2-Star Quarterback will play a pair of 5-star games that will determine how remarkable Ridder's career at the University Cincinnati will be. Like Heisman Trophy candidate remarkable.
At noon Saturday in Bloomington on ESPN, Ridder will try to direct the No. 8 Bearcats to their first win over a Big Ten program since 2016. Do that, and after an off week, Cincinnati will encounter a grander stage. On Oct. 2, Cincinnati is booked at No. 12 Notre Dame in South Bend, Indiana.
Considering UC returned 16 starters from a team that won nine games and lost only to Georgia (by three) last season, and you understand why the Bearcats have the most legitimate shot to make the four-team national college playoff of any non Power 5 team in years — with a quarterback whose recruiting profile shows that he had one major offer, an offer Ridder accepted from Cincinnati on May 14, 2016, several months before his final season at St. Xavier.
On fourth and goal, Desmond Ridder flicked a pass to Noah Davis for a @gobearcatsfb score. The touchdown was the first of six for Cincinnati on the day and the first of Davis' career. It's today's Fujitec Skilled Play of the Game! pic.twitter.com/B6J5IKCHV3

— Cincinnati Bearcats (@GoBEARCATS) September 11, 2021
Indiana head coach Tom Allen has the responsibility of defending Ridder and friends Saturday at Memorial Stadium, which has already been sold out. When Allen talks about Ridder, he talks about a guy who can do everything any Big Ten quarterback can do.
"Elite player," Allen said. "He's done a great, great job for them. They've done a great job developing him throughout his career. He's a good one.
"His poise sticks out to me on film. You can just tell he's played a lot of football, he's won a lot of games, and he's very comfortable in their system. You can tell he knows it well."
How elite?
Todd McShay of ESPN projected Ridder as a first-round selection in the 2022 NFL Draft. So did Ryan Wilson of CBS Sports. Wolford agrees. He said that he was told Ridder would have been taken in the third round if he had made himself eligible for the 2021 draft. Ridder should do better than that next spring.
"His best football is about five years ahead of him," Wolford said. "Being able to make decisions and see things develop when he's on the run, that's his real talent. Desmond's skill set is exactly what the NFL is looking for."
Teaming up again this year with the 🐐himself, @Dan_Hoard , for Bearcats Insider on @BallySportsCIN talking all things @GoBearcatsFB … including a conversation with QB1 @desmondridder … tonight's episode airs at 5:30 pic.twitter.com/2BMpiUZzKt

— Tony Pike (@tony_pike15) September 15, 2021
Ridder led the Bearcats to wins over three ranked teams last season: Army, SMU and Tulsa. But playing well on the road against Indiana and Notre Dame will determine if Ridder can become more than the best quarterback in the American Athletic Conference. Back-to-back monster games could put Ridder in the front tier of the Heisman discussion.
"He's got a great opportunity to help Cincinnati bust through the unbustable," Wolford said.
Allen sees Ridder as a legitimate dynamo, a guy who has completed better than 61% of his passes in 10 consecutive games.
"The challenge is he can run it and throw it equally effectively," Allen said. "Very durable. He's the guy who runs the ball a lot. Takes a lot of hits and keeps coming back every single time.
"That's an impressive quality to have. It's not easy to do.
"His passing sticks out to me. He's very accurate. He can move and throw on the run. When he scrambles, his eyes are downfield. He just understands the game really, really well."
That is a significant shift from St. Xavier, where Wolford said Ridder was the third string quarterback on the freshman team before his body matured. As the starter, Ridder had more rushing touchdowns (30) than passing touchdowns (19) during his final two seasons. His profile as more runner than passer explained why the recruiting services were not gaga about his college potential.
Ridder has grown to 6 feet 4 inches tall and 215 pounds, an inch taller and 37 pounds heavier than he was at St. X. In Cincinnati's season-opening victory over Miami (Ohio), Ridder played about as well as a quarterback can play, completing 20 of 25 throws for four touchdowns and nearly 12 yards per passing attempt. He also ran for 31 yards and a score.
But Ridder is more than a guy who has done big things against Miami and Murray State, the programs Cincinnati has beaten by a combined score of 91-21 this season. Last season, in the Peach Bowl, Ridder led the Bearcats to a 21-10 lead before Georgia rallied for a 24-21 victory.
Indiana defensive coordinator Charlton Warren coached the Georgia secondary in that game. Like Allen, Warren knows that Ridder's credentials as a top-tier quarterback are legitimate.
"It's hard to trick him," Warren said. "He's seen a bunch of things. He can make checks. He's one of those guys (who) can truly hurt you with his arm, with his legs and with his brain. And so very accurate, very tough, very fast."
Saturday in Bloomington and two weeks later in South Bend will be Ridder's opportunity to show the entire college football world everything that he can do.
Copyright 2021 WDRB Media. All Rights Reserved.