BOZICH | Louisville faces Carolina, Duke, Virginia road block atop ACC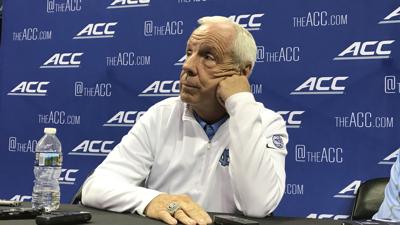 LOUISVILLE, Ky. (WDRB) — America loves Zion Williamson. Ask ESPN. The network is considering embedding Tom Rinaldi in Williamson's Duke dorm room.
Virginia is Virginia. Playing against the Cavaliers is as much fun as cleaning the gutters. Bash Virginia's NCAA Tournaments stumbles all you like. During the regular season, Tony Bennett's team remains as formidable as it gets in the Atlantic Coast Conference.
Then there is North Carolina.
Five stranger words have rarely been typed, especially with Chris Mack booked for his first trip to Chapel Hill as the Louisville head coach Saturday at noon.
"Carolina is not very complex," Mack said. "They're just very good at what they do.
"On one hand, the Xs and Os aren't very difficult to prepare for, It's the Jimmy and Joes that are … they're going to go from defense to offense as quick as any team in the country. So, they don't try to fool you.:"
Bingo. Mack nailed that one. He also reminded everybody the Cardinals will have to significantly upgrade their defense, ball-handling and effort to defeat North Carolina, which is 12-3 and the only ACC team to win two conference road games. No surprise here: UNC opened as a 12-point favorite.
This is Louisville's fifth season in the ACC. The league is what we thought it was. Virginia, Duke and North Carolina have given the Cardinals more heartburn than anybody.
Louisville's combined record against the Big Three is 5-16 — 2-4 against the Tar Heels, 2-4 against Duke and 1-8 against Virginia.
Overall, Louisville has lost eight straight against UNC, UVa and Duke since beating the Blue Devils on Jan. 14, 2017.
Virginia is complex.
Virginia beats you by controlling tempo, limiting mistakes and taking sensible shots. Of course, you have to headline the Virginia scouting report with Bennett's trademark pack-line defense.
Duke is not as complex as it once was. Several years ago Mike Krzyzewski looked over John Calipari's shoulder and swiped his playbook, deciding it was less stressful to overwhelm opponents with NBA-ready talent instead of fancy offensive and defensive schemes.
Then there is North Carolina.
It was just as strange to type those five words the second time as it was the first time. That's Michael Jordan's program.
And James Worthy's. And Vince Carter's. And Rasheed Wallace, Phil Ford, Tyler Hansbrough, Billy Cunningham, Dean Smith and you know the list.
But that's where we are in the ACC today, Virginia is the team nobody (especially Louisville) wants to play because the Cavaliers requires exhaustive preparation.
Duke is another team nobody wants to play because Coach K's top two guys (Williamson and R.J. Barrett) will be the first two picks in the 2019 NBA Draft and two other starters (Cam Reddish and Tre Jones) are also likely first rounders.
Then there is North Carolina.
Now do you understand why I keep typing it?
North Carolina used to be the program that had better talent than Duke. But starting with the Class of 2015 (the seniors on this Tar Heels' team), do you know how many Top 10 recruiting classes Roy Williams has signed?
None.
According to 247Sports, the last four UNC recruiting classes were ranked 70th (2015); 14th (2016); 19th (2017) and 14th (2019).
Williams is not overwhelming you with superior talent anymore. The consensus of the mock NBA Drafts is UNC has one sure first-round pick.
That would be freshman forward Nassir Little. That would be a player who is North Carolina's fourth leading scorer, a guy averaging less than 10 points (9.9) points while playing less than half the game (19.3 minutes).
No wonder there has been grumbling among the UNC faithful that Little needs more minutes.
When I watched Williams, Little and the Tar Heels lose to Kentucky three weeks ago, Williams grumbled about the defeat ruining his Christmas. He also bristled at a question about an internet story that suggested the coach was "holding Little back."
All that North Carolina has done since that game is win four straight, by an average of nearly 19 points, all against teams ranked in the Top 100 by Ken Pomeroy.
After averaging 11 points in wins over Davidson and Harvard, Little scored six in a blowout win at Pittsburgh and only one basket in 17 minutes in a tough win at North Carolina State Tuesday.
In other words, Williams will continue to do things the way a Hall of Famer who has won three NCAA titles should do things — his way.
Williams starts three seniors, a sophomore and a freshman. He stresses a team that fast breaks after misses, fast breaks after makes and fast breaks if you try to play slow. According to Pomeroy, North Carolina ranks third in the nation in shortest time of possession.
"They're good for a reason," Mack said. "They've got a great scheme. They play fast. They play inside/out on the offensive end. We've got challenges everywhere … they expose you because they have players at every position that can hurt you."
Copyright 2019 WDRB Media. All Rights Reserved.