LOUISVILLE, Ky. (WDRB) -- At 6 p.m. Saturday at the historic Smith Center in Chapel Hill, North Carolina, the University of Louisville men's basketball team will attempt an activity that has been unavailable to them since Feb. 1.
The Cardinals will play a basketball game after a 458-hour gap since their last competition.
Just don't ask U of L coach Chris Mack how many of his players will be available against North Carolina, other than forward Malik Williams, who will make his first appearance while returning from a broken foot.
Mack said he was not certain how many of his players would clear the protocols for the novel coronavirus or even who would make the decision on which guys can play. Mack said that center Aidan Igiehon would not play but not because of COVID-19.
Mack said that the last 48 hours had been so frustrating that one day he might write a book about the experience.
"I'm just as confused as you are," Mack said. "Right now, I don't know who's going to be available."
The Cards practiced late Friday afternoon after being limited to individual workouts Thursday. They were scheduled to fly to North Carolina at 8 p.m. Friday. Asked when it would be determined which Cardinal players would be cleared, Mack said, "Hopefully, in the next couple hours."
It will be the Cards' first game since they finished a 74-58 victory against Georgia Tech at 3:56 p.m. Feb. 1. With an 11-4 overall record, the Cards are 6-3 in ACC games.
Mack was asked what concerns he had about the 19-day layoff.
"Conditioning would probably the first thing that comes to mind," he said. "Being sharp ... we'll make no excuses and do the best we can as we have all year."
Multiple positive tests for the coronavirus forced Louisville to cancel games against Syracuse (Feb. 3); Virginia (Feb. 6); Pitt (Feb. 10); Virginia Tech (Feb. 13) and Syracuse (Feb. 17).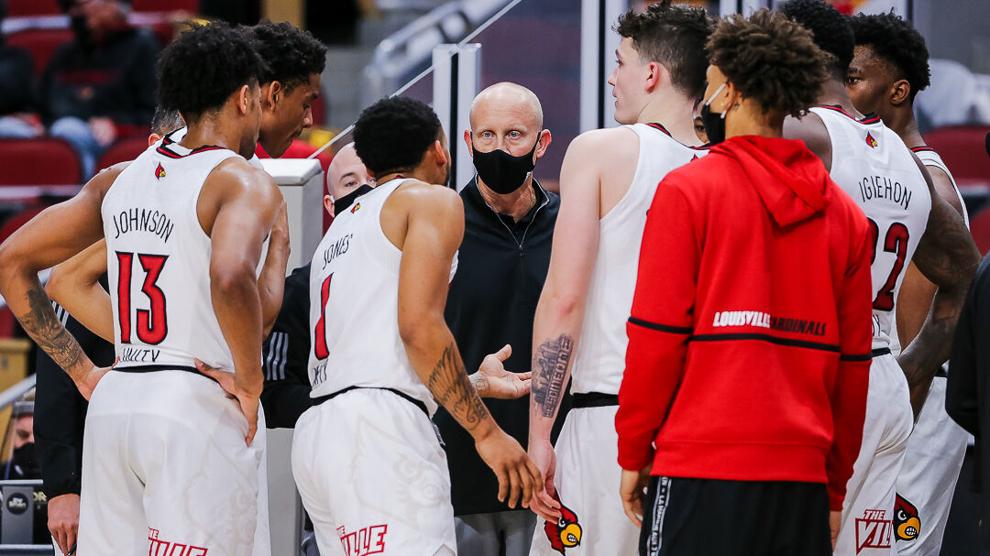 The 19-day pause will be the fourth-longest pause by any Atlantic Coast Conference team this season. Wake Forest went 34 days between non-league games in November and December. Duke and Boston College did not play for three consecutive weeks.
The Cardinals are the only ACC team that has played nine conference games. Florida State and BC have played 10, while Syracuse and Virginia Tech have played 11. The other 10 ACC teams have played at least a dozen conference games, topped by Miami, which has played 14.
"We can't let it be demoralizing," Mack said.
Mack said he was uncertain how many minutes Williams would play in his return but guessed, "10-to-15."
During the time that Louisville has been sidelined, North Carolina has split four games. The Tar Heels won a non-league game against Northeastern that they added to their schedule Wednesday after Tar Heels coach Roy Williams lamented his team's lack of home games on the ACC coaches' teleconference.
"Again guys, up until about the last week or so, teams have won 70% of their home games," Williams said. "Some might say the crowd is not there so the home court is not a factor. That's BS.
"You're used to shooting in your gym. You're used to sleeping in your bed. You're eating the meals that you always eat and not what somebody else prepared …
"... the whole thing that's going on right now (COVID), I feel a heck of a lot safer coming here to play than I do getting on the plane going somewhere else."
UNC is 13-7 overall, 7-5 in league games. The Tar Heels are unbeaten in seven games at the Smith Center. At 5:30 p.m. Friday, UNC was a 5 1/2-point favorite at VegasInsiders.com.
It's uncertain if any games will be added to the Cardinals' schedule. After UNC, they are currently booked for four more, starting with a visit by Notre Dame to the KFC Yum! Center on Tuesday night.
Copyright 2021 WDRB Media. All Rights Reserved.