LOUISVILLE, Ky. (WDRB) -- We, the frisky media pack, needed 10 minutes with Tim Yakteen, the trainer trying to win Kentucky Derby 148 with Bob Baffert's horses.
But first, Yakteen needed 10 seconds so he could report on the reporters.
Yakteen reached for his cellphone. He laughed and then recorded a short panoramic video of the 25 or so people with cameras and notepads surrounding him in a tight semi-circle Monday morning at Churchill Downs.
"I'm just going to take a video," Yakteen said. "My boys (Ben and Sam) will never believe this."
Hello, Ben and Sam.
Yes, your dad is famous — with a chance to become exceptionally famous Saturday by winning the Kentucky Derby.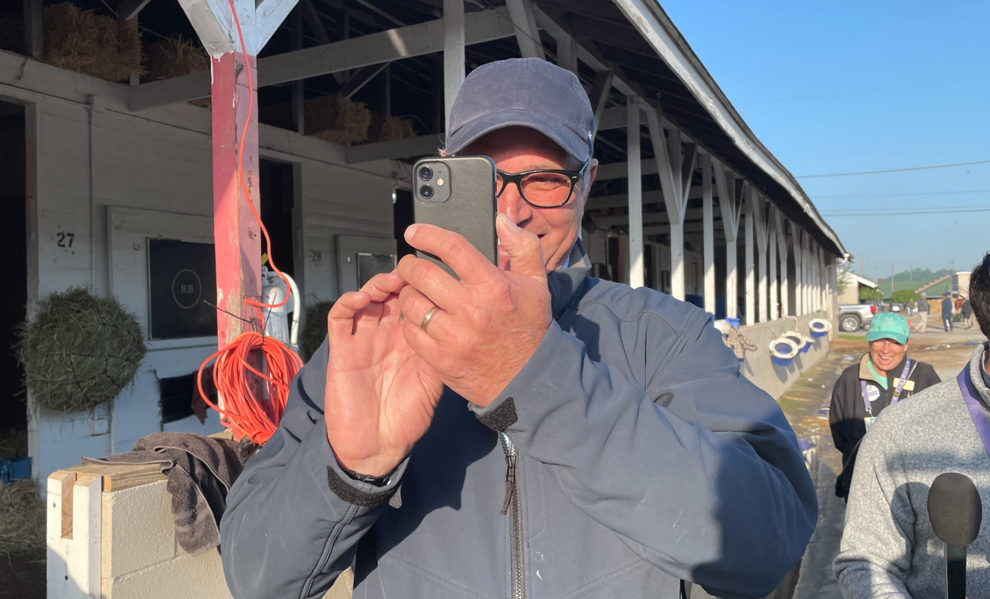 If he sends you more videos, expect the gatherings outside his three stalls at Barn 37 to grow larger every day.
The No. 1 story of this Kentucky Derby will be how your father fares with Taiba and Messier. They finished 1-2 in the Santa Anita Derby last month, confirming their status as two top contenders for Derby 148.
But Yakteen, 56, is more than one of seven rookies who will saddle their first Derby mounts. He's here because Bob Baffert cannot be here, stuck in southern California while serving his two-year suspension for the medication violation that resulted in Medina Spirit being stripped of his 2021 Derby win.
Exit Baffert and his 16 wins in Triple Crown race, including six in the Kentucky Derby. Enter Yakteen, whose career training record showed a pair of Grade I stakes wins before this year. His barn ranks 37th nationally in earning this year.
"There's a big difference sitting in the second chair and the first chair," Yakteen said with a smile.
Taiba and Messier were shipped to Yakteen's barn on April 2.
On April 9, Taiba outran five challengers to win the Santa Anita Derby. Messier finished second.
On May 2, Yakteen and his colts made their first morning trip to the Churchill track after the horses were flown by Federal Express to Indianapolis and then vanned to Louisville.
Tough spot for Yakteen, a former assistant to Baffert and Hall of Famer Charlie Whittingham. A native of Germany, Yakteen has trained 256 winners in nearly 2,000 career starts over 17 years. The most famous horse on his resume is Mucho Unusual, which would be a fitting name for what Yakteen will experience the rest of the week.
We've got background on the interim coaching situation around this town, Tim. It can be a tricky thing. Saw it with Mike Pegues and the Louisville men's basketball program this season. Saw it with David Padgett and the Cards 4 1/2 years ago.
Handle it the way they handled it. Answer questions as honestly as you can. Trust your judgment. Stick with your decisions.
Taiba is a lightly raced (two career starts) and lightly trained (one work since the Santa Anita Derby) speedball who has posted dazzling speed figures.
Messier is the more accomplished runner, with three firsts and three seconds, in six career starts, even though Taiba crackled past him in the Santa Anita Derby stretch run.
Enjoy the ride.
"No pressure," Yakteen said. "I was very excited (to get this chance). Honored. Willing to take the opportunity. Very much so. You know, it's the pinnacle of any trainer's career to compete in the Derby."
Maybe you'll turn out like Steve Fisher. He is the most successful pinch-hit coach/trainer I can remember, filling in at Michigan after Bo Schembechler fired Bill Frieder before the start of the 1989 NCAA Tournament for talking to Arizona State about its job.
Fisher won an NCAA title.
Taiba and Messier are stronger contenders to win the Derby than the Wolverines were to win that championship. It can certainly happen. Yakteen is in charge of talented runners.
Some people are going to say that if either Taiba or Messier wins that Baffert did the necessary training. And if they lose? Well, the new guy messed it up. Trainer D. Wayne Lukas suggested that is what the general public will think.
"You know something, I really didn't throw a whole bunch of credence (into that)," Yakteen said. "I didn't feel one way or the other.
"Everybody has their own opinion and I'm not looking to sway anybody else's thoughts. I'm going to enjoy myself here and my journey."
Although Yakteen came up through the game with Baffert, starting in the quarter-horse world, he said that he did not talk to his former boss when the horses were sent to his barn by the owners of the two contenders.
There has been no communication between you and Bob?
"No, I have not," Yakteen said.
Was Yakteen surprised when he learned that Taiba and Messier were moving from Baffert's barn to his?
"I don't know if surprised was the word but I was very appreciative," he said.
Has this been difficult for Yakteen to watch Baffert deal with the suspension and have the 2021 Kentucky Derby removed from his resume?
"It is," Yakteen said.
Make no mistake. Yakteen is a reliable friend and strong advocate for Baffert. He proved it a year ago. Yakteen and trainer Richard Baltas were each fined $500 after they got into an argument and physical altercation at Santa Anita in April 2021.
Baltas allegedly spoke critically of Baffert about another medication ruling that occurred in Arkansas. Yakteen, a tall, athletic former soccer player, was not willing to let the words pass.
Now Yakteen is settling in at Churchill Downs with the opportunity of a lifetime.
"You know, I don't think I'm going to reflect back this week," Yakteen said. "I think there will be reflection after the Derby."
Copyright 2022 WDRB Media. All Rights Reserved.