LOUISVILLE, Ky. (WDRB) -- More than two dozen FBS jobs turned over after the 2012 college football season.
Arkansas getting Bret Bielama, Mike MacIntyre jumping to Colorado and Wisconsin recruiting Gary Andersen earned the only A grades from Bill Connelly, then an analyst at SBNation.
Athlon Sports gave its highest marks to South Florida for stealing Willie Taggart from Western Kentucky and to WKU for bringing back Bobby Petrino (Athlon story link).
What did Connelly and Athlon give Athletic Director Mitch Barnhart of Kentucky for trusting Florida State assistant coach Mark Stoops with his first opportunity as a head coach?
Mostly shrugs and yawns.
Athlon gave the hire a B+, ranking it below Purdue's hire of Darrell Hazell as well as the start of the Butch Jones era at Tennessee. Connelly, who left SBNation to become an insider for ESPN, gave the Stoops' hire a "B," when he took over from Joker Phillips.
Connelly was more impressed by Northern Illinois getting Rod Carey as well as the start of the Todd Monken Era at Southern Miss.
Well, well, well.
I double-checked the Athlon list. Of the 30 coaches discussed, it appeared 16 have been fired or forced resign. (That list included Tommy Tuberville, who turned his departure at Cincinnati into a U.S. Senate seat representing Alabama.)
Ten guys left for other jobs. The biggest star in that group was Bryan Harsin, who jumped from Arkansas State to Boise State to Auburn or P.J. Fleck, who upgraded from Western Michigan to Minnesota.
Who are the Fab Four that remain on the jobs they were hired to do in 2013?
Dave Doeren has done solid work at North Carolina State. He's a keeper.
Paul Petrino has hung on at Idaho while delivering only one winning season.
Skip Holtz remains the man at Louisiana Tech.
And, Stoops has Kentucky primed to push toward the Top 10 if the Wildcats can improve to 6-0 by defeating Louisiana State this weekend.
Take a victory lap, Mitch Barnhart. You and Stoops have earned one. Barnhart has been there for every heartburn-inducing defeat as well as every push the Wildcats have made to shuffle the SEC East food chain.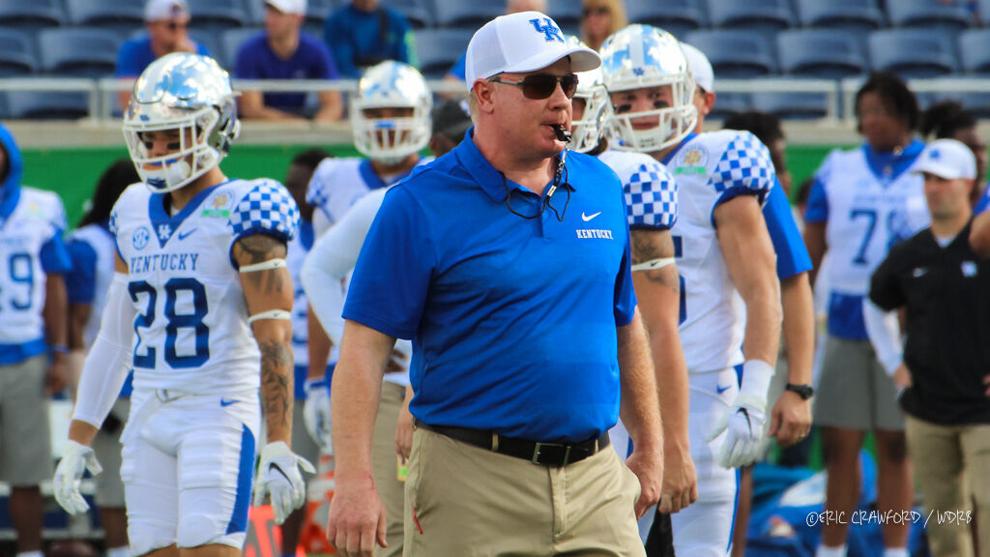 Win or lose, you can find Barnhart in the front row at every Stoops' postgame news conference. His support has been steadfast and persistent.
There was nothing fluky and gimmicky about the 20-13 victory the Wildcats posted against Florida last Saturday night at Kroger Field. You could argue that Barnhart embraced the significance of the moment and was OK with Kentucky fans storming the field, even though Barnhart knew he would have to write a check for $250,000 to the Southeastern Conference office.
Kentucky, now No. 16, was the tougher, more determined team. The Wildcats did not win with trick plays. They won with superior fundamentals (like tackling) and attention to detail (fewer penalties).
I've covered more than a dozen Kentucky-Florida games over the years, many of the 41-7 or 44-10 variety. Those were the days when the Gators were supposed to win by three or four touchdowns because they were faster, bigger, stronger, deeper and thoroughly better team.
That's not the way it is in 2021.
Kentucky went toe-to-toe with Florida and won. After the game, Florida fans railed at their coach (Dan Mullen) on social media.
The Wildcats look capable of going toe-to-toe with Louisiana State on Saturday night in Lexington and winning again. The wagering public certainly believes a Kentucky victory would not be an upset. The Wildcats opened as a 3 1/2-point favorite. They remain the pick by three points Tuesday afternoon.
"The obvious is the obvious." Ed Orgeron's tenure at LSU is spiraling to an inevitable finish. Expect LSU AD Scott Woodward to hunt big names, as his reputation dictates. https://t.co/4BOUy0FMWu

— Pete Thamel (@PeteThamel) October 5, 2021
There's enough nail-biting around the LSU football program that national analysts like Pete Thamel of Yahoo! Sports are already speculating that Ed Orgeron is on his way out at LSU less than two years after delivering a national championship with an unbeaten team.
Kentucky, meanwhile, has something other programs crave: stability, increased success and a functioning plan.
In a world where fans and media members change their takes after every TV timeout, Barnhart has remained steadfastly Old School, giving his Stoops time to execute his vision for UK football. Barnhart refused to flinch when Stoops worked through back-to-back-to-back losing seasons to start his run at Kentucky. The program was rewarded with five consecutive bowl trips.
Some considered the fifth trip, the one UK made to defeat North Carolina State in the Gator Bowl last season, a bit of gift because the Wildcats went 4-6 with the rearranged COVID-19 regular season.
Stoops made a move he had been reluctant to make: changing offensive coordinators by recruiting Liam Coen from the Los Angeles Rams.
The UK passing attack still needs work. It ranks No. 86 nationally in yardage at 208 yards per game. That's a nice jump from last season when UK was No. 122 at 121.5 yards per game. There's more work to do here, but the Wildcats are trending in the proper direction.
But the running game, defense and special teams have enough juice that Kentucky clearly looks like the second-best team in the SEC East Division. This team should win at least eight games and could win as many as ... I'll go with 10.
Despite what the national analysts predicted, Barnhart not only got it right when he hired Stoops, he gave him the time to work his vision for Kentucky football. They're on the brink of giving Kentucky football a season to remember.
Copyright 2021 WDRB Media. All Rights Reserved.