BLOOMINGTON, Ind. (WDRB) -- Traffic backed up 2.9 miles from the Memorial Stadium parking lots to Highway 37 more than 90 minutes before the Indiana-Cincinnati football game Saturday.
Ticket scalpers worked the grounds around Assembly Hall, the way they did when Chris Webber lined up against Calbert Cheaney. IU professor Galen Clavio said parking passes were fetching more than $200 on StubHub.
Once famously known for showing up primarily for the tailgates, IU students filled three sections more than an hour before kickoff — and then after the game began, they pulled off an aluminum bleacher bench and passed it overhead to the top row of Section 22.
One question remained: Given a Top 25 college football atmosphere, could Indiana play to its Top 25 preseason expectations?
Not Saturday.
The Hoosiers responded to the prime-time atmosphere with a considerably less than prime-time performance. They looked like a team that will struggle to deliver another winning season. They looked like a team that needs a change at quarterback.
"This one is on us," IU coach Tom Allen said.
Ahead 14-0 early in the second quarter, Indiana floundered through the rest of the game, losing 38-24.
The Hoosiers threw an interception in the end zone, fumbled at the Cincinnati 2-yard line in the fourth quarter and threw another game-over interception on what IU needed to be the game-tying drive with 3 1/2 minutes to play.
The struggles of IU quarterback Michael Penix Jr. are real and they are relentless. Penix threw three interceptions, increasing his season total to six. He completed only 16 of 35 throws, dropping his season completion percentage to 48.3 percent (42 of 87). He does not look mobile or comfortable.
Penix was not available after the game because an IU official said he needed X-rays. He appeared to be holding his left arm in the fourth quarter. Penix has been unable to finish the last three seasons because of injuries that required surgery to his knee and clavicle.
Asked if he was considering a change at quarterback, Allen said that the passing game issues were not all the fault of Penix. Allen said that every position could be in line for a personnel change.
"You can't be in the red zone three times and get no points," Allen said. "I'm going to look at everything in terms of how you evaluate your team."
Cincinnati quarterback Desmond Ridder, a graduate of St. Xavier High School, did not have his best game. He completed 20 of 36 passes for 210 yards and a touchdown. Ridder also ran for 45 yards and a score. But that was good enough to improve UC to 3-0 and drop the Hoosiers to a disappointing 1-2.
That's as many games as Indiana lost during its entire 8-game 2020 season.
"He's a good quarterback," IU defensive end Ryder Anderson said. "He made some great reads and great throws. We've got to be better and finish the game."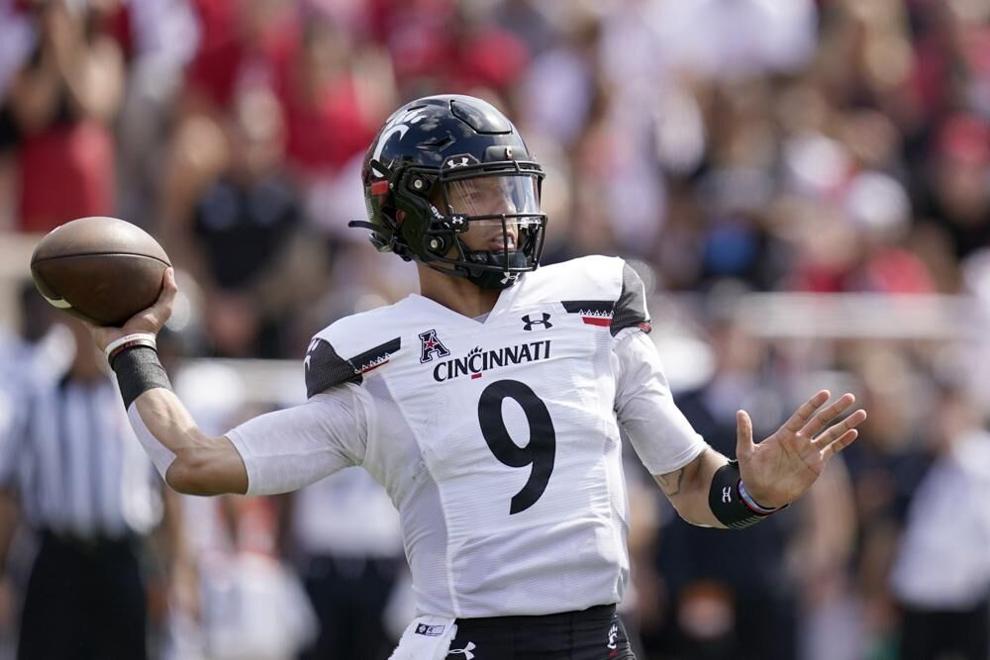 The Hoosiers dominated the first 25 minutes, surging to a two-touchdown lead that should have been at least 17-0. Allen turned down an early field goal — and Penix was stuffed for no gain on fourth-and-1 from the UC 10 on the opening series of the second quarter. Allen blamed the misplay on a bobbled snap and said disdaining the field goal was the right call.
Then the Hoosiers lost Micah McFadden, their all-American linebacker, on a third-down targeting call. That penalty stung because no flag was thrown on the field. The officials only made the call after they reviewed a possible Cincinnati fumble.
"That was massive," Allen said. "No question."
Instead of being forced to punt from deep inside their territory, the Bearcats retained possession. After four straight three-and-out possessions, Cincinnati started rolling without McFadden protecting the middle of the field.
"(No. 47) is their guy," Ridder said.  "Their whole defense goes around him. So kind of felt the tone of their defense changed after that.
UC marched across midfield for the first time and scored with 93 seconds left in the second quarter. A reckless pass by Penix turned into an interception, Cincinnati's second of the game. The Bearcats drilled a 32-field goal on the final play of the half to cut IU's lead to 14-10.
The game went back-and-forth in the second half. Cincinnati jumped ahead 17-14. IU responded with a touchdown on its best drive of the season.
The Bearcats crackled 99 yards for a touchdown on the kickoff return. IU ended the third quarter ahead, 24-23, on a 50-yard Charles Campbell field goal.
Back to Cincinnati. Lifted by a roughing the passer penalty on Indiana linebacker Thomas Allen, Ridder directed the Bearcats back to a 30-24 lead with 12:13 to play. Penix's third interception sent the capacity crowd of 52,656 toward the parking lots.
"They found a way to attack us," IU linebacker Cam Jones said. "They found our soft spots."
The challenge moves to the road for the next two weekends. They visit Western Kentucky in Bowling Green next Saturday at 8 p.m. and then head to Penn State, ranked No. 10, Oct. 2.
That, of course, will be a payback game because IU beat Penn State for only the second time in program history last season when Penix dove into the left pylon for a 2-point conversion to win the game.
After returning from Happy Valley, IU faces back-to-back home games with unbeaten Michigan State and Ohio State, which is ranked in the top 10. Both of IU's losses have been against Top 10 opponents by at least two touchdowns.
"You've got to look at yourself in the mirror," Allen said. "What are you going to do? How are you going to respond."
And who is going to play quarterback for the Hoosiers?
Copyright 2021 WDRB Media. All Rights Reserved.