LOUISVILLE, Ky. (WDRB) -- Pervis Ellison said, by the end of this summer, the best high school basketball player in the country will not be a senior. It will be D.J. Wagner, a junior as well as the grandson of Milt Wagner, Ellison's teammate on the 1986 University of Louisville NCAA championship team.
"And I'm not somebody who blows smoke," Ellison said.
Several weekends ago, Milt Wagner skipped a reunion of that Cards' team at coach Denny Crum's house. He drove to Virginia to watch his grandson soar at an AAU event.
"He's got all the pieces to his game, but now, he's starting to mature and get that extra athleticism," Milt Wagner said. "He's a different breed. He just turned 16, but he's playing with the 17 (year-olds). He's so mature he just takes over games."
I say this: If the NBA and its Players Association revisit the stalled process to let high school players enter the NBA Draft by 2023, Wagner will be a certain first-round selection. If he goes to college, some program will enjoy a five-star talent and a straight-A student.
That's a story for later. The story for this summer is Wagner is the star attraction for the New Jersey Scholars Elite Basketball Club, a three-team AAU juggernaut packed with high-major prospects, directed by Ellison, the former U of L All-American.
In mid-July, those squads will land in North Augusta, Georgia, for the Nike EYBL Peach Jam, the signature AAU event of the summer. It will also be the first major tournament that can be attended by college basketball coaches since the novel coronavirus turned recruiting into a Zoom event last year.
In the Class of 2022, there has been considerable fussing about whether Jalen Duren of Philadelphia will overtake Emoni Bates of Ypsilanti, Michigan, as the best prospect in the senior class.
In the Class of 2023, there has been no debate. For two seasons, Wagner held the No. 1 position on the 247Sports, Rivals and ESPN lists.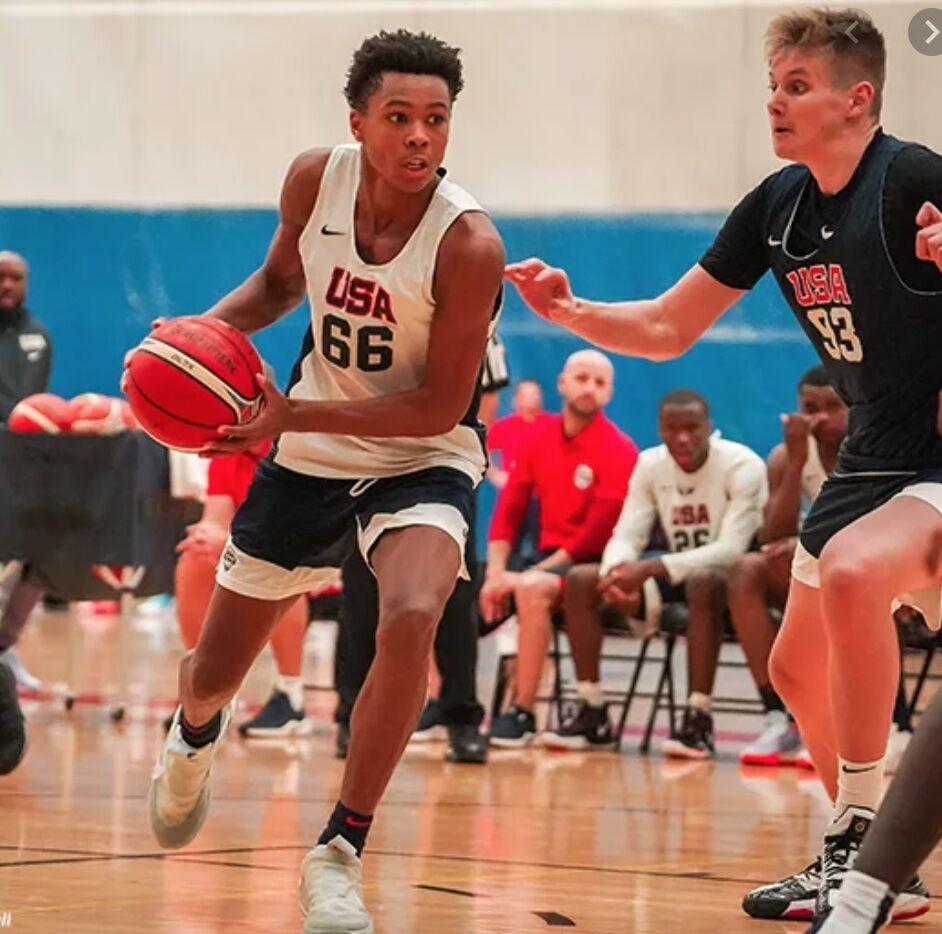 By the end of the summer, Ellison said that will change.
"After this summer, I guarantee you D.J. will be the No. 1 player, regardless of class," Ellison said. "He's going to jump over Emoni Bates.
"D.J. is going to be, regardless of class, the No.1 player, no question about it ... When you see D.J. now, you see the difference in his game.
"D.J. is starting to mature physically. When he puts his foot in the ground now, there is a major difference. He can dunk all kinds of ways, where he couldn't do that before.
"He was doing all the other stuff and he still hadn't gone through puberty. The shooting. The ball-handling. The defense. The leadership. The competitiveness. That has always been there. His explosiveness. That is what has changed."
Ellison, remember, was voted the Most Outstanding Player of the 1986 Final Four. He was the No. 1 overall pick in the 1989 NBA Draft. He played 11 seasons in the league and averaged a double-double (20 points and 11.2 rebounds) during his third season before his knees went bad.
Ellison has organized and directed two EYBL powerhouse AAU programs over the last decade in the Philadelphia area. Ellison knows basketball. But I'd still advise you to sit before reading his next comment about D.J. Wagner.
"He's a combination (Russell) Westbrook/Kyrie (Irving). That's what he's got," Ellison said. "He's got all of Kyrie's dribble stuff, but he's got the Westbrook fast-twitch and explosion."
Really?
"Oh, yeah," Ellison said. "Oh, yeah ... He will be the No. 1 draft pick (whenever he enters the draft). He plays the game the right way. If you didn't know D.J. was the No. 1 player, you wouldn't know it by his demeanor."
After his latest spurt, Wagner has grown to 6 feet 4 tall, two inches taller than his father, who was the first-round pick of the Cleveland Cavaliers in 2002 after playing one season for Calipari at Memphis.
D.J. is projected to grow as tall as his grandfather. Milt was 6-5 and scored 1,836 points at U of L without the benefit of the three-point field goal. Milt was also the ultimate winner, while playing on three Final Four teams, including the 1986 national champions.
D.J. also understands how to win. Like his father and grandfather, he plays for Camden (N.J.) High School.
He averaged 22 points, 3.8 assists and 3.8 for a team that won all 13 games in a 2021 season shortened by the novel coronavirus. The New Jersey state tournament was canceled because of COVID, but MaxPreps ranked the Panthers the eighth-best team in the nation and Wagner the New Jersey Player of the Year.
"He just turned 16 in May, but he plays like he's older," said Milt Wagner, who has lived in Louisville since 2014. "He doesn't talk, he just plays. If you trash talk him, he just smiles and goes into beast mode. Then, look out."
Ellison said he has watched D.J. Wagner develop since he was a third-grade football quarterback phenom, five steps faster than anybody chasing him. The Wagners and Ellison have worked together in basketball since junior high.
"He's definitely different than everybody else," Ellison said. "He can shoot like Milt. Now you see his explosiveness, too.
"He can use either hand. All that Kyrie cute stuff around the basket? He's got all that. He's got every kind of layup you can imagine.
"Now in addition to the cute stuff, he can also turn it over, go inside and dunk on you. Everybody is going to see all that real soon."
Should be a fun summer.
Copyright 2021 WDRB Media. All Rights Reserved.