LOUISVILLE, Ky. (WDRB) — This is not a column I should be writing. I should, at best, be amplifying the work of another columnist weighing in on the topic of women athletes and the torrent of mistreatment, abuse and general unfairness they must fight through just to pursue athletic (and, frankly, all too often, non-athletic) careers. Ideally, I could just share a link from another mainstream sports media voice here in town with more insight. 
And she would be a woman.
Coming from me, there's a risk of sounding patronizing, or of missing important points all together. However, if the recent revelations about the sexual abuse of a Racing Louisville FC player in Louisville teach us anything, it's that maybe more risks need to be undertaken to get at the truth. So if I'm overstepping bounds, or not stating matters correctly, I ask for forgiveness in advance, and correction with compassion.
It is telling that in 2022, women's sports media voices in Louisville are scarce. They are not nonexistent. But they are not as prominent as they ought to be.
This column is part apology, part appreciation. At least I had the help of 2 women -- WDRB News reporter Katrina Nickell, and former Racing Louisville FC captain Michelle Betos. Nickell and I interviewed Betos on Wednesday afternoon, and were speaking with her when Racing Louisville FC president James O'Connor issued a statement of apology. Betos eloquently and frankly expressed the frustration and difficulties of the entire situation.
Amid the outcry over the systemic problems in women's soccer at all levels revealed in Monday's release of a national investigation by former U.S. attorney general Sally Yates, I think it important to inject a note of acknowledgment and appreciation to those three NWSL players who came forward and put their names on allegations of wrongdoing by coaches in the league.
Here in Louisville, the player was Erin Simon, who says she endured years of escalating sexual abuse by former Racing Louisville FC coach Christy Holly.
We're all horrified by her account. We're all sympathetic with her plight. As much as we can be. And many of us feel guilt over it. What more could we have done?
More on that in the apology section. First, it's important to consider the experiences of these players, many of whom have dealt with behavior that is abusive, coercive, and sometimes criminal, some of them from a very young age.
THE APPRECIATION
It is worth stopping to think about the deluge of unnecessary abuse women athletes routinely endure just to play a sport they love, and in the case of some of the toughest ones, to make a living doing it.
"Whoever listens to a witness," Elie Wiesel said, "becomes a witness."
The insidious nature of this kind of abuse is that it doesn't just fall on the shoulders of people on whom it is directly heaped, but on those around them, their teammates, families and more.
This kind of abuse kills people. I have seen it. I watched a nephew fight the effects of sexual abuse for years before he grew weary of the struggle and took his own life at the age of 21.
There is a reason those who get through it are called survivors. It is a victory for them to get up, face the days, and go on, let alone reach the highest levels of professional soccer in the world, and succeed in spite of what often they are carrying as a dark secret. To carry that weight of undeserved shame, guilt, and hopelessness anywhere is a triumph. To carry it into athletic competition is astonishing.
And yet, they do.  For an athlete like gymnast Simone Biles to carry it to Olympic immortality is one of the great athletic and human achievements of my lifetime.
What Erin Simon carried, I can't imagine.
And yet think about this. On the night they told Racing Louisville players that they had fired Christy Holly for an "inappropriate relationship" with a player (inappropriate relationship?), team officials told players they could take the next day off to process it. As if you could process that in a day. As if many have processed it even to this day. Regardless, they didn't want a day off. They asked Betos if they could just get back to work.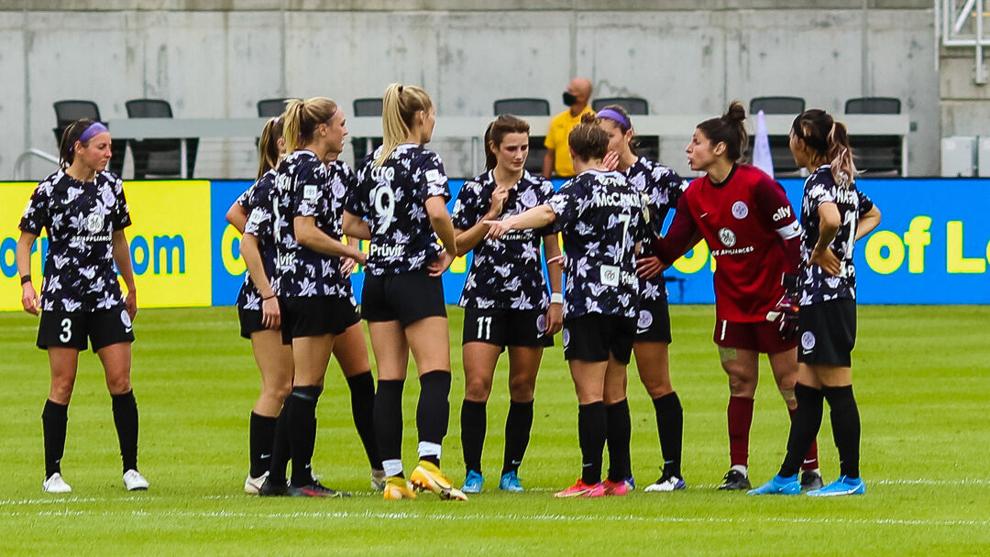 "I think, honestly, that was representative of the past 10 years in this league," Betos said. "I think this is a hard thing to explain to people outside looking in, but at the end of the day, the reason we have put our heads down, closed our eyes, shut our ears and shown up every day is because this is our dream. Like, this is everything we have sacrificed and worked our entire lives for. We love this game. We just want to play this game. And, I think, you look at the sacrifices people have made tangibly, but then you think about all the things we've had to endure. We take it. That's just what we've done. That's just what we've known. . . . So us deciding as a team to go out and train the next day is just a byproduct of what we've done every, single day. Because this abuse has existed in our careers this entire time."
No one suffered more than Simon. Can you imagine what it took for her to keep playing and working? I look at photos I took of the team in those days and almost can't believe the truth we now know was behind them. I think of the day the NWSL suspended all games in recognition of scandals that had come to light. The first game back, teams paused mid-game, huddled in circles, and I think now of Betos and others at Racing Louisville, who knew what had happened with Simon, though no one on the outside knew, and wondered what was going through her minds in that moment.
"It was devastating," Betos said. "Again, it was like this recognition that all this stuff has been so bad and so wrong and gone on for so long. . . . It was really this bittersweet moment, because it was terrible that it had come to that point. But it was also the moment we started to take our power back."
Then the game started once again.
I'm not sure how to more strongly express how much courage and fortitude it takes to play a sport amid those conditions, and then to agree to publicly share these most painful, nightmarish experiences with the entire world. There ought to be a special category of halls of fame for these survivors. Until such categories, hopefully, are no longer necessary.
THE APOLOGY
Shortly before he was fired, I got an anonymous e-mail alleging that Holly was having an inappropriate relationship with a staff member and that his treatment of players was creating a "toxic" atmosphere. I was unable to get to the bottom of it, certainly could not get solid enough confirmation to report it. But it was there, the toxic atmosphere, anyway. As were the rumblings of problems at his prior job, where he was ushered out because of complications stemming from his relationship with the team captain there, a player he was said to be engaged to when he came to Louisville.
That engagement, it turned out, was used in some ways to explain that those old issues had dissipated. They apparently had not. Far from it.
After Holly was fired, these allegations stuck in my head. In the immediate story I wrote, I noted that sources had told me that Holly had presided over an increasingly "toxic environment." A day later, someone connected to the team — someone I don't believe was in position to know the full story as it has since emerged so I won't identify them here — told me they thought I got some "bad information" on that point.
Of course, I had not. (The team, I have been told since the publication of this article, could not substantiate any claim of an improper relationship with another coach or member of the training staff. It is perhaps to this allegation that the person was originally referring.)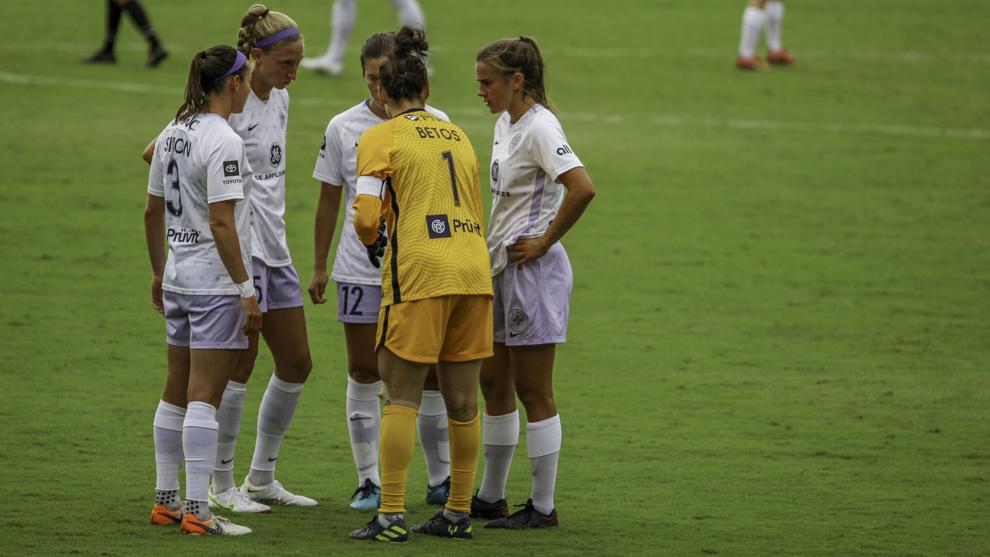 Betos said that earlier in the season, 3 players had gone to O'Connor, complaining of everything from verbal abuse to interference in medical care on the part of Holly and his staff. The club held a meeting with Holly and the players, "which only just exacerbated the problems," Betos said.
Many of us feel a sense of responsibility. I should've dug more. At the time, maybe the comments of the team source dissuaded me, or the notion from O'Connor that no definitive illegal action had taken place, or the absence of any criminal investigation, or even the comments of Betos, a day after the firing. Maybe it was just that other stories came along.
Regardless, in that moment, I needed to be better.
I'm not the only one who has those kinds of thoughts. Betos remembers that day she went to face the media very well.
"Before I went out, I said, 'Like, can I speak freely?' And they were kind of prepping me for this interview. And, you know, building me up, like, 'Oh, you know how to handle these things. We can coach you through it, basically just try to be as elusive as you can. You don't have to say you like him or anything, but try not to say anything,'" Betos said.
"And I remember one question straight flat-out in my interview was, 'Would you ever play for Christy Holly again?' And all I wanted to say was, 'Absolutely F-ing not. That man has done to a woman what no one should ever do. He should be in jail, never mind in a league or in a place to ever coach me or any other female or human again. But instead, I said, 'I don't think there will ever be an opportunity for him to do so.' You know, again, leaving it so broad. And yeah, so James says it's not illegal. But, you know, again, it's so hard to see it through this lens now, because then I was like, 'OK, he's protecting Erin.' That's the story they kept giving us. But like, Erin wouldn't have gotten any publicity or in any trouble or had to be put in any discomfort for him to have just said, 'He sexually abused a player. Period. You don't know which one. You may never know which one. But we got rid of him because he sexually abused a player.' And I mean, last I checked, touching somebody inappropriately when they've asked you not to is illegal. So I think like, yeah, the entire thing infuriates me. And again, it's full of frustration and anger, but it's also shame and guilt. Why didn't I just say what I wanted to say like I'm a grown woman? We all were silenced. And it's just really frustrating and and it feels awful."
For Betos, it went further. She said the club got wind that a story about Holly's firing was going to break about a month after he was let go, and a club official asked her to speak with a national soccer writer about what happened, so that the club's side would shape the narrative. She said she spoke to the reporter, whom she declined to name, and gave him the whole story about Simon, with her permission, but not disclosing her name. (Apparently, the club originally approached Simon, suggesting that if she wished to tell her story, this would be an opportunity. She declined.)
The story never ran.
Certainly, I understand all of the legal reasons a story like that would be held. A third-party source. Bombshell allegations. A fired coach who could have legal recourse. It's safer to say nothing. Journalistic guidelines are in place to protect the innocent. But sometimes, they protect the wrong people. I like to think if I had gotten the information, I'd have found a way. But I may well not have. I had a tip of my own, not of that magnitude, but something, and I couldn't get it into print.
It's always worth remembering: The powerful write the laws, and the rules, and they are rarely written for the benefit of anyone but the powerful, and most of the time, for the protection of the powerful.
Betos was merely a bystander to the abuse, in some ways, but she still suffers from its aftermath. But as a captain, she too was working to hold a team together, as well as a teammate, as well as herself.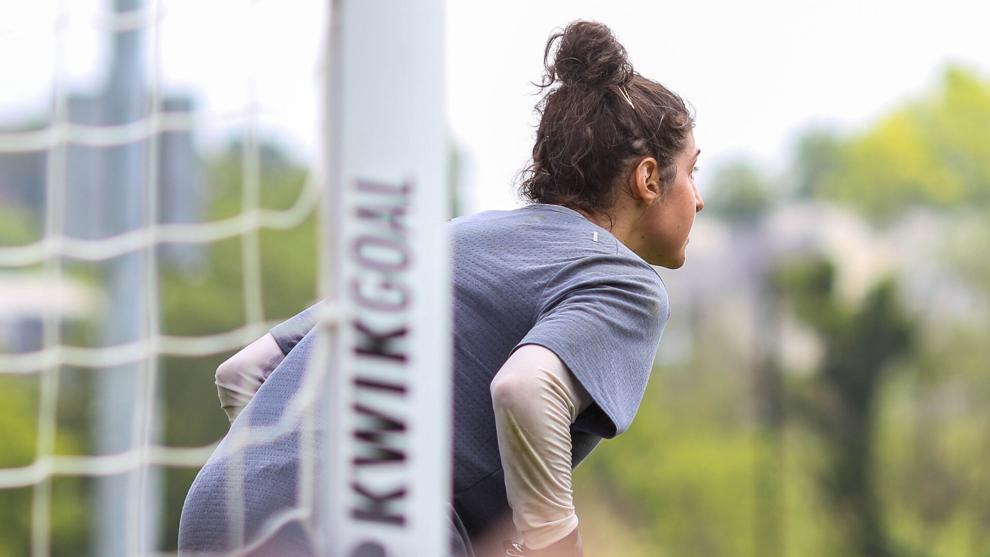 Betos is a goalkeeper, and a very good one. We can attest to that here in Louisville. Her job is to repel the opponent's attacks, to keep shots from finding their target, to put herself in the way of harm to her team. But there are some shots that not even the best keeper can stop. Some require an entire team. Some require an entire city.
"It's been incredibly difficult to wrestle with that entire situation in Louisville," she said. "I've had to do a lot of introspection and ask why I did and didn't do the things that I did, and where that came from, and where the guidance came from. It feels really bad. At the end of the day, I know everything I chose to do was in the best interests of Erin, or what I really believe was in her best interests at the time, and not for the club's sake.  But I don't continue to believe that everything was just in her best interests, but more for the club's sake, especially over these past couple of days, not taking ownership in this and not admitting to their part in this happening and not getting out there soon enough."
I think there is a part of all of us that does not want to believe the worst, even when we know it to be the case.
One thing we need to believe at all times is this: Abuse should not be a job requirement in any field of endeavor. And until it is taken seriously, exposed responsibly and prosecuted impartially, we will continue to read these stories and wonder what is wrong with all of us.
In a sick world, these things will happen. But only in a sick society do they happen without consequence, and without the will to stop them.
Related Stories:
Copyright 2022 WDRB Media. All Rights Reserved.