BLACKSBURG, Va. (WDRB) – There have been a lot of words uttered about and around the University of Louisville men's basketball program over the past two years and change.
You've heard talk about strippers and shame, banners and bans. Scandal fatigue and FBI investigation. You've heard words like frustration and accusation. The program has faced rebuilding and rebranding. There has been more firing of individuals than fire in the belly at times. Some of the words you've heard – heck, maybe even uttered -- have been of the four-letter variety.
The one Christen Cunningham and some of his teammates used after Monday night's 72-64 win at No. 11 Virginia Tech is one you haven't heard all too much over the past two years. It's not a four-letter word. It's a five-letter word.
Pride.
Cunningham said it when asked what enabled the Cardinals to regroup from a frustrating loss Saturday to North Carolina to play toughness-infused basketball against a Virginia Tech team that had just held a ranked opponent to 24 points and had not lost a home game all season, since falling to Louisville on Feb. 24 of last year, in fact.
"Pride," Cunningham said. "I just think we didn't want to go out sad twice. We knew we were going to be coming in against a Top 10-12 team in the country, really good team, and we did not want to lose two in a row."
Mark it 15 consecutive wins over Virginia Tech for Louisville. Head coach Chris Mack, for all he has done in stabilizing and lifting the storied but stumbling program he inherited, has also kept perspective for this group. He reminded reporters that while the Hokies are really good, they're also down to seven scholarship players after the loss of all-conference guard Justin Robinson.
"Tech is a lot depleted," Mack said. "Justin is one of the best guards in this league. They lose a lot when Justin goes out because he's such a conduit, kind of like (Christen Cunningham) is for us."
At the same time, Mack understands that his own team is improving. And, as good teams do, his is embracing his desire to see toughness infuse its effort on the court.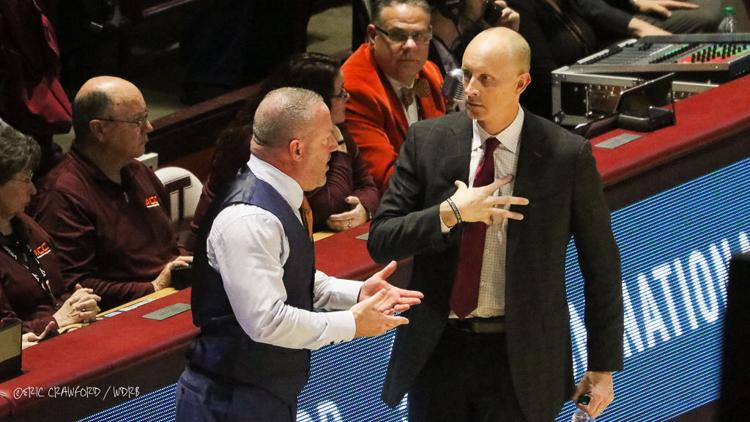 "I think our team's gained a little bit of belief in themselves," he said. "I told our team from the very beginning that I think we're an (NCAA) tournament team. But what I believe and how I feel and what we do are two different things. . . . Even though we lost those two games (in New York) it told us something about ourselves. If we would just take care of the ball a little bit better, rebound a little bit better, know what we're doing defensively a little bit better and take a little more pride in that area, then we can compete with anybody. We felt like we didn't play at our best against North Carolina. And I think some guys in that locker room – every guy in that locker room – was convinced they weren't going to feel that way, at least because of our effort."
McMahon echoed what Cunningham said about pride. He said players hear the talk about being underdogs against the ACC's highest-ranked teams. He said they haven't forgotten being picked to finish 11th in the ACC. At the moment, he sounds almost proud of that.
He said there's no question, he'd use the word pride when talking about Monday's effort.
"Big time," McMahon said. "I mean, even though we're ranked, we still have a chip on our shoulder. We're still the team that people thought would be 11th in the ACC at the beginning of the year and we were unranked and I don't even think we were Top 50. So we come every day with a chip on our shoulder, we come that way to practice, and we're just showing the nation what a good team can do. . . . We've been underdogs all year. It's OK. Nothing's new."
But pride will only take you so far. You also need leadership and execution, and Louisville had more of that on Monday.
Dwayne Sutton. As usual. Christen Cunningham. As usual. McMahon is the one who helped stake the Cards to a 15-point lead with under 10 minutes to play, with four quick three-pointers (one of them from three made free throws). But it was Cunningham who kept the team from spinning off on emotion, settled the offense and shortened the game for a good-shooting Virginia Tech offense.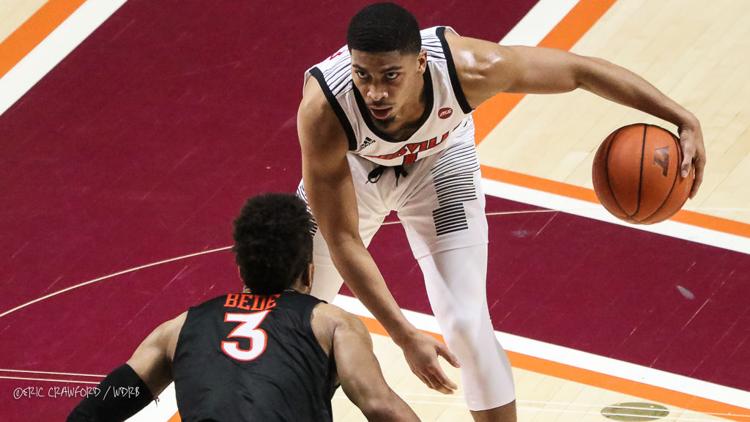 And it was Sutton, seemingly, at the bottom of every pile, or swatting at every rebound, whether it was his or not.
"Every time," Malik Williams said of Sutton. "He's our dog. You know what you're going to get from him every night, and it's never a question. At the bottom of every pile you know Dwayne's somewhere in there."
Now it's on to Florida State on Saturday, another ranked opponent on the road.
This Louisville team is crossing the threshold from "are they a tournament team?" to "How highly should they be seeded?" That question will be answered in the coming weeks.
This question, however, has been pretty well put to rest by Mack and his team: "Has pride returned in a significant way to Louisville basketball?"
It's fair to say that it has.
Copyright 2019 WDRB Media. All Rights Reserved.