LOUISVILLE, Ky. (WDRB) – It was late March, 2009, and it wasn't just any March. Most of us thought we'd be covering the University of Louisville men heading to the Final Four. Instead, Michigan State had other plans. And then there was a bit of news at Kentucky, where John Calipari was being hired as basketball coach.
The last thing I thought I'd ever be focused on that March – or any March, to be honest -- was a Louisville women's basketball team going to the Final Four. But after the men lost to Michigan State, something in my head said I'd better get down to Raleigh, N.C., where the women were about to play Maryland in an NCAA Regional final.
I'm not sure what it was. Maybe it was an editor. Or maybe Jeff Walz put something subliminal into my subconscious.
U of L will honor that team at halftime of the No. 4-ranked Cardinals 11:30 a.m. game against Northern Kentucky in the KFC Yum! Center on Saturday. And my thoughts can't help but go back to that time.
I remember being tired but going, on very little sleep, to Raleigh. I know Jody Demling of The Courier-Journal was down there for the newspaper, too. I don't know if many other media were. There were maybe 200 fans down there on the night of March 30 to witness history, the Louisville women trouncing top-seeded Maryland 77-60, to earn a berth in the Final Four in St. Louis.
It was heady stuff. Looking at Walz and his program now, it's easy to forget where it came from, the days of playing home games in the gym at Manual High School – and even more modest beginnings than that. It's been in my lifetime, the late 1960s, that the U of L women were only allowed to practice three days a week with rest every 15 minutes because it was believed they couldn't handle a more "rigorous routine."
So a lot of us were wandering around the court in Raleigh in a state of shock. One of those people was Tom Jurich. I didn't see him shed too many tears in his tenure as athletic director. But he was emotional in that moment. We had some differences over the football coach about that time, but I congratulated him, because without him, no way that moment ever happens.
He was the guy who insisted the women's games be moved into Freedom Hall. He went and got coach Tom Collen, who recruited much of that first Final Four team, and then took a chance on Walz after Collen left.
And then there was Walz, in just his second season. Yes, he had the best player in the country in Angel McCoughtry. And he had a player who was better than anyone realized in Candyce Bingham. And he had the nation's most unorthodox point guard in Des Byrd.
There was Keshia Hines, who played through the death of her grandmother. And Becky Burke, who drove Walz crazy, and now is a coach with players of her own who drive her crazy. Gwen Rucker started for the Cardinals and she was a volleyball player. Walz used to let her start and Hines come in behind her because Hines didn't want to start. Once, Rucker made it through the first TV timeout of the game and the rest of the team celebrated like it had won a championship.
"They just figured it out," Walz said. "We used to laugh all the time as a staff. Even at the Final Four in St. Louis, we had colleagues come to the open and closed practices, and they'd ask, 'How in the world are you guys still playing?' We would call ourselves the Bad News Bears. But one thing I can say is that when the lights came on, these kids showed up and played."
Nobody played like McCoughtry. Her jersey hangs in the rafters at the KFC Yum! Center for a reason. She was the No. 1 overall pick in the WNBA Draft. She has won two Olympic Gold Medals. She's the best player ever to put on a Louisville women's uniform. She was great offensively, rewriting the program's record book. But it shouldn't be forgotten that she also was probably the best defensive player in the nation, too.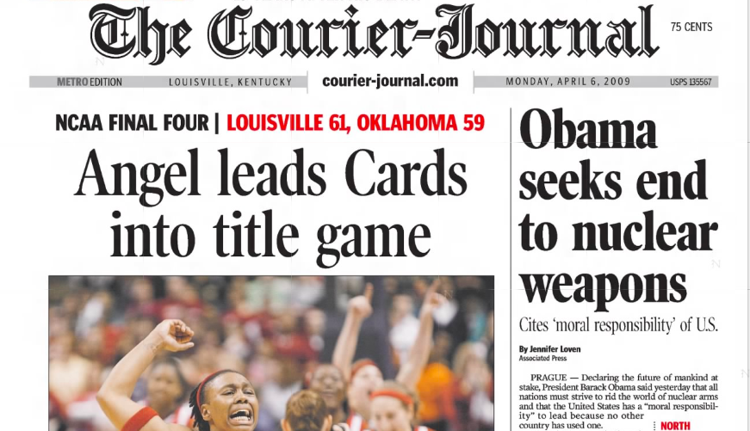 Doug Bruno, then the coach at DePaul, told Walz that McCoughtry was the only player of which he would tell his team, "If she's on the right side of the court, start the offense on the left."
She was the start of everything, Walz said, and remains a prominent part of the program today. When recruits come in they don't have to ask whether they can achieve their dreams at Louisville. McCoughtry went first in the WNBA Draft, played for an Olympic team, has built a professional career inside of basketball and out, and has her name in the rafters. She got to play in a national championship game.
"The impact Angel had, not just on the game, but on our team, you can't overstate it," Walz said.
Walz told that team that if it got through its early round games in Baton Rouge, La., he would get them the rest of the way to a Final Four. Darned if he didn't.
"That night we beat Maryland, a place I've got a lot of fond memories with, that's a game and a moment that, when I look back, it's very vivid in my memory," Walz said. "Not just because of the win but because of some situations we had that weekend. Des Byrd banged up her knee and came back out and wanted to play. Keisha Hines' grandmother had passed the night of our Sweet 16 game, and we told her we'd fly her back home, this was just a basketball game. And she said she wanted to remember her grandmother the way she'd seen her two weeks before, and this team was her family now. A lot of these players gave a lot to make that such a special year.
"Candyce Bingham was a player who I never had to run anything for. She would just always figure out a way to score and rebound. And then there was Becky Burke. She just drove me crazy. It was one dribble and pickup. One dribble pickup. And then she started to figure it out, and she made some big shots for us. . . . And that's why it means so much to have so many of them coming back.
McCoughtry will be back in town for Saturday's game, as will other members of the team. The ceremony will be at halftime of the game, and Walz said he'll keep his current team out of the locker room for it. He wants them to see what that team meant.
Beyond the players, I remember so many others who followed that team. Jim Kelch, the radio play-by-play announcer, went on to work with the Cincinnati Reds. Jared Stillman, a manger for that team whose Walz imitation sounded (almost) more like Walz than Walz did himself, hosts a sports talk radio show in Nashville.
"It's going to be a special day to honor a team that kind of got this thing going. It was a team that allowed people to believe that Louisville women's basketball could be prominent on a national stage. And there's no doubt, for the past 10 years, that we've been able to do that. . . . I hope we have a good turnout."
They deserve one.
Copyright 2018 WDRB Media. All Rights Reserved.