LOUISVILLE, Ky. (WDRB) – When Ebony Salmon entered her first Racing Louisville FC game with 70:06 gone in a 0-0 tie with the Houston Dash, it had been a game like several others for the home team.
Racing creates good chances, just not nearly as many as the other team. Houston probably felt like it was unlucky to be up a goal or two at that point.
It would feel far less lucky less than 60 seconds later. Actually, 58 seconds later, to be exact. That's how long it took Salmon to receive a pass from Savannah McCaskill, shake three surrounding defenders, and fire home a shot inside the right post for Racing's first goal since May 22. They would hang on for their first win since that date, 1-0, before a Lynn Family Stadium crowd of 5,971.
In 19 minutes, Salmon managed 3 shots. For a team outshot 23-11, that kind of aggressiveness in the box will be of great value. Racing manager Christy Holly suspected as much of the 20-year-old scorer who came to Louisville from Bristol City. Though he may not have expected it so quickly.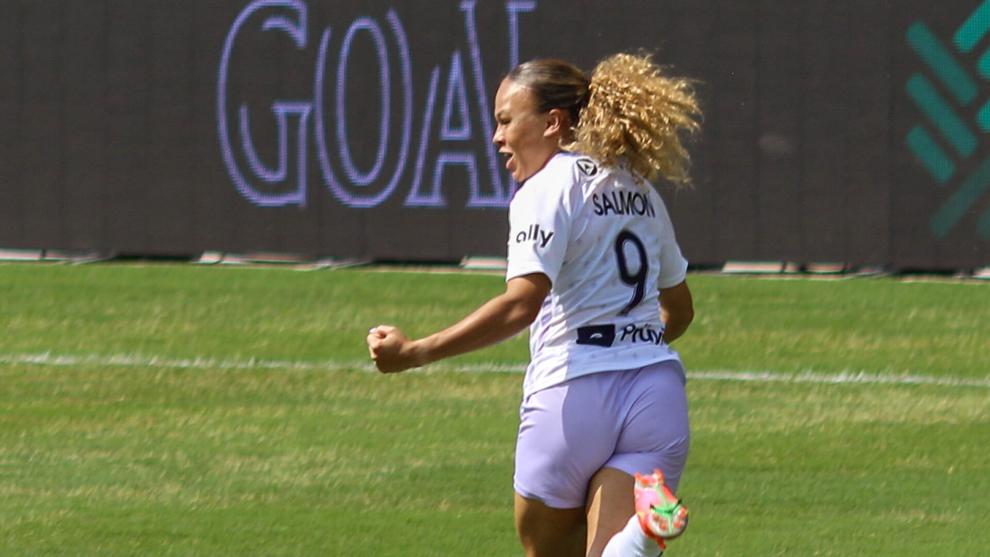 "I don't know how many people in America knew what Ebony could do, and maybe what she will go on to do," Holly said. "There's a lot of confidence in me. I'm just not very keen to drop in a player. … But at the same time, we had some players on the field with tired legs."
While Salmon's goal was a revelation, the goalkeeping of Michelle Betos was the reason for the victory. She is putting together one of the best goalkeeping seasons in the NWSL, despite the numbers allowed. 
"First of all it was good to come on and just make my debut," Salmon said. "Watching the game from the bench, I knew I could come in and create something. It happened a lot quicker than I thought it would, but I'm just glad I could get the goal that ended up winning the game."
Salmon has been practicing with Racing for a couple of weeks now, and is working to build chemistry with the midfielders. That was evident in the balls she was played by McCaskill and others.
"The longer I'm here and the longer I work with them the better they will get," she said. "But they're the kind of players that I want behind me and I think I'm the kind of player that they want in front of them, so I think it's going to work well."
The teams split possession nearly equally, with Racing actually holding it for 55 percent of the first half.
Holly said that while happy with the victory, he's asking his players to look at their play critically and continue to learn. The challenge ahead is substantial, with North Carolina in Lynn Family Stadium on Wednesday night and a trip to Chicago on Saturday at noon.
"Other than just considering where we are right now, three games in six days and starting off on the hottest day of the year probably," he said. "With North Carolina on Wednesday and at Chicago, we know there are massive challenges. But as we spoke at the end of the game, we asked, we may have had one more goal, but did we get better? Did we apply our lessons from previous weeks to the game today? If the answer is yes, we're moving forward. If no, we sit down tomorrow and rehash. We're asking for the more experienced players to lead these conversations. No. 1, how do we recover and replenish ourselves, but No. 2 how do we look at the game, take the lessons and put them into our next performance."
Copyright 2021 WDRB Media. All Rights Reserved.