(LOUISVILLE, Ky.) WDRB -- In just 16 months, Louisville's Purrfect Day Cafe has helped more than 2,000 cats and kittens find forever homes. 
The cafe off Bardstown Road opened in August 8, 2018 and by December 18, 2019, celebrated 2,021 adoptions. 
"Our goal here is to get adoptions, so we said we are going to do our best to do 300 adoptions in one year -- well we did 300 adoptions in two months," said Chuck Patton, the owner. 
Those numbers are continuing to grow. Kittens are being adopted within a matter of days, and Patton said adult cats are usually adopted within two weeks of arriving at the cafe.
"We're 30% up from where we were last year," he said. 
All the cats and kittens at Purrfect Day Cafe come from the Kentucky Humane Society. It's a partnership that's helped save lives.
"It's really amazing," said Kaitlyn Murray, adoptions manager at the Kentucky Humane Society. "We didn't really know what to expect when we started that partnership but they have done an amazing amount of adoptions there. It's been really overwhelming, the amount we've seen go home."
The cat cafe is a unique concept, with a big open space for cats and a separate bar area for customers to enjoy a coffee or pastry treat. Patton believes his cafe's success comes not just from the design, but mostly from community support.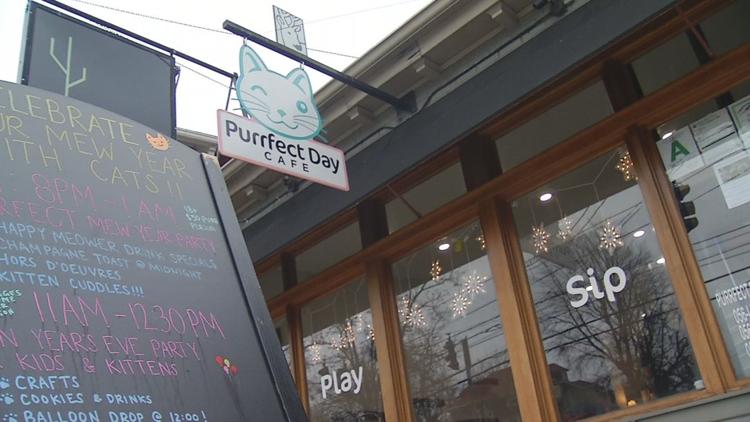 "And when I say community I'm talking Southern Indiana, I'm talking Elizabethtown and then of course obviously right in here (in Louisville) but the vast majority of our clients are coming from outside of this primary zip code here," said Patton. 
The cafe has surpassed all adoptions goals so far and by summer 2020, the hope is to have 3,000 total adoptions.
Copyright 2019 by WDRB Media. All rights reserved.