The college experience is full of decisions, many of them made by students who are living independently for the first time. Which school should I attend? Where will I live? What organizations will I join? Are the suites in my residence hall big enough for my beanbag chair? Can I really eat cereal for dinner if I want to?
Amid them all, there's one decision that can impact not just a student's college career, but also his or her career path, earning potential, and level of personal satisfaction — what will I choose as my major? The choices can be dizzying; at Eastern Kentucky University, there are 106 undergraduate degrees concentrated into 71 majors, offering lots of options but also potentially making the decision more difficult.
Fortunately, there are ways to narrow it down, beginning with talking with faculty and academic advisors. At Eastern Kentucky, there's also the option to choose one of the more popular majors on campus or select a field more unique to EKU. Here are six potential majors to help you make one of the most important decisions you'll face in college.
Nursing
There's a reason Nursing is one of the most popular fields of study at EKU. Both Kentucky and the United States are facing a nursing shortage, and registered nurses command a median salary of $75,510, according to the Bureau of Labor Statistics.
"Career outcomes and opportunities in healthcare are definitely on the rise, and there will continue to be a lot of opportunities there," says Elizabeth Ballou, EKU's executive director of enrollment management. "We have a really great nursing faculty that's hands-on with students, and we have a lab on campus that provides cutting edge opportunities for students to gain experience."
EKU's nursing school features a laboratory in which students conduct simulated medical procedures that mirror those faced in real life. It also offers an online RN-to-BSN degree program ranked 14th nationally.
Criminal Justice
Although it's another popular major, Criminal Justice is unique at EKU in that it's part of a College of Justice and Safety that has been lauded as a national program of distinction. "EKU has a long history in the justice and safety field as far as having an entire college dedicated to those fields," Ballou says. "So we've long been known as an expert in those areas."
Students have interned at the FBI, DEA, and other federal and state law enforcement agencies. A degree offers a range of career options, from law enforcement officers to policy analysts. "Students recognize there are a lot of broad career opportunities associated with that degree," Ballou adds. "And they know they'll get the expertise from studying at EKU."
Psychology
Psychology majors are interested in understanding behavior, and perhaps taking the first step toward graduate work. At EKU, its popularity lies in the wide range of professional careers that the program leads into — such as marriage and family therapist, substance abuse counselor, forensic psychology, and even sports psychologist.
"It offers opportunities for specialization, and it has a number of concentrations available — you can do everything from brain and cognitive science to substance abuse," Ballou says. "So it gives students an opportunity to get a degree in a broad field while also identifying a specialization area that they wouldn't get at another university."
EKU's Psychology major also includes extensive co-operative and clinical experience that helps provide students with hands-on training before graduation, so they're even more prepared to enter their chosen career field.
Occupational Science
Occupational therapy is widely considered a top career field, given its median salary of $82,500. A first step on that path is the Occupational Science program at EKU, the precursor to pursuing a master's degree.
"It is a pre-professional program that prepares students for advanced study in occupational therapy," Ballou says. For those who choose not to continue into graduate work, Occupational Science still opens the door to jobs such as a case manager, independent living skills coordinator, or mental health associate.
---
Aviation
Interested in taking flight? Among the majors unique to EKU is Aviation, the only one of its kind of Kentucky. The field offers three tracks: professional flight, which certifies a student to become a pilot; aerospace management, for those interested in working within the industry; and aerospace technology, which allows associate's degree holders and non-degreed pilots to complete their education.
"Demand for aviation professionals in Kentucky is at an all-time high," says Steve Parker, commissioner of the state Department of Aviation. "EKU's role in training future aviation professionals, including pilots, managers, and business leaders, is critical to supporting this need by giving Kentuckians the required skills and certifications to fill these lucrative positions."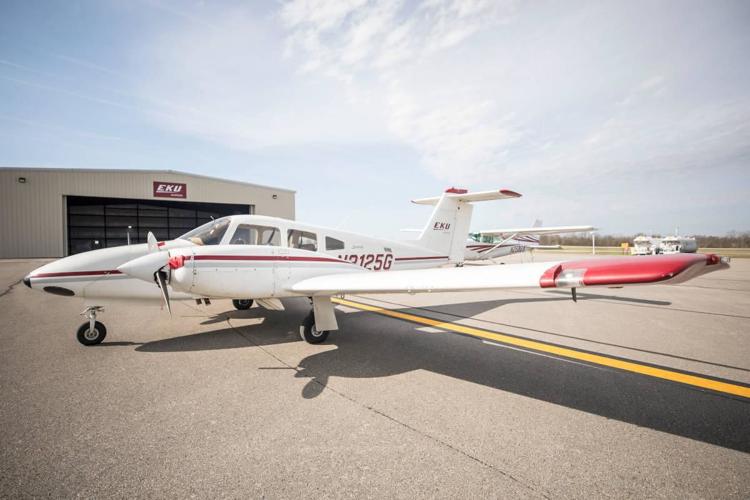 Among the select programs authorized to award a 1,000-hour certificate, EKU Aviation has 14 aircraft based at Madison County Airport and simulators on campus. Graduates are flying in every major passenger and cargo airline, employed at 15 major airports, and working at agencies such as NASA and the FAA.
Game Design
Computer Science offers a minor in Game Design, another of those fields unique to EKU. First of its kind in Kentucky, EKU's Game Design Institute also ranks among the top 50 undergraduate programs worldwide in the field, according to The Princeton Review.
EKU Game Design students are regular competitors in eSports, and course material is influenced by those at the top of the field. EKU's program has also helped spur the industry within Kentucky.
That's just a sample of the majors EKU has to offer. Interested in learning more? Contact the university at (859) 622-1000, schedule a tour of its campus located in Richmond, Kentucky, or browse its academic programs online at Programs.EKU.Edu.