LOUISVILLE, Ky. (WDRB) – A year ago, Kentucky Gov. Andy Beshear said the state was "spending what it takes" to get "caught up" on a growing backlog of unemployment claims.
"Help is on the way," Beshear said during a June 30, 2020 briefing in which he announced the hiring of accounting firm Ernst & Young to help process claims.
But Kentucky is not caught up. In fact, the state hasn't even cleared all claims filed in the initial three months of the pandemic, despite Beshear's promise a year ago that claims from March, April and May 2020 would be resolved by the end of July 2020.
State figures dated June 2 show 9,829 claims filed in March, April and May of 2020 remain "pending," including 44 from March 2020.
Meanwhile, Kentucky's total unresolved initial unemployment claims filed since the onset of the pandemic has only grown in the past year, from about 56,000 a year ago, when Beshear said the state would get "caught up," to 122,578 as of June 2.
What's more, those figures likely understate the number of people having issues with the system, as they relate only to first-time claims. The state cannot quantify the number of claimants who have been paid and then run into problems.
Beshear, for his part, said he plans to make more in-person unemployment help available now that state offices have reopened, while working toward the ultimate fix: a complete rebuild of the antiquated unemployment computer system, which will take two or three years.
PODCAST: 
"We are working and working and working through those claims," Beshear told WDRB News on June 11. "Obviously the fraud and the levels of fraud, which we've never seen before, sometimes make finding a valid claim a needle in a haystack."
But many Kentuckians struggling with the system – sitting on hold for hours in hopes of reaching someone, or grappling for scarce in-person appointments, which don't always resolve their issues – say they feel elected officials are resigned to their problems.
In recent months, the debate over unemployment insurance has centered on whether Kentucky should jettison the additional $300 per week paid on every claim from the federal government, with less discussion of the continuing problems with the system.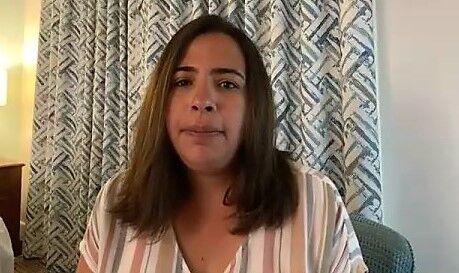 "I don't think there's much attention to it at all … I don't think our state cares," said Adriana Petty, 36, of Louisville, who hasn't seen a dime of the $14,794 maximum benefits for which she was initially approved in August, according account records she shared with WDRB.
Petty lost her job as account manager for a wireless company last summer. She struggled for months to find a work-from-home job since her daughters, who attend Jefferson County Public Schools, did not have in-person school.
She found a job as a mortgage processor in December, but her unemployment claim still hasn't been sorted out. She dipped into her retirement account to make ends meet.
"… It feels like they want us to, you know, go through this," she said. "… I know there's a whole bunch of other people in the same situation as I am, frustrated."
James Oller, 49, filed in February after losing his job with a package delivery contractor, but has yet to see a payment, he said. His May visit to the state office downtown lasted less than five minutes, when he was told nothing could be done until an adjudicator investigates his claim.
"It's a joke to tell you the truth; they are not wanting to help anybody," Oller said, adding that his partner's disability payments are his only income and he's about to miss the July mortgage payment. "It's like they are just sitting on their butt doing nothing."
Robyn Pitts, 46, of Louisville, said she feels "betrayed" after payments she received for about a year stopped in April, and two in-person appointments failed to resolve the problem.
"Why are we not talking about this anymore? … It's still a problem," she said.
'What happens when we don't support our safety nets'
It's not easy to compare Kentucky's performance with unemployment to other states. The figures the state presents about initial claims are not standard metrics that other states produce.
But available federal data suggest the state continues to rank poorly. For instance, Kentucky was 13th from the bottom in May on the time to determine unemployment eligibility, with 7% of cases decided within 21 days, compared to a national average of 28%, according to figures compiled by the Century Foundation.
As for the timeliness of payments, 54% of claims received a first payment with 21 days, below the national average of 66%.
Asked why more progress hasn't been made in the last year, Beshear, a Democrat, reiterated criticisms he has leveled at his predecessor, Republican Matt Bevin, for cutting about 90 state employees from the Office of Unemployment Insurance, and at lawmakers for not upgrading the decades-old computer system.
"This is an unfortunate example of what happens when we don't support our safety nets when times are good," Beshear said.
Beshear's father, Steve Beshear, didn't accept $90 million in federal funding to upgrade the unemployment computer system in the aftermath of the Great Recession, a decision he would come to regret, he told CNN earlier this year.
Kentucky employed the accounting firm, Ernst & Young, through December 2020, paying about $14.5 million for the short-term work. Despite not clearing the backlog of claims, the firm's work was "very valuable" and "helped us through a difficult time," Beshear said Thursday.
But the Labor Cabinet, which oversees unemployment, decided not to continue the contract as it worked to reopen state employment offices for in-person help, Beshear said. (Ernst & Young's leader in Louisville, Greg Pope, has said the firm won't comment on its work for clients).
Meanwhile, the Republican-led legislature granted Beshear's request to restore 90 positions to the unemployment office, but it's unclear how many have actually been added and how many more are needed to improve the office's level of service.
Claimants continue to report difficulty reaching someone on the phone, and appointments are in high demand, snapped up within minutes of being made available online every morning at 9 am.
The Labor Cabinet did not respond to several written questions for this story about the current and historical staffing levels at the unemployment office and the pace of hiring.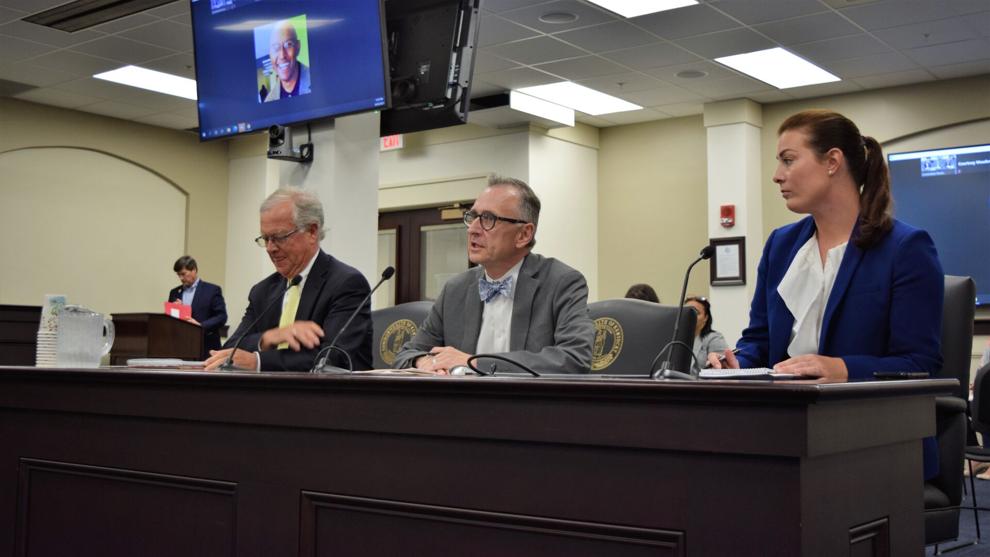 Labor Secretary Larry Roberts and unemployment office director Buddy Hoskinson refused to speak with reporters after a legislative hearing this month. "Rather not," Roberts said as a group of media trailed behind.
During testimony to lawmakers, Hoskinson appeared to say the office doesn't have enough people to handle cases in which someone's eligibility for benefits needs to be examined.  
"Just for what we have in adjudication, we could probably use a good 100 people in that alone," Hoskinson said.
But Hoskinson didn't elaborate, and the only other question he faced about the office's staffing from was Republican Rep. Phil Pratt of Georgetown, who wanted to know why the unemployment office was adding employees at all, since the unemployment rate is coming down.
Beshear said Thursday that the office is working on staffing up, though he couldn't give specifics. But challenges include the legislature's decision to fund the positions with temporary federal funds, meaning the jobs don't have a guaranteed, permanent status like ordinary state positions.
"We've got to tell anybody coming in right now that we can't guarantee their job and the funding for it for a period of time," Beshear said.
Sen. Chris McDaniel, chairman of the Senate budget committee and a member of the chamber's Republican leadership, said Beshear is trying to deflect blame for his bungled handling of the unemployment surge at the onset of the pandemic, when Kentucky expanded eligibility and cut corners to get claims paid. 
"The governor wants to try to permanently expand and make more unwieldy the unemployment office," McDaniel said. "If he would have handled this crisis from the beginning, we wouldn't have had this issue."
McDaniel also noted that Beshear's administration declined the legislature's offer to loan its legislative staff to the unemployment office early in the pandemic. A Labor Cabinet official said earlier this month that there was no agreement on detailing employees to the unemployment office, as required by federal rules. 
Another challenge to staffing up, Beshear said, is that other states are also trying to hire people familiar with unemployment systems.
"It takes about six months to train somebody to really be able to process a complicated (unemployment) claim," Beshear said. "So as you can imagine, every state's going through what we've been through … so there's also competition between states."
These nuances don't matter to Daniel Edgeson, 63, of Shepherdsville, who lost his job at a medical equipment provider in Louisville and hasn't seen payments on a claim he filed in March.
As for the officials running the unemployment system, Edgeson said, "I think it is unconscionable that those individuals are still drawing a paycheck with the numbers they reported."