LOUISVILLE, Ky. (WDRB) – Three construction teams will compete for a contract to renovate the Sherman Minton Bridge, including companies that worked on the Ohio River Bridges Project.
The Indiana Finance Authority announced the groups last week that will vie for the estimated $92 million work, which would replace the span's roadways, add lights and new paint and improve elevated surfaces on approach roads in Kentucky and Indiana.
Indiana is in charge of the project called the "Sherman Minton Renewal," which aims to add 30 years of life to the Interstate 64 bridge connecting western Louisville and New Albany, Ind.
The "short-listed" teams are:
Kokosing Construction Co. Inc./Jacobs Engineering Group Inc. Kokosing, of Westerville, Ohio, has done work on several high-profile bridge projects, including the $88 million Jeremiah Morrow Bridge over the Little Miami River in Ohio. Dallas-based Jacobs helped design both new spans in the Ohio River project that finished in 2016.
Lunda Construction Co./WSP USA Inc. Lunda, of Black River Falls, Wis., oversaw the Hastings Bridge construction in Hastings, Minn., and has worked on other bridges in the upper Midwest. WSP includes the company formerly known as Parsons Brinckerhoff, which bid for work on the downtown part of the Louisville-area bridges project and also did early design on what became the Lewis and Clark Bridge.
Walsh Construction Co. II LLC/Burgess & Niple Inc. Chicago-based Walsh oversaw the work on the downtown part of the Louisville bridges project and was a member of the partnership that led the upriver portion. Burgess & Niple, of Columbus, Ohio, did engineering work on the Indiana approach to the Lewis and Clark Bridge.
Sherman Minton project planners are reviewing six options for managing traffic during construction, including one-lane traffic on both the bridge's upper and lower decks, keeping one deck open or closing the span entirely for up to two years.
The bridge is the busiest of the Ohio River crossings between Louisville and Southern Indiana, carryiong an estimated 90,000 vehicles per day, or about 26,000 more than the I-65 toll bridges in the RiverLink toll system.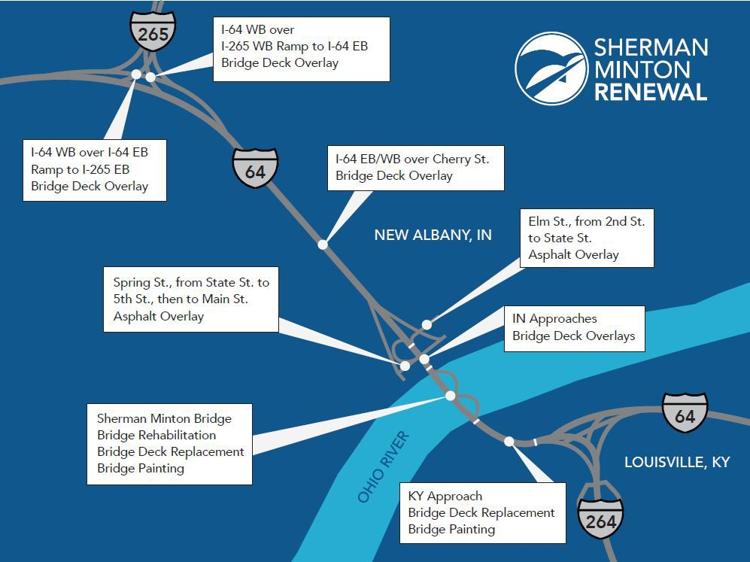 The Sherman Minton Bridge, which remains free to use, picked up traffic after RiverLink started assessing tolls in late 2016. There are no plans to add tolls to it.
Project spokeswoman Andrea Brady told WDRB News late last year that several approaches will likely be used. The traffic plan is expected to be released during public meetings this spring.
Indiana intends to award a construction contract in early 2021.
Reach reporter Marcus Green at 502-585-0825, mgreen@wdrb.com, on Twitter or on Facebook. Copyright 2020 WDRB Media. All rights reserved.