LOUISVILLE, Ky. (WDRB) – Twin brothers Jamel and Jamar Benford were among about a dozen students in Greenwood Elementary's library practicing their fencing footwork Wednesday.
They'll get their hands on fencing swords and protective gear to put their footwork to the test next week, maybe against each other.
"He's going to lose," Jamel said.
The rising fourth graders at Shacklette Elementary are enrolled in the Jefferson County Public Schools "Literacy &" summer camp for fencing and chess, part of the district's expansive summer learning offerings for about 10,000 students this year.
Most of those students are participating in the district's summer Backpack League, where some 7,000 are enrolled at schools throughout the district.
"It's no secret that the pandemic has kept us down, and many of our students have struggled during (nontraditional instruction) or struggled even coming back into the classroom, so this is a big deal for us in JCPS," Michelle Dillard, assistant superintendent of teaching and learning, said during a news conference Wednesday.
JCPS Superintendent Marty Pollio has touted summer learning programs as integral to making up lost learning time during the pandemic, a process that could take years to fully realize. His target of reaching 10,000 students through summer programming is on track this year.
This year's Backpack League is the first time the program will be fully in-person since its inception in 2019, when about 1,000 students enrolled. Last year, JCPS offered a mix of in-person and virtual Backpack League options for about 6,000 students.
The program emphasizes literacy and numeracy skills, and Dillard said diagnostic testing results will help teachers and tutors through FEV Tutor understand how much help individual students need.
"They are going to be able to gain back some of that math and literacy loss that they had, and we're very excited about that," Dillard said.
The district also worked to improve the program, in part by ensuring the Backpack League sites resemble traditional schools in staffing, she said. Teachers, counselors and substitutes have always been central to the program, but this year they're joined by mental health practitioners, special education teachers, English as a second language teachers, instructional assistants and security guards, she said.
"We were very strategic and setting up our staffing so that each of our school sites were able to function like they would normally in a regular school year and truly be intentional about meeting the needs of all of the students that are participating," Dillard said.
For Aubrey Bailey, learning more about coding and robotics on the program Robotify is a highlight of summer Backpack League so far.
"There's this one robot that has to go and get as many batteries as there are and sometimes in the higher levels you get obstacles, like you have to go around some barrels and you have to go around mud and stuff like that," said Aubrey, who is an incoming fourth grader at Eisenhower Elementary and had not learned much about coding until attending the summer program.
Learning in-person is easier for her because she can focus on her work instead of helping her siblings with their assignments during remote instruction.
"They're all in school, so I would sometimes help them with schoolwork and not be able to do much of mine," Aubrey said.
The Benford twins hope they can hone their fencing skills at Shacklette Elementary once their time with the "Literacy &" camp ends with them showcasing their newfound skills.
"We can still learn more," Jamar said.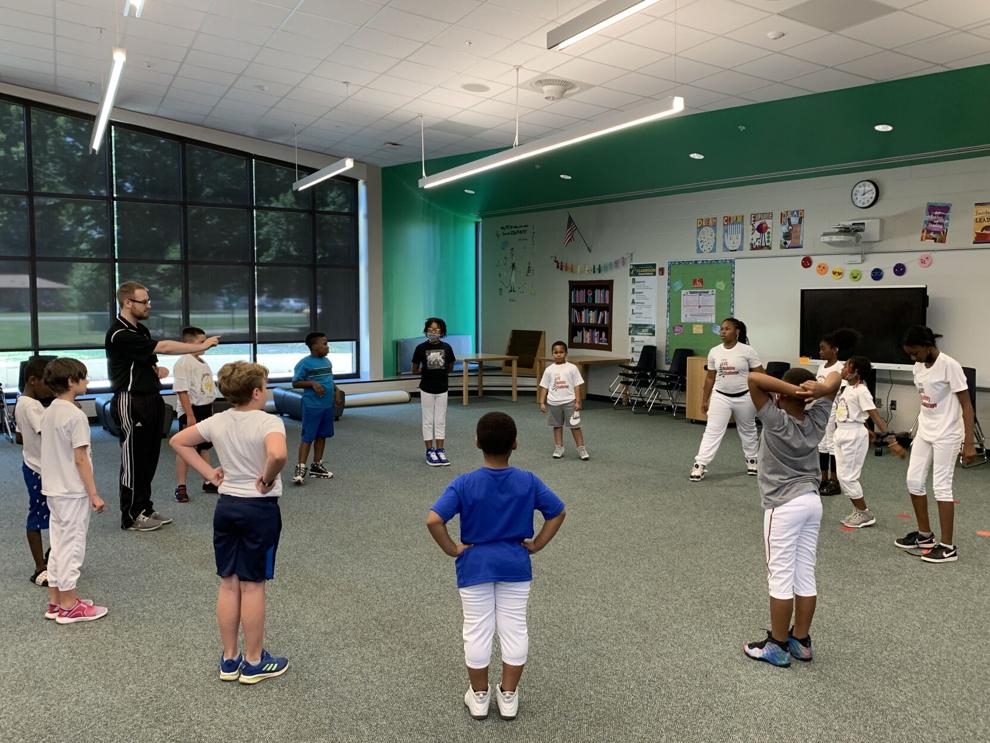 JCPS is providing meals and transportation as part of its summer programming.
Copyright 2022 WDRB Media. All Rights Reserved.