LOUISVILLE, Ky. (WDRB) – Jefferson County Public Schools Superintendent Marty Pollio on Tuesday supported publicly tracking exactly how the district will spend more than $50 million in new revenue if a 7 cent property tax rate increase survives a ballot challenge in three weeks.
The Jefferson County Board of Education held a virtual forum Tuesday to answer questions about the higher tax rate ahead of the Nov. 3 election.
The district expects to net $54 million from the rate increase, which would cost the owner of a home worth $100,000 an extra $70 annually in property taxes.
Pollio said JCPS needs the extra tax revenue to boost student achievement and replace aging school buildings, particularly given the academic and economic ramifications of the COVID-19 pandemic. The coronavirus outbreak has put JCPS "in the hole" financially despite receiving more than $35 million from the federal stimulus, some of which must be shared with area private schools, he said.
"Our children are coming back to us, when we come back into school, with more need than they've ever had," Pollio said. "… It is going to be imperative for us that we are poised and ready to meet the needs of our kids."
Pollio also backed the development of a public-facing dashboard to track exactly how JCPS spends the expected new revenue.
The board passed a resolution Sept. 17 detailing how the $54 million would be spent for the 2021-22 school year: $15 million to build and renovate schools, $15 million for schools with the highest needs, $12 million for racial equity work and $12 million for more learning time for students.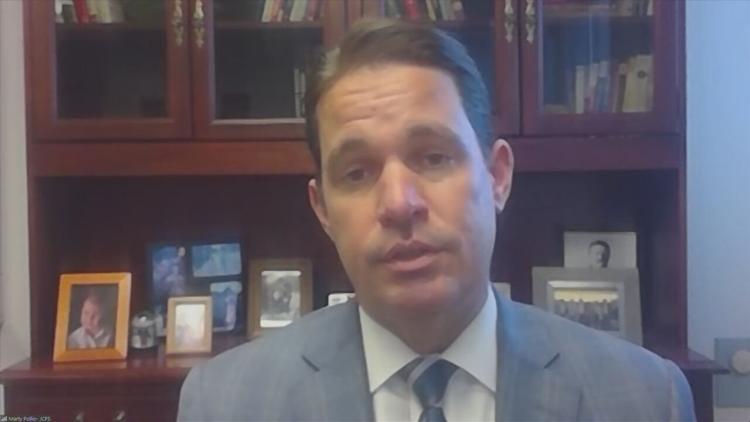 "That $54 million would be earmarked and could be tracked on a public dashboard," Pollio said, noting that would need to be approved by the board.
The district could also conduct regular audits "to show that we're clearly spending the money exactly where we said we would spend the money," he said.
Whether JCPS actually will collect that extra money remains to be seen. Beyond the ballot box, a legal fight involving the board, the Jefferson County Teachers Association, Jefferson County Clerk Bobbie Holsclaw's office and members of the recall petition committee could also determine the tax increase's fate.
The board and teachers' union have challenged Holsclaw's certification of the recall petition, citing a review that found potentially fraudulent electronic entries.
Members of the petition committee have intervened in the lawsuit, claiming the tax increase should be nullified because the board passed the new rate before local tax rolls were certified.
Pollio said Tuesday that he agrees with opponents that student outcomes need to improve at JCPS, though he differs from those who say the district can do so without raising taxes.
"I believe the solution is not cutting funding to schools but instead increasing funding and giving every kid the opportunity they deserve," he said.
Tuesday's forum offered Pollio and others opportunities to reiterate their support for and answer questions about the district's property tax rate increase.
They fielded questions including what programs JCPS would offer to students in newly built or renovated schools and what the community can expect from the district's proposed racial equity spending.
Pollio said the district hoped to hire more Black teachers and eventually increase their ranks to 36% of the teaching force to reflect the JCPS student body.
While he offered no other spending priorities to boost racial equity, Pollio again said a forward-facing dashboard and audits would show exactly how higher property taxes are funding such initiatives.
"If it's implicit bias training for our faculty and staff, it will be in there," he said. "If it's to bridge the digital divide, they will see that clearly, and we will have some audits with public reports so that they can see that that money is clearly being earmarked for the right categories."
Pollio also stressed his desire to build new schools in JCPS, saying the district has 32 schools that are nearing their end of life.
"If we wait two years or four years, it will be too late," he said. "We will be condemning schools."
Copyright 2020 WDRB Media. All Rights Reserved.