LOUISVILLE, Ky. (WDRB) -- Jefferson County Public Schools has settled on a proposal that will divide west Louisville into 12 contiguous zones that dictate which middle and high schools children attend if they don't choose schools closer to home.
JCPS unveiled its proposed student assignment plan for west Louisville on Wednesday. JCPS Superintendent Marty Pollio and others in the district say the goal is to give families in the area the choice to go to middle and high schools within their communities or attend schools dictated by their satellite zones.
About 6,500 students would be impacted, and Pollio said Wednesday the district hopes to have a "dual resides" plan for west Louisville students entering sixth and ninth grades in effect for the 2021-22 school year. The plan would be phased in over three or four years, he said.
"Choice is something students in our satellite area of west Louisville haven't had for decades," Pollio said during the district's virtual summit, which was posted to its YouTube page Wednesday. "For thousands of middle and high school students in west Louisville, their only option has been to travel outside of their neighborhood to attend classes. This isn't equitable, and quite frankly, it isn't fair."
One of the plan's goals would be to "end forced busing," JCPS Communications Director Renee Murphy said in the video's introduction.
That term, which harkens back to court-ordered racial integration efforts in the aftermath of the landmark Brown v. Board of Education decision in 1954, has been used often by critics of the district's student assignment plan. Busing within JCPS has long been a source of contention in Jefferson County.
Pollio has said it's unfair to depend solely on west Louisville students for diversity in JCPS middle and high schools.
The "dual resides" proposal – presented by Scott Leopold, executive director of planning services for Cooperative Strategies – would create 12 separate zones for middle and high school attendance in west Louisville. Some school boundaries, such as Seneca, Atherton and Waggener, would be extended into west Louisville.
The Academy @ Shawnee's "resides" area would be cut from the satellite map. Shawnee, which is undergoing extensive renovations to reopen its condemned third floor, would be the neighborhood option for incoming ninth graders while sixth graders could choose to attend a newly built middle school, Pollio said Wednesday.
The proposed map would reduce the total number of pathways from middle to high school from 50 to 11. Here's how students would progress from middle school to high school in the plan:
Kammerer to Ballard
Crosby to Eastern
Conway to Pleasure Ridge Park
Westport to Waggener
Meyzeek to Atherton
Noe to Seneca
Ramsey and Carrithers to Jeffersontown
Frost-Stuart academies to Doss or Valley
Knight to Fairdale
Marion C. Moore for grades 6-12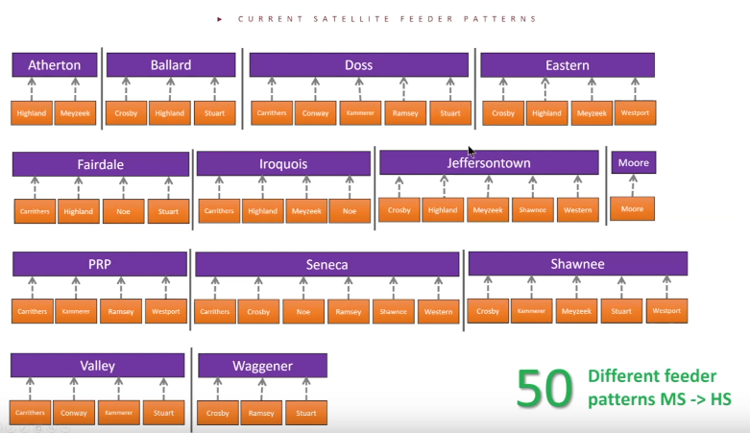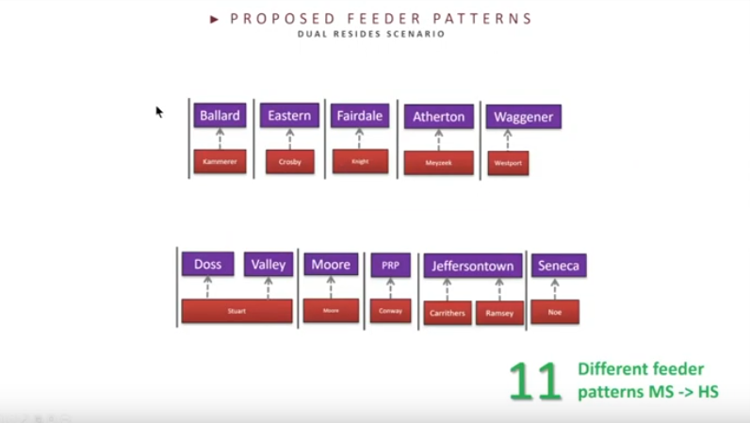 The proposal would likely require at least one new high school and two new middle schools to be built in west Louisville. Pollio has said the new buildings could cost nearly $140 million total, and he made those schools central pieces of his pitch to increase the district's property tax rate by 7 cents per $100 of assessed value.
"It's time we invest in our students and that our buildings reflect how we see them and their futures," Pollio said Wednesday.
Dino Johnson with the California Neighborhood Association said building new schools in west Louisville and giving families the option of attending classes closer to their communities would be great if the right staff and administrators are hired.
"They've got to be able to adapt to the culture that these kids are coming out of, the background that these kids are coming out of," said Johnson, who was bused from west Louisville from the fourth grade until he graduated. "If they just build those schools and just throw anybody in there that's not prepared for what they're going to be faced with as far as these kids from the West End, then I think it would hurt."
He believes by neglecting to build new schools in west Louisville and instead bus students to schools throughout Jefferson County, the district has previously shown that it doesn't "care about the learning in the West End."
"The kids in the West End are being left behind, and in order for them to get a better education, they have to go out of the neighborhoods," Johnson said.
The recent protests against police violence toward black residents in cities throughout the country, including Louisville, has exposed racial inequities that exist everywhere, including in education, he said.
Johnson hopes JCPS leaders make good on their promises to make serious changes in est Louisville.
"There's been a lot of talk about it for years and years and years, but still hasn't anything been done," he said.
Feedback on the district's "dual resides" plan can be given through a JCPS form by clicking here.
Copyright 2020 WDRB Media. All rights reserved.