LOUISVILLE, Ky. (WDRB) – Even with the help of an accounting firm on a $15 million contract, Kentucky has been among the five worst-performing states during the last five months in getting jobless workers their first unemployment payment on time, according to federal data.
U.S. Department of Labor data compiled by The Century Foundation, a progressive policy group in Washington D.C., show Kentucky has struggled since the early days of the pandemic to meet the federal standard of paying 87% of initial claims within 21 days.
Kentucky ranked 46th among states on that metric in December and was the second-worst performing state in September and October, according to The Century Foundation's dashboard.
"Certainly, we don't want to be in the bottom five of anything," Gov. Andy Beshear said during his briefing Monday, adding that fraudulent claims that haven't been formally denied might be skewing Kentucky's performance on the metric.
Beshear's Labor Cabinet, which oversees unemployment insurance, didn't offer a direct response to the statistics about the payment rate, but said in an email that the pandemic "has led to a substantial increase in the number of claims being processed."
"(O)ur staff is working those claims at an unprecedented rate. We are working daily to process all claims, and to develop new processes in order to become more efficient," Kevin Kinnaird, a cabinet spokesperson, said in the email.
The 21-day payment rate for initial unemployment claims is one of the few standardized metrics available to compare how states are doing getting jobless benefits out the door, said Andrew Stettner, a senior fellow at The Century Foundation and an expert on unemployment insurance.
As of December, only 10 states met the federal standard of 87% of first payments made within 21 days, according to the foundation's dashboard, but Kentucky's 50% rate was well below the average of 72%.
To be sure, Kentucky looks better on a separate metric tracked by the foundation, having paid about 56% of initial claims filed from March to November, slightly above the 55% average for all states.
'I can't get no answers'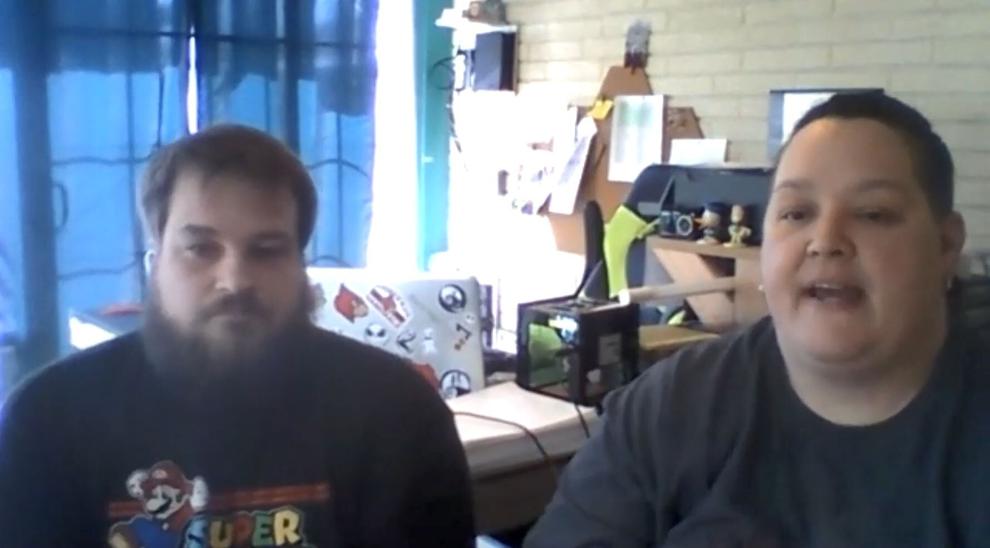 That's cold comfort to Jamie Ranes, an autoworker and father of three who lives in Pleasure Ridge Park.
Ranes' online unemployment account shows he was approved in October for a weekly benefit of $563 and for a maximum of $14,638. He has yet to see a dime. Ranes' claim is "under investigation."
Why? "No clue," he said.
"I'm not getting no responses from anybody. You cannot get through any phone lines. At one point, you could actually keep calling back until you got into the queue, and you would have to wait up to an hour to reach somebody. Since the beginning of January, they no longer even allow that," he said. "…I just can't get nowhere with it. I can't get no answers."
Ranes said he decided to stop working the night shift at Ford's Louisville Assembly Plant because his three kids, two of whom have ADHD, have been stuck at home doing virtual instruction instead of going to Conway Middle School, and he couldn't sleep because they needed help.
For a while, Ranes and his wife, Erin, attempted to solve this problem with technology. Erin, who also works at Ford on the day shift, would remotely monitor the kids while on breaks at work, so Jamie could sleep, she said.
She used an app on her phone that allowed her to see what was going on at the house through four internet-connected cameras.
"I'm hollering at them: 'Leave the dog along. Turn around and pay attention. Why are you up? Why are you not in class?' I mean, it was hard," Erin Ranes said.
With no prospect of Jefferson County Public Schools returning to in-person class (the district remains on virtual instruction), Erin and Jamie decided last fall that one of them needed to stay home.
Kentucky's data isn't comparable
How many claims, like Ranes', are stuck "under investigation?"
Kentucky officials can't answer that question. They also can't answer how many people have run into problems while trying to claim subsequent payments after having received an initial check.
Beshear, a Democrat, has said the state's "antiquated" computer system for unemployment, last updated 20 years ago, needs to be specially coded to extract data. That's why he proposes spending nearly $50 million in Kentucky's next budget cycle to replace the system and restore about 90 unemployment positions that were cut by his predecessor, Republican Matt Bevin.
Kentucky's official count of backlogged unemployment claims has hardly budged – about 86,000 – despite the state having paid accounting firm Ernst & Young about $15 million from July to December to help the beleaguered system.
Kentucky still isn't "caught up" on the backlog, the goal Beshear set in late June when he announced the state would bring in the outside help.
Ernst & Young's engagement with Kentucky ended Dec. 31, and Beshear has said he's considering bringing the company back for more help.  Kentucky's situation would be much worse had Ernst & Young not been hired, Beshear said. Ernst & Young's manager of the Kentucky engagement didn't return a call for comment.
In recent weeks, Beshear's administration has said that, in fact, the mountain of pending claims isn't nearly as big as initially thought -- only about 38,000 of the 86,000 claims represent people whose identities are verified.
"Those are the ones -- we believe – (who) are the actual, live claimants who are still waiting for a claim to be adjudicated," Beshear general counsel Amy Cubbage said during a Jan. 29 briefing.
In all, Kentucky has received about 1.5 million unemployment claims during the pandemic filed by about 600,000 people, Cubbage said. (People sometimes file multiple claims).
But the backlog figures that Kentucky regularly publishes are not standardized, meaning they can't be compared to other states, said Stettner, the unemployment expert at The Century Foundation. Some, like Florida, publish similar figures, but the states choose what they measure, he said.
Meanwhile, the federal data that is available for state-by-state comparisons isn't as useful as it could be, he said.
"They're not submitting the things that the public really needs to know: How many people are pending and have never been touched? And, how many have issues that are not resolved? We don't have a real time number of that … And that's a ridiculous situation," Stettner said. "And we certainly call on the Biden administration to change that."