LOUISVILLE, Ky. (WDRB) -- Students at Barret Traditional Middle School achieved a rare feat for Jefferson County Public Schools after posting a perfect 100% participation rate in the first months of distance learning.
Jefferson County Traditional Middle School was not far behind, falling just 0.1% short of perfection with a 99.9% student participation rate as of Nov. 13 for the 2020-21 school year.
Both are part of the competitive traditional school network at JCPS – and have two of the more affluent student bodies in a school district where about two-thirds of more than 96,000 students qualify for free or reduced-price school meals.
The district's average participation rate of 90.7% serves as a dividing line of sorts in a trend that has Kentucky's largest school bracing for a years-long effort to make up months of academic stagnation and decline for some of its poorest students.
A WDRB News analysis of schools' participation rates and enrollments, through data publicly available and obtained in response to open records requests, shows that every school in the district where up to 60% of students qualify for meal assistance posted average participation rates above the district average.
By contrast, all but five of the 44 JCPS schools where at least 80% of students qualify for such assistance fell below the district's average participation rate. Of the 36 schools most recently identified by the Kentucky Department of Education for comprehensive support and improvement, only three bested the 90.7% average JCPS participation rate.
More than 61,000 of the district's 96,304 students qualify for free or reduced-price meals. Black students make up 46.5% of the district's meal assistance recipients, the most of any student racial group, according to JCPS data. Four out of five Black students at JCPS receive such assistance compared to 48.1% of white students and 63.8% of students of other races, according to district data.
Roosevelt-Perry Elementary School, where 91.4% of students qualify for school meal assistance, recorded a 60.8% participation rate as of Nov. 13, topping only alternative schools Minor Daniels Academy, Breckinridge Metropolitan High School and Liberty High School for the district's lowest participation rates at the time.
Carmen Coleman, the district's chief academic officer, estimated that JCPS would be grappling with learning loss in poor children tied to the COVID-19 school closures for three to five years. Low participation reflects not just intermittent engagement, but also students who have simply vanished from the learning process at JCPS, she said.
The district counted 127 students, 36 of them from low-income homes, as non-participants in distance learning as of Nov. 13, data show.
"There are some kids that we have not been able to find their families, and we don't know," Coleman said. "Does that mean that they're gone? For some it looks like they're still where the address says they are, and others I don't know. We certainly hope they come back."
Coleman likened the situation facing JCPS and other urban school districts in the U.S. with the aftermath of Hurricane Katrina, which displaced more than 1 million people living in the Gulf Coast.
"One of the things we've learned and that we've learned from Katrina is that we can't continue to approach learning gaps as we were," she said. "We know that over the last several years, the achievement gap across the country has widened, and so to continue approaching our work the same way is just the definition of insanity."
"We have a really unique opportunity for everyone to start fresh, really, and this is an opportunity to change the way that we use our time, that we use our resources and to really do school differently," Coleman said.
JCPS and other school systems that have primarily relied on remote learning will have a lot of ground to make up academically.
Lynn Jennings – senior director of national and state partnerships for The Education Trust, a national nonprofit aimed at closing opportunity gaps that disproportionately affect low-income students and students of color – estimates many students have lost months of learning time during COVID-19 school closures.
The pandemic has been particularly hard on poor, Black and Latino students, she said. Jennings estimates that low-income students have lost the equivalent of a year of learning time while Latino students and Black students have missed about nine and 10 months of learning time, respectively.
She estimates about 3 million students nationwide either were not engaged with their learning or were not receiving a formal education from March until around fall of this year.
"One of the big things we just need is the data to start figuring out how many students are we losing, how many students are not engaged, how many students are out there that don't have access to the instructional time and learning time," Jennings said.
The Jefferson County Board of Education passed a phased reopening plan by a 4-3 vote Thursday in which elementary, middle and high school students will return to classes on hybrid schedules. Students will return to elementary schools starting March 17.
Barriers to learning from home
Simply getting students into the doors of Roosevelt-Perry Elementary has not been as much of a problem in recent school years.
In fact, the Roosevelt-Perry's attendance rates bested JCPS averages between the 2015-16 and 2018-19 pre-pandemic school years. The school posted an average attendance rate of 94% between 2010-11 and 2018-19, slightly higher than the JCPS average of 93.8% in that time, according to district attendance data.
The emergence of COVID-19 changed that dramatically as JCPS rushed to close its classrooms in mid-March and transitioned to nontraditional instruction, one of many Kentucky school districts to offer remote learning for the first time ever in response to the novel coronavirus outbreak.
"When we're in school, they're coming," said Tyra Walker, a special education teacher at Roosevelt-Perry and recording secretary for the Jefferson County Teachers Association. "They're coming. They're on the bus or coming in. We didn't have a big attendance issue. NTI is different. NTI you can tell the difference."
Some parents are just coming in from work by the time their children's school days start, she said.
"They're hoping that the kids can finish and do everything independently without them standing over them," Walker said.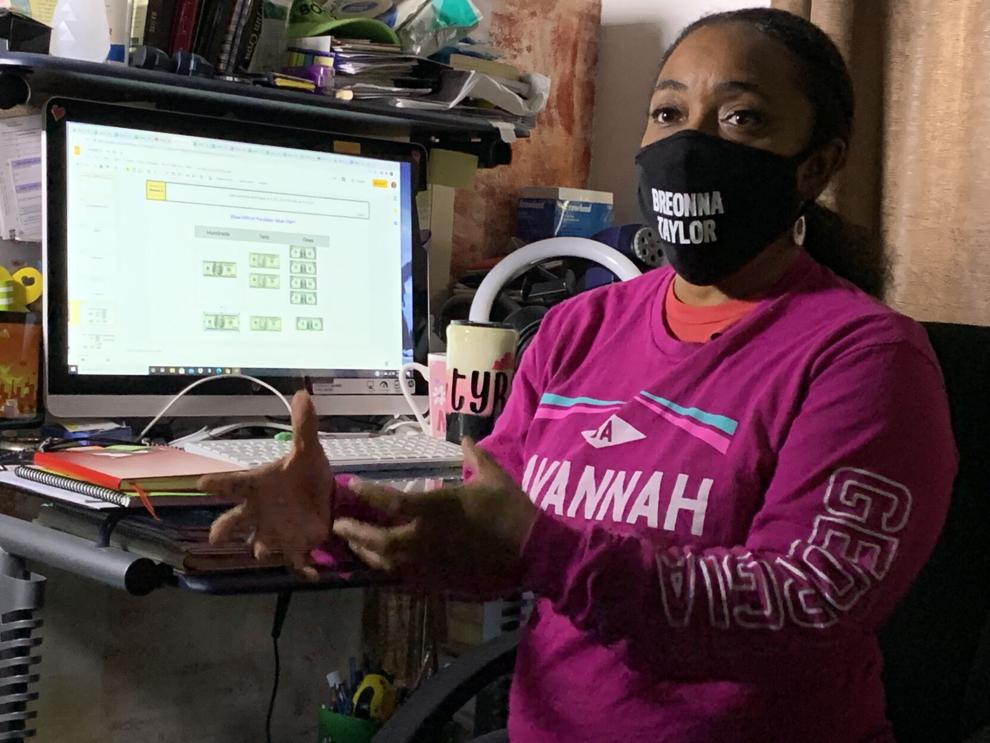 Schools have different standards when tracking student participation in classes, which can include logging into virtual lessons, turning in assignments or reaching out to teachers.
Byck Elementary School also saw a decline when JCPS shifted from measuring student attendance to measuring participation, though not nearly as steep as Roosevelt-Perry's. Nearly 91% of Byck's students qualify for free or reduced-price school meals.
Byck posted an 89.9% participation rate for the 2020-21 school year through Nov. 13, just below the district's 90.7% average. The school's attendance rate from 2010-11 through 2018-19 averaged 94.5%, district data show.
While Byck and Roosevelt-Perry topped the JCPS average in terms of attendance, the schools have had greater shares of chronically absent students. District data show 28.2% of Byck students and 27.2% of Roosevelt-Perry students were chronically absent, both higher than the 15.6% average for other JCPS elementary schools and the 22.8% average across the district during the 2018-19 school year, the most recent available.
State data from that school year show low-income students made up 72.6% of all 22,554 chronically absent JCPS students. Forty percent of chronically absent JCPS students were Black, 41.4% were white and 11.5% were Latino in the 2018-19 school year, according to state assessment data.
Rebecca Hile, a fourth-grade teacher at Byck, said the school decided to take a divide-and-conquer approach to distance learning. Her initial class of 21 students was reduced to 13 thanks to help from a certified special area teacher who formed a class with the eight remaining children, she said.
One of her students has proven "very challenging" in school participation, but she sees the other 12 "almost every day of the week," she said. Hile has seen students logged into her classroom from waiting rooms inside doctor's offices, she said.
"I'm like, 'Mom, mom, you don't have to do this. It's okay. I'll catch up with them later,'" Hile said. "But they're so afraid of missing a live lesson. The parents are so afraid of their students missing and falling behind."
Like other teachers, Hile is acutely aware of the barriers some of her students face during nontraditional instruction, particularly new responsibilities brought on by the pandemic.
"I have students that I am teaching online who are holding 2-year-olds in their lap because they're babysitting because their parents have to work," she said. "… At the same time, they're listening to my live lesson and answering questions."
Seeing older siblings or cousins taking care of their younger family members during distance learning isn't rare for Hile, who says many parents at Byck have frontline and service jobs that can't be done from home.
"I have kindergarteners that are sitting on every lesson I teach and are sometimes yelling out answers," Hile said. "They're getting a little bit of an advanced education here."
"The responsibility that some of my students have far outweighs anything that I could ever remember being responsible for when I was their age," she said.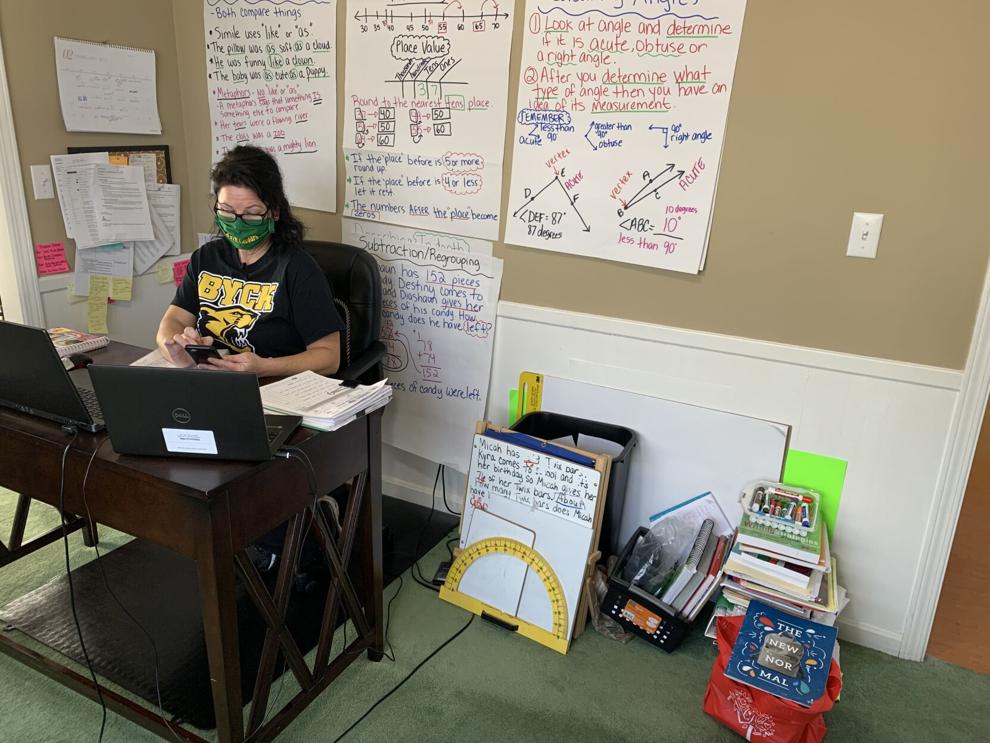 Although JCPS distributed thousands of Chromebooks and T-Mobile data hotspots, technology and internet access have been problematic from some students, she said. Hile knows of teachers at other schools whose students were still waiting for hotspots in the second week of distance learning so they could get online.
Nontraditional instruction at JCPS has also been a struggle for mothers like Walker, whose son is a junior at Central High School. She also cares for three nieces and a nephew who are also learning remotely at JCPS, which will continue once in-person learning resumes because her mother, who suffers from an autoimmune disease and is slated for a liver transplant, is expected to move in with them soon.
"My kids are not going, but if I have to go back, it will be me who goes back into the classroom because I don't want to have to say, 'Oh I don't know where it came from. Did it come from you all?'" she said. "We're going to know who brought it in the house."
Walker says her son's grades slipped during remote learning, though she believes children are struggling with the realities of living in a pandemic. Both Walker and her son tested positive for COVID-19 early in the 2020-21 school year, forcing them to quarantine in their home and generally stay in their separate rooms, she said.
While she eventually returned to her first-floor desk for work once she recovered, she found it more difficult to get him and his cousins up and ready for school.
"Now it's like pulling teeth just to get them down in the morning," Walker said. "… I want to keep it as normal as possible."
Most of his grades improved before the end of the semester, and now Walker confiscates devices for a day if the children don't report downstairs for the start of their school days, she said.
She also checks her son's school assignments at 5 p.m. on Fridays. If anything is missing or incomplete, "I'm taking everything," she said. "Taking your game, your computer. You don't get any technology."
"They're just not liking this, and I'm dealing with that," Walker said.
Distance learning has been a bit smoother for parents who can secure childcare.
Letitia Leaper, a single mother whose 9-year-old son Josiah is in third grade at Shelby Traditional Academy, said daycare has been vital as she works as a restaurant server and studies to become a respiratory therapist. The hardest part is getting Josiah, who says he wants to return to school once in-person learning resumes, to complete assignments outside of class, she said.
"Obviously it's not ideal, but we're making the most of it I'm sure like everybody else," Leaper said.
Without childcare, she said juggling her responsibilities and overseeing Josiah's education would be "nearly impossible."
"I wouldn't be able to do go to school and work and all that," Leaper said. "I would have to be home here with him."
Making up for lost time
While JCPS is measuring participation rates and standard grades during nontraditional instruction, the district does not have a firm handle on exactly where its more than 96,000 students are academically.
Measures of Academic Progress tests, which track students' growth in reading and math, have not been administered during distance learning. Still, Coleman expects to see achievement gaps widen when students return for in-person instruction.
"Nationally what I know and what I'm sure will be the case for us is that reading typically is not falling as far behind as we might think," she said. "Math is the area of struggle that was already an area of struggle for us, so we know the gaps are going to be there.
"We will provide all kinds of support for kids to finish that unfinished learning, but we also cannot think that students have not learned in this time. They have had experiences that I promise they have learned from."
Exactly what interventions will be provided by JCPS remain unclear. Superintendent Marty Pollio suggested Thursday that the district could provide summer programming for at least 30,000 students.
"We are working on a good, sound, research-based plan to make sure that we continue moving students forward while filling in what needs to be done along the way," Coleman said, adding that JCPS is developing "an acceleration for all approach" once students resume in-person courses.
Nate Meyer, assistant superintendent of accelerated improvement schools, says the 34 schools in his purview have crafted acceleration plans for students once they return to brick-and-mortar classrooms.
Schools need to take different approaches in how they engage students during class, after class and in summer programs, he said.
"If it is a safe environment for our students to be in and our adults to serve those students, we'd love to be able to reengage with them on that personal level," Meyer said.
Other school systems are dealing with similar situations. Atlanta Public Schools may make a four-week summer program mandatory for about half of its 51,000 students, and the school board's chairperson suggested moving to a year-round academic schedule as part of the district's intervention strategy, The Atlanta Journal-Constitution reported Feb. 4.
Jennings, with The Education Trust, said schools will need resources to provide safe learning environments during the COVID-19 pandemic and to make up for lost instructional time.
Lengthening school days, extending school years and investing in a national tutoring core for individual and small-group instruction are options worth exploring as academic interventions for students struggling with remote learning, she said.
More broadly, high-speed internet should be expanded and accessible for families, she said.
The digital divide is one inequity of many that have snapped into clearer focus in a year defined in large part by the pandemic and racial justice movement, she said.
"They're out there now," Jennings said. "It's time to address them and deal with them, and so as the pandemic in our schools has just shined the light and exacerbated some of these inequities, let's not just go back to what we were doing but do better."
JCPS expects about 60% of its more than 96,000 students will return to classrooms once in-person instruction resumes based on the results of a district survey.
A slightly smaller percentage of low-income families had selected the district's in-person option as of Feb. 19, according to JCPS data. Fifty-seven percent of students who receive free or reduced-price meals have chosen in-person instruction and 43% have opted to continue virtual instruction.
Meyer said he is "absolutely" worried that some JCPS students who have struggled during nontraditional instruction have lost interest in school entirely.
"I think that's where we're asking our schools to be creative, our leaders to be creative," he said. "Our district is being creative in terms of what we can do to reengage our learners. We're confident that once we do come back that our students will come back with us, but we need to take this time to think differently about what we do to reengage our learners."
Tune in to WDRB News on Wednesday to watch Gil Corsey's story on participation rates at JCPS schools.
Find out participation rates from the beginning of the 2020-21 school year through Nov. 13 for JCPS schools in this spreadsheet:
Copyright 2021 WDRB Media. All Rights Reserved.