LOUISVILLE, Ky. (WDRB) – Kirsten Buck, a sixth-grade math teacher at Olmsted Academy South, has always been a fan of parody music, so when one of her students belted out "Into the Unknown" from Disney's Frozen 2 during a lesson on variables earlier this year, she got an idea.
"I thought, 'Oh that would fit and make a good parody,'" she said. "… That was fate, really."
After Jefferson County Public Schools and other districts across Kentucky stopped offering in-person classes in response to the growing COVID-19 pandemic, she found herself with plenty of time on her hands before JCPS began its nontraditional instruction program.
So Buck, a fan of "Weird Al" Yankovic and Disney movies, wrote and recorded her version of the popular Frozen 2 song, which she called "A Variable's an Unknown," and posted the video on YouTube and her Google classroom days after JCPS closed its doors in mid-March.
The video includes her lyrics and visual examples of how to solve equations with variables.
"In algebra, you must solve all these equations that involve numbers, letters, symbols, what could they all mean, and why does this all seem so complicating?" she sings at the start before transitioning to her lesson, maintaining rhyme and pitch with the popular Disney tune.
Her students were instant fans and began requesting other Disney songs for her to perform, which she obliged.
She's added eight more Disney-inspired songs to her repertoire to help more than 80 students in her three classes understand concepts like fractions and volume to tunes from movies such as Moana, Beauty and the Beast, and The Little Mermaid.
"Because I'm doing it along with the choice boards, they get a song that matches the content along with the instructional videos that me and the other sixth grade math teachers are making, so I think paired together those have been a good replacement for now," Buck said.
She's also considering branching out from Disney-inspired tracks after one of her students suggested rewriting lyrics to songs from movies like The Wizard of Oz and Trolls.
"I was like, 'Honey, the only one of those I've seen is Wizard of Oz. You've got to give me some song titles,'" Buck said. "… We'll see if she sends me these other songs she wants me to do, but yeah, it's cute."
Buck has always been musically inclined. She grew up singing in church choirs and performing in musicals in Detroit, Michigan, and she sings in St. Brigid Catholic Church's choir now.
She and her husband – Chad Buck, a biology teacher at Meade County High School – are also avid singers in the local karaoke scene, so the jump to performing for her students hasn't been daunting.
"I've done choirs. I've done cantering and musical theater, so being up on a stage so to speak at this point in my life is not very intimidating," Kirsten Buck said. "And again, because the purpose was making these videos for my kids, it wasn't really frightening. I didn't really think about the fact that a lot of other people would be seeing them as well."
Her creative process has been relatively painless. She starts a Microsoft Word document with two columns, placing the original lyrics in one column as she jots down content-related ideas in the other.
"It was pretty easy for me to just count the numbers of syllables and lines and figure out, 'OK, this is what I want to say. How can I word it to fit in this number of syllables?'" Buck said.
The writing process takes a day or two to complete, and she takes a day to rehearse.
The technical aspect of recording her videos, though, has been a process of trial and error, but she's gotten better with practice. She uses an iPad to play the karaoke track and records that through a microphone in a pair of headphones that's plugged into her computer.
"It was tricky at first to figure out how to get the best balance between hearing my voice as well as the background music," Buck said.
"It's very low-tech," she said.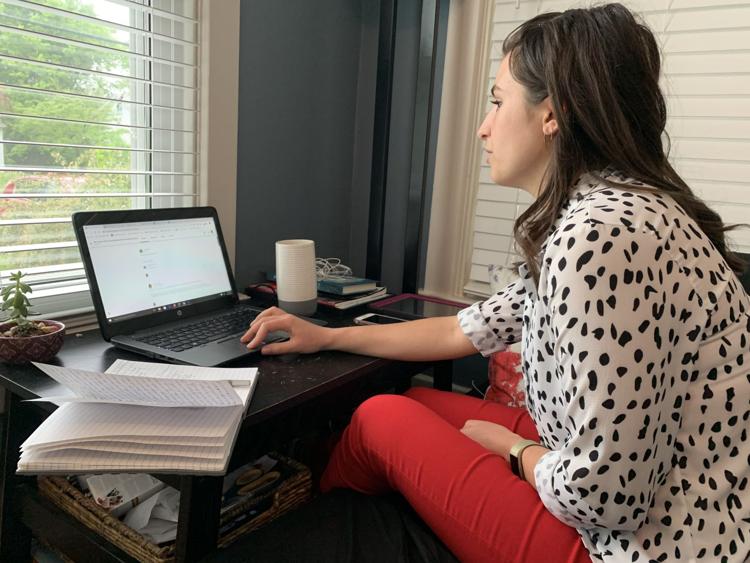 Buck says she plans to continue using math-themed Disney parodies in her teaching, either as ways to introduce her students to concepts or to help them remember subject matter.
She's open to helping other teachers implement music in their instruction as well.
"I think it's fun, and I think you could really teach any topic," Buck said. "I mean, I grew up on Schoolhouse Rock. There were songs for everything there."
Copyright 2020 WDRB Media. All rights reserved.