JEFFERSONVILLE, Ind. (WDRB) – A new waterfront park in southern Indiana could help raise nearby home values, attract new residents and launch new businesses.
It may boost tourism – and tourism spending – and contribute to healthier lives for people in the region.
And a possible "outdoor adventure center" with whitewater paddling could create hundreds of jobs and $18 million in economic activity each year.
These are among the projections from an economic and health analysis of Origin Park, an expanse of green space, bike and walking paths, trails and other features planned along the Ohio River in Clark and Floyd counties. The nonprofit River Heritage Conservancy is leading the park development, which is in its early stages.
Of course, benefits from a new park spanning hundreds of acres are to be expected. But park officials now are able to provide specific estimates on how their proposal might affect the broader community.
The report by HR&A Advisors Inc. is being released Thursday morning at a breakfast in Jeffersonville. Among other things, it estimates that Origin Park could help:
• Attract 2,750 to 4,550 workers in the Louisville-Southern Indiana region, generating $21 million to $42.5 million in new spending in restaurants, grocery stores and other retail.
• Increase home values in surrounding neighborhoods by $5,600 to $11,200 per household. That's based on data from larger cities such as Pittsburgh; Chicago; Austin, Texas; and Toronto.
• Create 2,300 jobs and $189 million in economic output, or the goods and services produced, during construction. The bulk of those jobs would be in industries like landscaping, contracting and bridge and road construction.
• Reduce the area's obesity rate and improve overall physical health. The communities surrounding the proposed park have "physical inactivity" rates above the national average.
HR&A vice chairman Candace Damon said in an interview that Origin Park is a "great investment in a profoundly middle-class place," rather than a central business district or upper-income neighborhood as is the case in some U.S. cities. Her company's report, for instance, says the median home value in an area surrounding the proposed park is $112,000.
"I think what's exciting about this is this is a great signature park, a brand-making, region-defining park that isn't in one of those great big cities that get all the attention and which have for the last generation attracted an outsized share of the world's talent," she said. "This is an investment in where more people in this country live."
The HR&A work for the first time details a feature that could be part of the park project: An "outdoor adventure center" with rapids for whitewater rafting and kayaking, for example.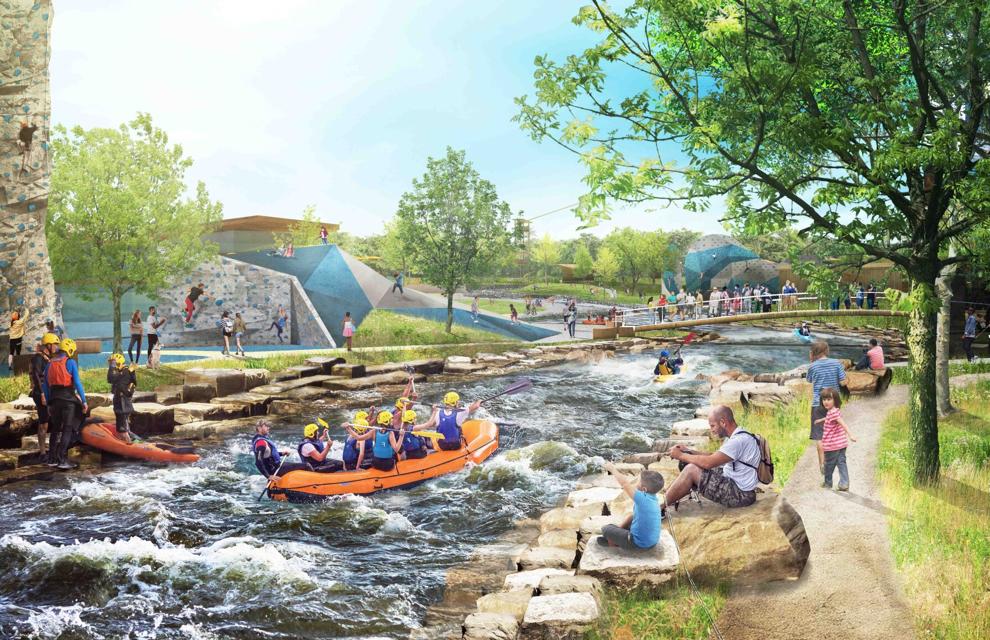 That's a "new element of the park we are exploring," said Scott Martin, the conservancy's executive director. "It is the beginning of thinking about how to create a community-advancing element that also produces a revenue support line for the park."
Martin said the adventure center is one option under consideration, "but is the lead option."
The HR&A report says the adventure center component could create 600 construction jobs and 260 permanent jobs. Its annual economy activity is estimated at $18 million.
Martin said the conservancy controls more than 300 acres of the 600 acres included in a master plan released in 2020. There is no timeline for completing the entire project, which counts on land that is still privately owned and property that New Albany has targeted for its own park development.
HR&A documents show the cost of the project now stands at $155 million, higher than previous estimates of $130 million.
The first fundraising campaign is scheduled to start this fall, Martin said, while a construction schedule is being developed.
Martin told WDRB News earlier this year that the conservancy had raised and committed about $10 million.
This story may be updated.
Copyright 2021 WDRB Media. All rights reserved.