FRANKFORT, Ky. (WDRB) -- The Senate Education Committee approved legislation Tuesday that would nullify Kentucky's universal mask mandate in schools and offer some flexibility for school districts in response to the COVID-19 pandemic.
The committee voted 8-5 to approve Senate Bill 1 on Tuesday, the first day of the Kentucky General Assembly's special session called by Gov. Andy Beshear. The Kentucky Supreme Court recently ruled that laws limiting gubernatorial authority during emergencies like the COVID-19 pandemic should go into effect while Beshear challenges their constitutionality.
Democrats Denise Harper Angel, Gerald Neal and Reginal Thomas joined Republicans Jimmy Higdon and Adrienne Southworth in voting against SB 1.
"We have to decide how we're are going to move forward in this life and if we are going to have extreme sickness - it's not a state of emergency. It's going to be a state of normal whether we like it or not," said Southworth.
SB 1 would void the Kentucky Board of Education's emergency regulation requiring anyone inside public schools across the state to wear face coverings within five days of becoming law and prevent the state education board from passing similar statewide regulations until June 1, 2023.
A similar emergency regulation regarding indoor masking in child care settings would also be void within five days of SB 1 becoming law.
Thomas, a Lexington Democrat and caucus chair for Senate Democrats, said the proposal to nullify the state's mask mandate in public schools "completely irresponsible" of the legislature given the escalation of COVID-19 cases across Kentucky.
"It's bad policy," Thomas said.
Sen. Max Wise, a Campbellsville Republican who chairs the Senate Education Committee, said school districts can implement their own masking policies if SB 1 becomes law and the state's current mask mandate is nullified.
"If a local school district wants to come up with their own protocols and procedures going forward, that's left up to the local control," Wise said. "That's left up to duly elected local school board members."
Some Kentucky school boards, including the Jefferson County Board of Education, had universal masking policies in place before the state education board's emergency regulation.
Beshear, however, criticized the legislature's push to undo the state's emergency regulation on school masking.
"This is for the safety and health of the kids," Beshear said during a news conference after Tuesday's committee vote. "It's to keep them in school. It's also for the safety and health of the teachers themselves."
The governor suggested setting metrics by which masks are required in schools, such as in counties with high COVID-19 transmission rates, if neither he nor the Kentucky Department of Education have authority to set mask guidelines in the future.
"Being in a red county and going in unmasked, it just won't work," Beshear said.
SB 1 would also require school districts to submit COVID-19 operational plans to the Kentucky Department of Education and publish those plans on their websites. School districts would also be allotted 20 days to implement remote learning in particular schools, grades, classrooms or groups of students.
That, Wise said, would allow districts to take a "surgical" approach to handling numerous absences among students and staff during the COVID-19 pandemic.
"We want to give school districts that local control and local plan that they can focus on this for a grade, a classroom or a particular school building," he said.
Those days would not count toward the 10 nontraditional instruction days given to districts by law, and SB 1 does not grant additional NTI days.
Students assigned to remote instruction must get the minimum six hours of instruction with lessons based on state academic standards, according to the legislation.
"Some NTI assignments, packets, information delivery methods may not have been a six-hour delivery method, but the remote learning would be, and we are asking in the bill that that will be performed on location," Wise said.
Districts would also get additional flexibility to fill classroom vacancies and find substitute teachers under SB 1. Retired teachers who left the profession by Aug. 1 could be hired back into teaching or substitute positions and permitted to continue drawing their pensions until Jan. 15, though they would not be allowed to accrue benefits.
Substitute teachers would be required to complete background checks and have 64 hours of college credit or a high school diploma and four years of relevant work experience, according to the bill.
Classified staff can perform instructional duties without supervision from certified teachers for the 2021-22 school year, and superintendents can place new hires on probation after getting results of preliminary background checks, SB 1 says. The bill calls for Kentucky State Police and Cabinet for Health and Family Services to prioritize background checks for prospective school employees.
The Kentucky Department of Education sent out a tweet Tuesday suggesting solutions to help districts get through the COVID surge.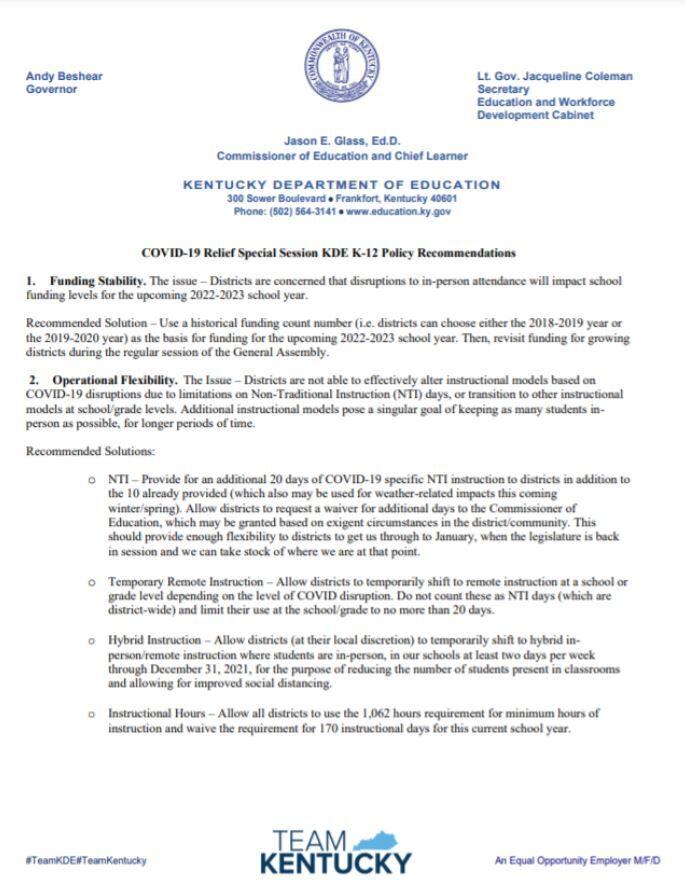 School districts can use either the 2018-19 or 2019-20 attendance data to determine state funding for the 2021-22 school year as has been allowed previously, and districts can also follow requirements to provide 1,062 instructional hours, according to the bill, which waives the state requirement for schools to provide 170 instructional days.
"Superintendents want flexibility," Wise said. "If they want to add five minutes, 10, 15, 20, whatever the amount may be on to the end of the school day to make up working days, that can be done with this."
School districts will also be able to incentivize COVID-19 vaccinations for staff and students and enact "test to stay" programs to test asymptomatic students for COVID-19 after exposures to those who have tested positive for the coronavirus as an alternative to quarantining students.
SB 1 heads to the Senate floor for consideration by the upper chamber.
WDRB's Lawrence Smith and Joel Schipper also contributed to this report.
Copyright 2021 WDRB Media. All Rights Reserved.