TAYLORSVILLE, Ky. (WDRB) – Spencer County Public Schools Superintendent Chuck Adams will remain on paid administrative leave until after May 24 as the Spencer County Board of Education continues looking into a teacher's claim that he sexually harassed her.
The board voted 4-0 Monday to extend Adams' leave to after its next board meeting so members can continue gathering information and decide next steps in the matter. The board also discussed four lawsuits, including the teacher's, behind closed doors for about two hours.
The school board put Adams on paid leave at its April 26 meeting. The panel's former chairperson, Jeanie Stevens, abstained from that vote and later resigned her seat, and the board will vote for a new chairperson during its May 24 meeting.
Lynn Shelburne, the board's vice chairperson, said in a written statement that the board regularly meets with attorneys "to determine appropriate next steps for our district" and that members are "confident" with Assistant Superintendent Chuck Abell in charge while Adams remains on paid leave.
"Just like you, we are awaiting more information as this case works its way through the legal system," she said in the statement. "I am sorry that we cannot make any additional comments regarding pending litigation or personnel issues."
Shelburne declined further comment following Monday's board meeting.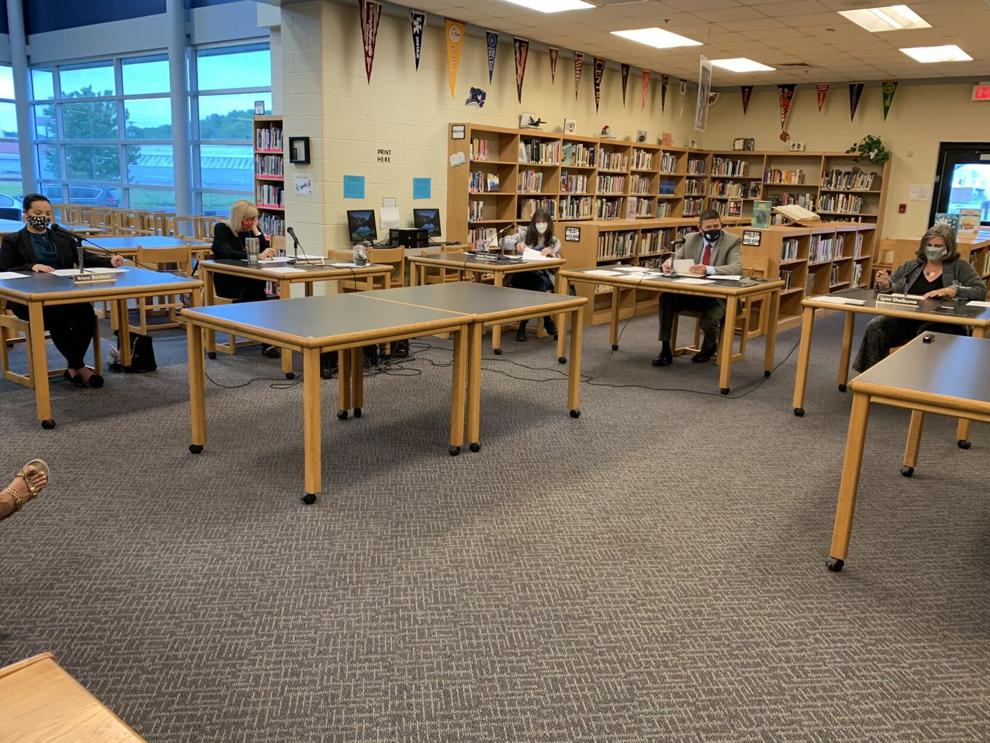 The teacher, represented by Louisville attorney Thomas Clay, claimed in a lawsuit filed against the school board April 21 that she received unwanted attention from Adams starting shortly after she was hired by the school district in October 2018. Adams, she said, often visited her classroom and rarely discussed work issues with her.
The woman also accused Adams of sending her unsolicited phone calls and text messages, such as reaching out to her while she took personal leave and when she did not attend a school board meeting, and seeking her out at school sporting events. In two instances included in the lawsuit, the woman says Adams grabbed her foot while walking by her on the bleachers at a basketball game and reached into a box of candy she was holding and touched her hand while at another basketball game.
While the woman is named in court records, WDRB News does not identify alleged victims of sexual harassment.
The teacher claims the school board knew of the situation in April and "failed to implement prompt and appropriate corrective action and, in fact, compounded Plaintiff's damages by not taking steps to remove Superintendent Adams from her work area," according to the lawsuit.
The woman says in the lawsuit that Stevens called her on April 6 and asked her about the situation. Stevens said she stepped down from the school board because she knows both Adams and the teacher and that she abstained from the vote to place the superintendent on paid leave because of her impending resignation.
Kristi Reynolds, a Spencer County parent, was among attendees at Monday's meeting at Spencer County High School. She believes the district needs new leadership and that Adams has "overstayed his welcome" as the school system's superintendent.
"At what point do you draw the line on what is and what is not appropriate, especially coming from a high level of management?" she said. "The students and the families of this county deserve a little bit better."
The teacher's lawsuit seeks compensatory damages, attorney's fees, injunctive relief, and either judgment against the school board or a jury trial.
Copyright 2021 WDRB Media. All Rights Reserved.