LOUISVILLE, Ky. (WDRB) – Planners have identified 15 routes for a road network through the region's rural counties that could someday link Interstate 65 in Bullitt County and I-71 east of Louisville.
And those routes will be narrowed -- to between three to five by late summer or early fall -- as part of a study into a bypass far outside the Gene Snyder Freeway.
For now, the latest maps provided by the Kentucky Transportation Cabinet reveal the paths the "65 – 71 Regional Connector" could follow. They show 12 entirely new roads through seven counties and three routes that would expand existing roads, including Ky. 44 in Bullitt County and Ky. 53 and Ky. 55 in Shelby County.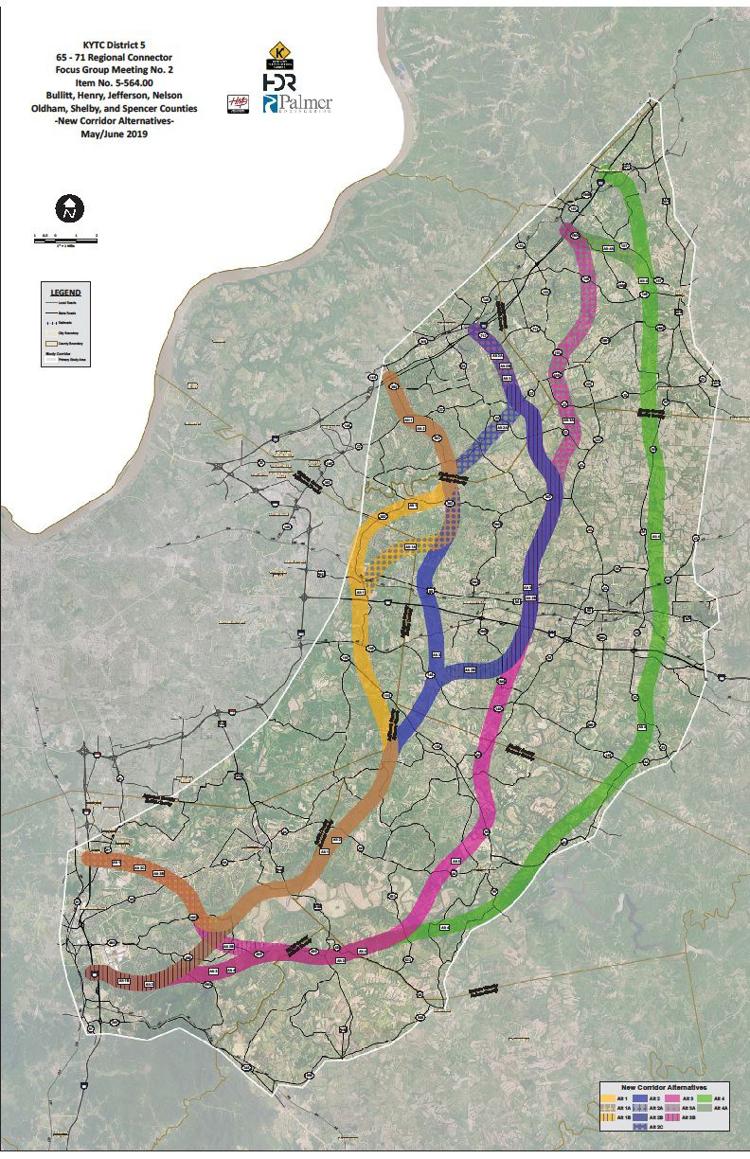 The research into a potential bypass dubbed "another Gene Snyder" and an "outer, outer loop" is welcomed by Bullitt County's economic development agency, but it has set off concerns from Bernheim Arboretum and Research Forest and residents who are fighting a proposed Louisville Gas & Electric Co. natural gas pipeline planned for the main area being studied.
Working with the study's consultants, state officials have been getting feedback from five focus groups made up of elected leaders, planning and zoning administrators, economic developers and others who represent the counties that could be affected – Bullitt, Henry, Jefferson, Nelson, Oldham, Spencer and Shelby.
The $1.9 million report, which the Kentucky General Assembly ordered in 2018, is scheduled to wrap up later this year.
"It's important for people to know this is just a planning study at this point. Nothing has been decided, no alternatives chosen," said Andrea Clifford, a Transportation Cabinet spokeswoman. She said a final report "can be used by future legislative sessions to determine if they want to actually fund a design project moving forward."
Clifford said the focus groups met most recently in late May and early June. At the Transportation Cabinet's request, WDRB News has filed a public records request for the names of the groups' members.
Thus far, Clifford said, the meetings have been limited to those groups and not broadened to the general public.
Public meetings would be part of design and environmental work if any project advances and gets funded, she said. Asked why residents aren't being included now, when routes are being considered, she said "we're looking at wide swaths of corridors" that take in 2,500-foot-wide areas.
"When we get to a design project, we will be looking closer in – more like a 200-, 250-foot corridor," she said. "At this point it's hard to even know where this might be."
In focus group meetings, Clifford said, some people have raised concerns about impacts to the land and whether a new road will draw enough traffic off of local routes. While the routes being studied will be narrowed, officials also could combine alignments based on the input they receive.  
Preliminary costs range from around $600 million, in cases in which existing roads are used, to $1.6 billion for the easternmost corridor. Those estimates are "high level," Clifford said.
The study comes as the state prepares to start a major interstate widening project that aims to add lanes to I-71 between the Gene Snyder Freeway and Crestwood, as well as on the Snyder between I-71 and Taylorsville Road. Kentucky has made a wider Snyder its top interstate spending priority.Clifford said the traffic analysis assumes a wider Snyder.
Two of the 15 routes being studied cross parts of eastern Jefferson County. One path appears to run close to the Parklands of Floyds Fork's Beckley Creek Park and the Floyds Fork creek itself.
Mayor Greg Fischer's administration has participated in the focus groups, said Mary Ellen Wiederwohl, chief of Louisville Forward, metro government's economic development agency, but declined to say if Fischer would support an eastern Louisville route shown on the latest map.
"It's too premature to talk about alignments since they've got so much work to do. We're going to wait and see what the final study says and then we'll comment at that time," she said. "But all of this has to be masked under the larger conversation about the availability of resources."
Kentucky's road fund is taking in less money than in past years, prompting lawmakers to consider raising fuel taxes as a way to produce more revenue to maintain existing roads and bridges and build new ones.
In Bullitt County, the citizens group SouthEast Bullitt Community Inc., opposes any bypass route that crosses land owned by Bernheim, chairman William Kidd told WDRB News. The latest maps appear to show one corridor that cuts through an area the forest organization purchased for conservation and research aims.
"There's going to be growth. We're not going to stop that. We're not against that," Kidd said. "But we're trying to control it with zoning and the proper use of the land."
As the study continues, planners have developed a "purpose and need" for any road network. It includes improving "regional connectivity and mobility" and making growing counties more accessible, as well as reducing congestion on existing roads.  
Those goals also are flexible and can be adjusted, said Susan Oatman, the Transportation Cabinet's project manager.
"It's important to note this is a big data-gathering exercise. We don't know what will come out of this. We don't know if anything will even be carried forward," she said. "It could be that this study just provides valuable information to show where there are some needs in the different counties that need to be addressed."
Reach reporter Marcus Green at 502-585-0825, mgreen@wdrb.com, on Twitter or on Facebook. Copyright 2019 WDRB Media. All rights reserved.