LOUISVILLE, Ky. (WDRB) – The former Louisville Metro Police detective whose viral traffic stop of teenager Tae-Ahn Lea in 2018 prompted reforms by the department said he wouldn't handle it any differently now and argued Lea's actions led him to believe "there was criminal activity afoot."
Kevin Crawford, who is now a patrol officer for the Jeffersonville Police Department in Clark County, Indiana, said in sworn testimony that Lea was slow to pull over, his hands were shaking, and he did not tell the officer he had a "weapon" — a baseball bat — in his vehicle.
"There were indications of criminal activity with Tae-Ahn Lea," Crawford said, according to a deposition taken earlier this year as part of an ongoing lawsuit filed by Lea against the Metro government and LMPD. "His nervousness, his lying to us about the weapon."
The deposition marks the first time Crawford has publicly answered questions about the stop of Lea, who was pulled over on Aug. 9, 2018 at 18th Street and Algonquin Parkway for allegedly making a wide turn. Crawford grabbed the teen's wrists, forced him out of the car and frisked him.
Lea, who was driving his mother's Dodge Charger, was also handcuffed for about 20 minutes while police and a K-9 searched his vehicle.
No drugs or guns were found.
Although the other four officers involved in the stop were interviewed by LMPD, none could answer why Crawford pulled Lea out of his vehicle, a key issue in the federal lawsuit and a question former Chief Steve Conrad had ordered police investigators to answer.
But investigators did not try to interview Crawford until after he resigned in June 2019 to take another law enforcement job and refused to cooperate, according to the 285-page investigative file obtained by WDRB News.
"The reason I didn't just write him a ticket is I believed he was hiding something," Crawford said, according to a copy of the deposition obtained by WDRB News. "If it wasn't weapons, then it could have been narcotics."
In addition, when Lea's mother called her son shortly after he was pulled over, Crawford said the teen put the phone on speaker, which the officer thought was odd.
"A lot of people would just hang on the phone instead of putting it on speaker phone," he told Lea's attorney, Sam Aguiar, in the deposition taken on March 24. "This raised our suspicion that something was going ... could possibly happen inviting more people to the scene."
In a separate deposition taken last month, Lea, who now works for a local car dealership, says he lives in fear of driving in that area and the stop affected him mentally, prompting him to see a psychologist.
"Just because you live in that part of town, you know, just because you drive a fairly nicer car, just because the color of your skin is Black and you live in the west end and you live in a high-profile area, as they call it, does not mean that you're involved in violent things," Lea testified.
Lea, who is now 21, also is concerned he will always be remembered for the traffic stop, no matter what else he does with his life.
"My kids are always going to see that," he testified on Aug. 20. "You can't ... you search my name now and you see all that stuff. You don't see Tah-Ahn Lea's Facebook page. You don't see Tae-Ahn Lea, the top salesman, Oxmoor. You see Tae-Ahn Lea, traffic stop."
After a video of the stop on YouTube went viral with more than one million views, LMPD was scrutinized and widely condemned for how officers in its Ninth Mobile Division treated Lea, including questioning him about why he was nervous, breathing heavily and had such "a negative view toward the police."
Lea, a past homecoming king at Central High School with no criminal record, was released with a citation that was later dismissed in court.
While the incident sparked calls for police accountability and helped change LMPD traffic stop policies, the internal investigation languished for nearly two years and no disciplinary action was taken against any officer involved.
In a previous deposition, former LMPD Chief Steve Conrad said Crawford pulling Lea out of his vehicle was "concerning" and that Crawford searching the teen without permission was "problematic."
Conrad noted that officers had no indication Lea had drugs or weapons on him when he was pulled over.
He launched the initial investigation of the Lea stop on Feb. 18, 2019, ordering investigators, in part, to find out why the teen was removed from his vehicle and frisked.
On Nov. 6, then interim-Chief Yvette Gentry officially closed the case, because Crawford had resigned.
She also concluded that based on the available information "it appears the finding would have been 'Not Sustained'" anyway, meaning police did not find enough evidence to prove Crawford had violated any policies in place at the time.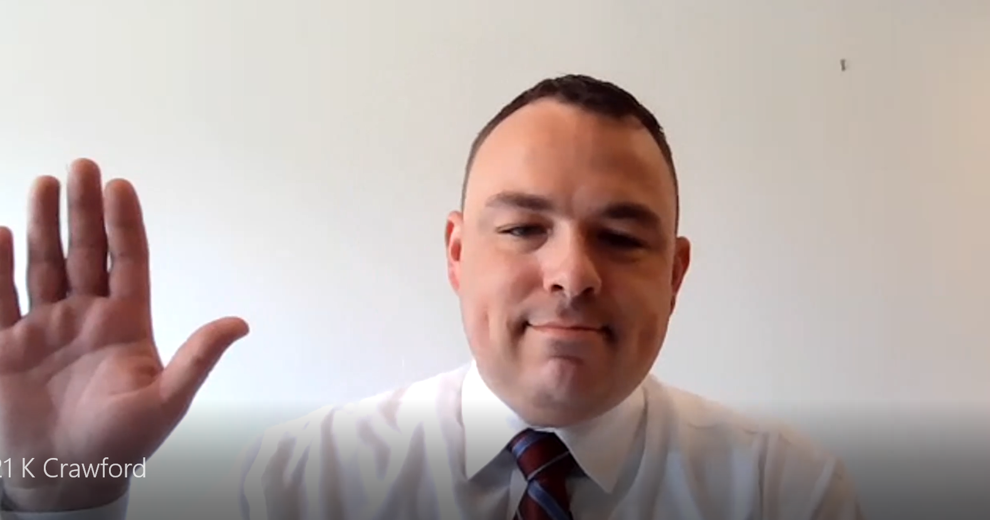 Throughout his hour and a half deposition, Crawford defended his actions and blamed Lea for causing the officer to remove him from his vehicle.
For starters, Crawford said Lea was slow to pull over.
But body camera video suggests otherwise: Lea quickly puts on his blinker, changes lanes and begins to pull over after Crawford turn his lights on. 
In the body camera video, Lea's car is stopped 20 seconds after sirens are heard.
Even though Lea repeatedly told Crawford he did not have any weapons, the officer insisted in the deposition that he considered a bat seen in the vehicle by another officer a weapon.
"I believed he may have had other weapons because he didn't say anything about the bat," Crawford said. He acknowledged he did not ask the teen about the bat.
"What led you to believe a bat … was a weapon?" Aguiar asked.
"Because it's a weapon," Crawford responded. "It can be used to harm somebody."
Aguiar noted that a fork could be used to hurt a person and questioned whether Crawford would have considered that a weapon.
"No sir," Crawford responded. "It's a fork, sir."
In addition, Crawford said Lea was acting nervous, his breathing was heavy and his "fingertips" — while his hands were on the steering wheel — "were shaking."
While Crawford acknowledged that many people are nervous when pulled over by police, he said "there are different levels of nervousness."
And he said he told Lea to move belongings out of his lap, including his phone and wallet, and the teen did not comply.
"I gave him a simple command of 'hey remove these objects' and he didn't do it," Crawford testified. "So I helped him out of the vehicle, gently."
In the body camera video, Crawford opens Lea's car door and ordered him to move belongings from his lap as the officer reached inside apparently to pull the teen out.
"What are you opening up the door for?" Lea asked.
Crawford told him to remove the phone and wallet from his lap and when Lea asked why, the detective told him, "because it will fall out when you get out of the vehicle," according to police body cam video.
"Why are you taking me out of the vehicle?" Lea said.
When Aguiar questioned Crawford on why he didn't answer Lea, the officer testified he didn't recall.
Crawford said he requested a drug-sniffing dog search Lea's vehicle "because I believed something criminal was inside the vehicle."
After the dog "alerted" to the passenger door, another officer decided to handcuff Lea.
Officers rifled through Lea's car for several minutes, even opening the lid of his soft drink, but no drugs were found.
In the lawsuit, filed by Lea in U.S. District Court in June 2019, Lea claims he was "targeted" by Louisville Metro Police officers because of his skin color in an illegal stop and search "to be the next victim for their pack."
Several lawsuits over alleged improper traffic stops and racism are currently pending against officers in the Ninth Mobile Division.
But Crawford denied pulling Lea over because he was Black and driving in the west end.
"We've assisted St. Matthews and J-Town in stopping vehicles and it's similar, the exact same things," Crawford said.
Asked how he felt about Lea having to go to counseling after the traffic stop, Crawford responded, "that's unfortunate."
When Aguiar questioned Crawford as to whether he was concerned traffic stops like Lea's could cause young Black males to have a negative view towards police, the officer responded, "no."
At the end of the deposition, however, after both sides took a break, Crawford was given a chance by his attorney, Assistant Jefferson County Attorney Peter Ervin, to answer that question again.
"I misunderstood the question," Crawford said. "I think it has (prompted a negative view of police) honestly. In general, yes, it is concerning, yes, I am concerned by it ... It does appear to have a negative impact on police especially with everything going on in today's world."
Related Stories: 
Copyright 2021 WDRB Media. All Rights Reserved.