LOUISVILLE, Ky. (WDRB) -- Two people have been arrested on charges including rioting after police said they blocked a driver's path Wednesday morning and assaulted the female driver.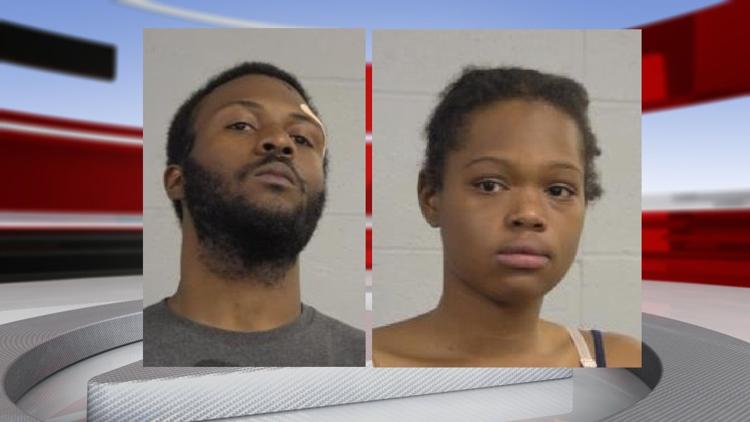 Darius S. Anderson, 21, and Brioanna Richards, 19, face charges of rioting in the first degree, tampering with physical evidence, disorderly conduct and obstruction of a highway. Anderson also faces charges of wanton endangerment and criminal mischief.
In the arrest report, police said that at about 8:30 a.m. Wednesday, protesters had blocked the intersection of 6th and Liberty Streets and would not let the victim pass in her vehicle. Police said Anderson stood in front of the victim's vehicle with a megaphone and blocked her path.
According to police, the victim told them that protesters surrounded her vehicle, and an argument ensued. The arrest report said protesters "began to reach into her car, scratching her vehicle window ... and assaulting her, pulling her hair (pulling out a dreadlock) causing pain to victim."
The victim also told police that one of the people had a handgun and that she was "in fear for her life and drove away from the crowd," and struck one of the protesters running toward her vehicle.
According to the police report, the victim told police that she fled east on Liberty Street, but the protesters chased her, and when she stopped for a red light at 5th and Liberty streets, Anderson approached her vehicle, racked a handgun and pointed it at her.
A Louisville Metro Police detective said he saw Anderson pass the handgun to Richards, "who then hid the gun in a vehicle ... to conceal evidence of the crime," the report reads.
Police said they recovered the firearm, identified Anderson and Richards via video and arrested them Wednesday morning. Police also said both suspects admitted to the incident during an interview.
Police said the vehicle's driver has been identified but has not been charged.
"The Jefferson County Attorneys Office is reviewing the case to determine if charges, if any, will be filed," police said.
LMPD had released a short, edited video from the city's Real Time Crime Center of the car hitting one of the people running toward the car along Liberty Street.
Multiple videos of the incident were widely shared on social media, but WDRB did not have permission to air them.
Related stories:
Copyright 2020 WDRB Media. All Rights Reserved.