LOUISVILLE, Ky. (WDRB) -- Louisville Metro Police said officers in the right place at the right time led to 11 firearms being taken off the streets and eight suspects behind bars.
An LMPD detective reported hearing gunshots Monday near 3700 Manslick Road. Police said they later learned a drive-by shooting had occurred at the Manslick Foodmart. 
When the detective arrived to the scene, authorities said he spotted two males fleeing a Dodge Durango that had crashed into a telephone pole. One of them was a juvenile and was arrested shortly after the crash. Police said he was armed with two guns, including an AR-15 rifle. 
Investigators said police then spotted a white Kia nearby, occupied with suspects linked to the drive-by shooting. When trying to pull the car over, the driver fled, leading officers on a chase for several miles. 
The chase ended near 26th Street and Greenwood Avenue when the Kia crashed into a police cruiser, and an adult suspect was arrested.
While police were investigating the incident at 26th and Greenwood, LMPD Detective Seth Goodlett at the Manslick Foodmart spotted suspects coming back to the scene of the crime. 
"I went to gather evidence there," Goodlett said. 
Goodlett found himself face-to-face with a group of suspects who didn't know he was there.
"I observed these individuals attempting to hide firearms within the location," he said.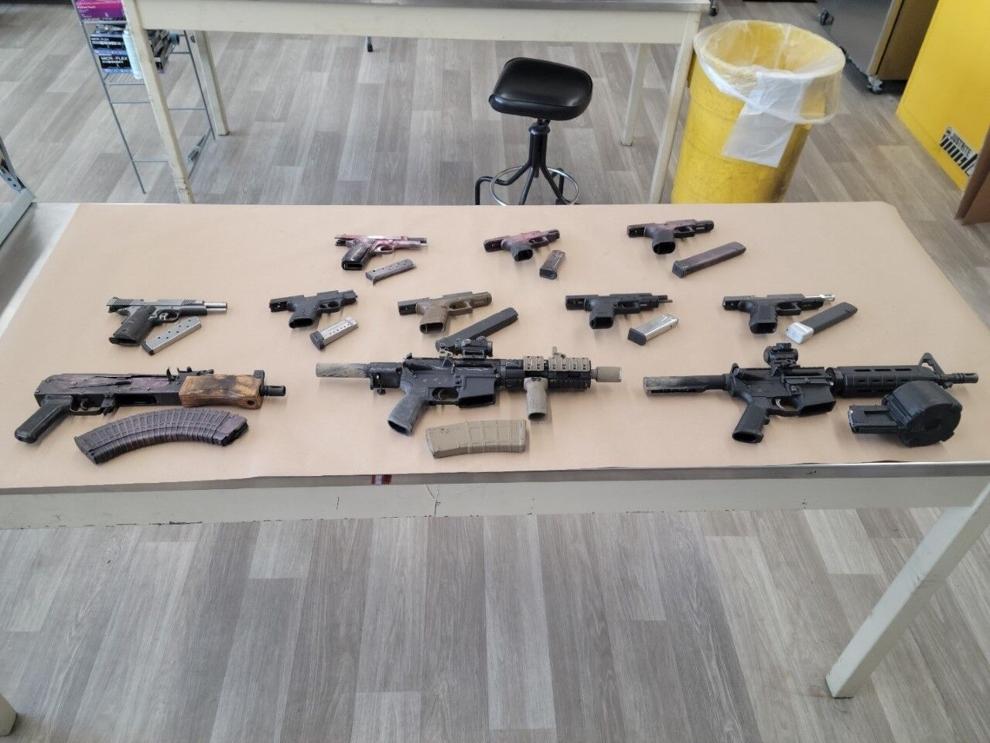 Surveillance video shows armed suspects coming up to the counter and attempting to hand guns to the clerk behind the register to hide. Goodlett, who was collecting surveillance video at the time, steps out from behind the counter into the suspect's view with his gun drawn. 
Goodlett said he called for backup, and the suspects were taken into custody.
Police were then informed of a home on the 2800 Block on South Third Street that may be connected to the case. When arriving on scene, officers spotted three people leaving the home, and two firearms were seized.
SWAT then executed a search warrant on the home and arrested another suspect.
In total, 11 firearms were seized, and eight people were taken into custody.
One juvenile male, 29-year-old Ramonte Johnson, 29-year-old Christopher Morgan, 28-year-old Christian Crosby, 28-year-old Alexis Hiser, 20-year-old Ramonto Underwood, 19-year-old Reginald Webster and 18-year-old Jacob Bell were arrested.
All suspects are facing felony charges. 
The arrests mark progress for the department, but officials note the journey to curb the surge in violent crime is going to be difficult.
"We are at an unprecedented time with the amount of violent crime we have in Louisville," said Maj. Aaron Crowell with LMPD Criminal Interdiction Division. "So we're stretched thinner than we've ever been. In this case, we had officers on the streets, doing their job, in the right place at the right time."
LMPD Chief Erika Shields said the case is an example of what active policing can lead to.
"They are in the area because they have intelligence that's telling them there's violent crime in the area," Shields said. "I don't think anyone has an issue with us being engaged. The question is how are we doing it? That is what this represents, that it's not just throw rice in the wind. It's focused. Are we in the right area focused on the correct individual? We didn't happen to be focused on these individuals. They fell into our lap, but it's being very deliberate in how you police.""
Shields acknowledged the tension between the community and police when saying the problem comes when police don't operate the same in every neighborhood they patrol.
"We tend to cut corners, modify, and we become so results focused we compromise the focus," she said. "If officers stick to how they are trained, they will do just fine."
No one was hurt in Monday's shooting.
LMPD said it is investigating whether the suspects are responsible for other violent crime and says more arrests are possible.
Copyright 2021 WDRB Media. All Rights Reserved.