LOUISVILLE, Ky. (WDRB) -- John Schnatter said he was set up.
The founder of Papa John's, who turned his fledgling pizza dream into an international empire only to be cast aside in scandal, is confident those he trusted to help run his business conspired against him.
"I never dreamed that people that I cared about, that I loved, that I made multimillionaires, would do what they did," Schnatter said.
In an exclusive interview with WDRB News, Schnatter said the May 2018 conference call that started it all was made up.
"They fabricated it," he said. "Shame on them."
PODCAST:
Schnatter admitted he used the "N word" during an internal conference call on diversity training. But he said he did it to convey his hatred of racism and was quoting another famous founder.
"This is all a farce," he said. "Nothing sells like the truth, and the truth, sooner or later, all comes out."
He said insiders used that as an opportunity to push him out.
"I just didn't know it would happen from people on the inside doing this," he said. "I thought it would come from the outside."
And he's willing to name names.
"Steve Ritchie, Olivia Kirtley, the board of directors all used the black community and race as a way to steal the company," Schnatter said. "They stole the company, and now they've destroyed the company."
Ritchie was Schnatter's handpicked replacement, but after years of friendship, the two are now estranged. Kirtley is a Papa John's board member.
"Olivia Kirtley and Mark Shapiro should be in jail. It's that bad," Schnatter said. "What they've done is just wrong, and they've hurt a lot of people."
Ritchie resigned as CEO earlier this year, but Schnatter is still critical of his former protégé's leadership.
"Everybody knows, last year, that Steve Ritchie got $6 million plus $2.8 million to leave and be quiet, and (employees) got zero bonus," he said. "They all know that, and sooner or later, who wants to play that game?"
In February, banker Jeff Smith was named chairman of the board. Schnatter said there's not a lot of common ground there.
"The one thing he and I agree on is that Steve Ritchie is not a CEO," Schnatter said.
The new CEO is Rob Lynch, the former president of Arby's.
"He has never been a CEO," Schnatter said. "He has no pizza experience. He has never been in the pizza category. He doesn't really know quality. Probably most important, he doesn't have a passion for people."
Schnatter said all the changes have sent the company he founded into a downward spiral.
"They've hurt people that wake up every day and make this company great," he said. "I mean, it's a miserable place over there ... They're losing all of their good people. The key to this business is good people.
After years of touting "Better Ingredients, Better Pizza," Schnatter said it's ultimately the customers who are left with the broken pieces.
"I've had over 40 pizzas in the last 30 days, and it's not the same pizza," Schnatter said. "It's not the same product. It just doesn't taste as good.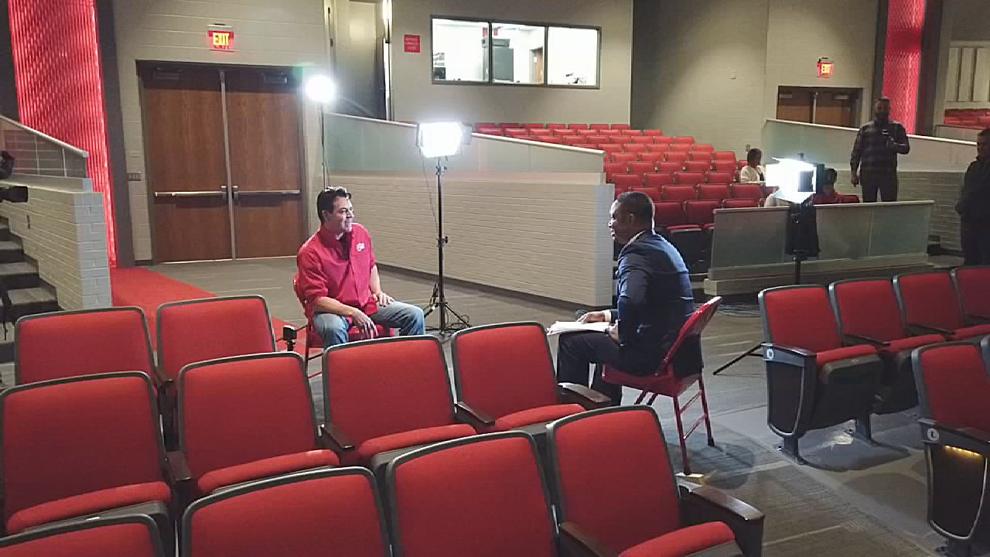 "The way they're making the pizza is just not fundamental to what makes a Papa John's pizza."
Schnatter said he still loves the company he built, but he has sold millions in stock and is no longer the largest individual shareholder.
"My metaphor is: There's no reason to be in the car when the car crashes even if you love the car," he said.
Schnatter said he doesn't want to return to Papa John's, but if he did, he said he'd get a warm welcome.
"If the management team was out, and I went back in, they'd be cheering," he said. "They'd be doing back flips. They'd be bouncing off the wall."
As he's transitioned to life after pizza, Schnatter said he's committed to giving back. He recently made big donations to Simmons College of Kentucky and his alma mater, Jeffersonville High School.
"This is where I started my business, in Jeffersonville," he said. "This is where I went to high school. It's where I played baseball."
But make no mistake, Schnatter plans to share more than just his wealth.
"Stay tuned. The day of reckoning will come," he said. "The record will be straight."
Copyright 2019 WDRB Media. All Rights Reserved.