LOUISVILLE, Ky. (WDRB) -- Kentucky's restaurants already feel the impact of scaling back to 25% indoor seating capacity, doing everything they can to keep customers in the remaining seats.
At Ramiro's Cantina on Frankfort Avenue, plastic dividers separate each patio table. So far, buying enough supplies to adjust to the COVID-19 pandemic has cost the restaurant more than $5,000.
Ramiro's has been serving up Mexican food for 11 years, but owner Ramiro Gandara worries about the future, saying his restaurant requires running at 50 to 75% capacity to pay the bills.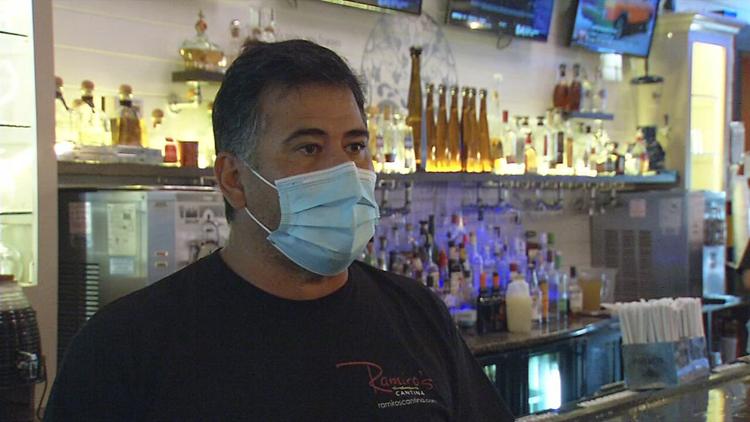 "Financially, sooner or later, we won't be able to afford it," Gandara said. "I don't care which restaurant it is. Financially, sooner or later, the money runs out."
Among the new precautions in place: Ramiro's has gone paperless. QR codes have replaced traditional menus.
"The menu's all online; they have the dividers; they require that you're wearing a mask," said Justin Newby, who wore a mask while sitting on the outdoor patio.
The plastic dividers offer peace of mind, Newby added. 
"We're still very mindful that we're in the middle of the pandemic," he said. "We're just trying to do the best that we can, and we appreciate restaurants doing things like this."
New partitions also divide tables in the indoor dining room.
"We decided to separate all the sections in case we stay at 25% for longer than two weeks," Gandara said. 
On top of masks and gloves, silverware has been traded out for plastic utensils, and a new website drives customers to an online menu. The changes haven't been cheap.
"I know why the governor took us back to 25%. I do understand," Gandara said. "But, on the other side of the coin, we are struggling."
Although it's been tough to watch other restaurants shut down, places like Ramiro's are doing everything they can to hold on.
"We're not in trouble yet, but we have a few more months," Gandara said. "Then we'll see what we're gonna do."
Related Stories: 
Copyright 2020 WDRB Media. All Rights Reserved.