LOUISVILLE, Ky. (WDRB) -- A new KFC flagship restaurant will open for business in Louisville this week.
According to a news release, the location will open at 10:30 a.m. on Thursday, June 20, at 2945 Breckenridge Lane.
The first 50 people in line will win free chicken for one year.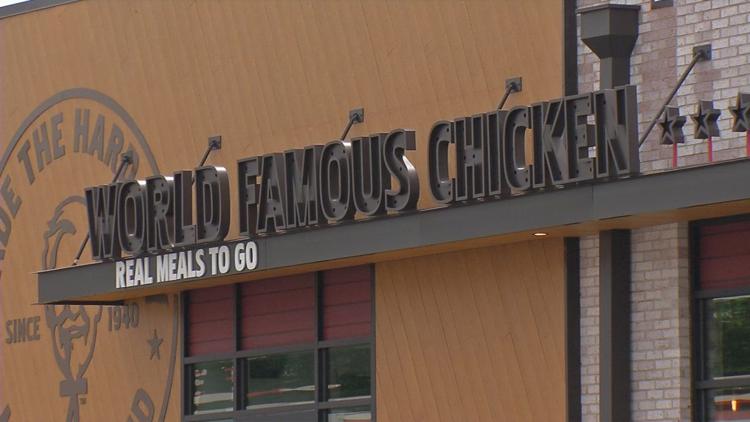 The location is only one of four in the U.S. that will feature an enhanced flagship design with natural wood, exposed brick and oversized windows.
"We're proud to introduce our hometown to this uniquely designed new KFC in Hikes Point," Brian Cahoe, chief development officer, KFC U.S., said in a release. "It is truly a jewel in our hometown crown, and we invite everyone to stop by and try some of the Colonel's hand breaded and freshly prepared chicken on opening day, June 20."
The new restaurant can seat more than 55 guests.
Some featured parts of the restaurant's design include:
An open ceiling designed to invite more light in the dining area.
Photos of Colonel Sanders, the "original celebrity chef," showcasing his travels around the world and encounters with other celebrities.
A signature bucket chandelier, which is the centerpiece of the restaurant's dining area.
A chalkboard on the front counter listing the name of the cook and the U.S. farm that supplied the chicken being freshly prepared in the restaurant that day.
Signage on the restaurant was created by Ruggles Sign Company of Versailles, which was founded by the husband of one of Colonel Sanders' daughters.
The restaurant will also have self-order kiosks, as well as internal and external drive-thru digital menuboards. There will also be designated delivery driver parking.
The new store will participate in KFC's Harvest food donation program. As part of the program, employees will pack and store "unsold and wholesome food" to give to local non-profits that give food to people in need. The restaurant will pack donations for the Kentucky Harvest on a weekly basis.
Copyright 2019 WDRB News. All rights reserved.